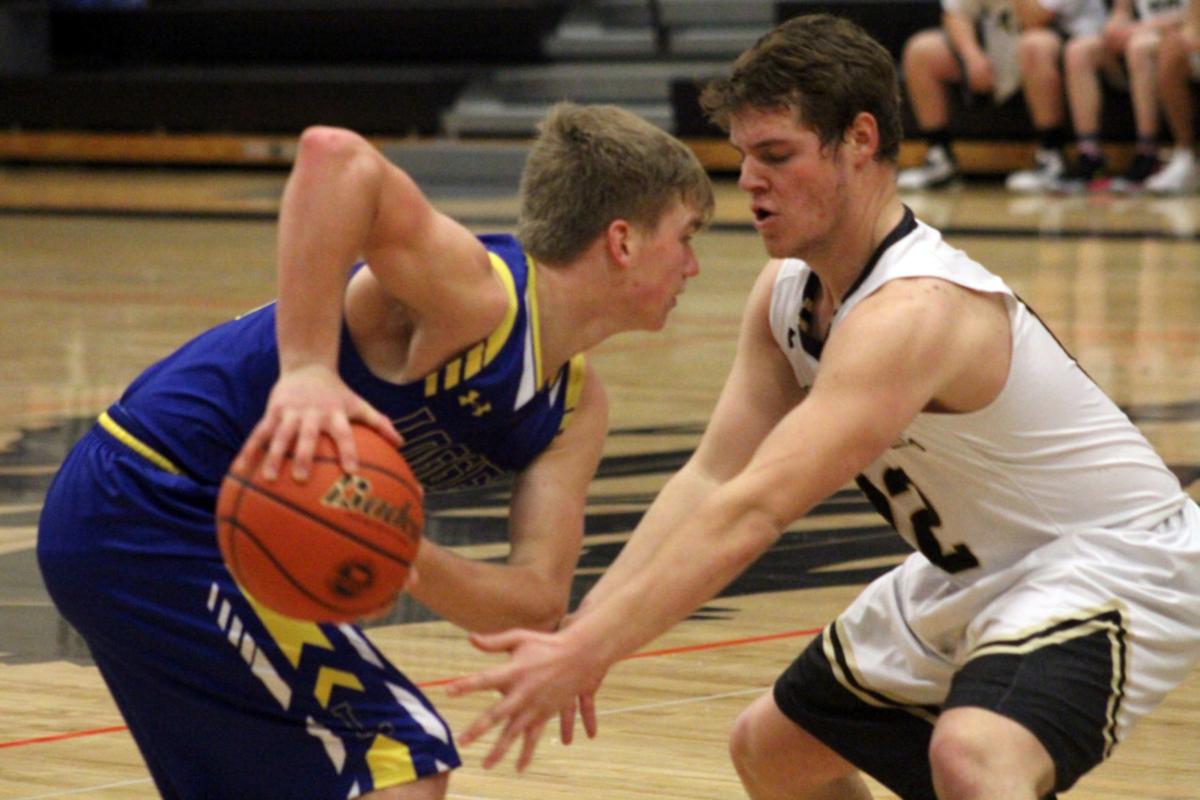 Boys Basketball
Class A
• Caden Williams scored four of his team-high eight points in the fourth quarter as Libby (1-1) won a slugfest with Stevensville 35-29. Tanner Pendergast had a game-high 14 points for Stevi (0-2), including 10 in the third quarter as the Yellowjackets mounted a comeback. 
• Haden Warren led with 17 points and Jayden Venable contributed 15 as Miles City used a big fourth quarter to overcome Lewistown 50-42. The Cowboys trailed 34-30 entering the final eight minutes but outscored the Golden Eagles 20-8 in the final frame. Grayden Sanders led a balanced Lewistown offense with nine points, followed by Gage Clinton with eight and Bryce Graham with seven.
• Polson outlasted Glendive 60-42 behind a big third quarter run. The Pirates were up by seven at halftime and outscored the Red Devils 17-6 in the third quarter. Anton Lefthand had 11 to lead Polson. Taven Coon had 14 for Glendive.
• Justus Peterson scored 18 points and Cole Truman added 16 to lead Dillon to a 57-36 rout of Whitefish. Justin Conklin pumped in 17 points for the Bulldogs. 
• Famous Lefthand and Trae Hugs each had 18 points as Hardin completed a perfect weekend in the Western A Tip-Off by trouncing Frenchtown 79-55.
• Trey Searle had another big game with 22 points and three other players scored in double figures to help Hamilton withstand an onslaught by Riley Spoonhunter and top Browning 65-63. Tyler Burrows scored 12 points, Austin Drake 11 and Carson Rostad 10 for the Broncs. Spoonhunter scored 35 points, including 23 in the first half. 
• Caleb Warnken scored 15 points and Corvallis used a big second half to overpower Columbia Falls 66-43. The Blue Devils outscored the Wildcats 34-17 after intermission. 
• Braden Harrington had the hot hand with 33 points and Luke Heaphy added 11 for Butte Central in a 64-43 win over Ronan. Girma Detwiler topped Ronan with 11 points. 
Class B
• Shaye Wilkie poured in 27 points, grabbed 12 rebounds -- nine on the offensive end -- and added two assists and two steals as Colstrip coasted past Shepherd 65-45. JT Baer added 15 points for the Colts, a state tournament team a year ago. Colstrip outscored the Mustangs in every quarter. Jaxon DeHaven led Shepherd with 21 points, followed by Colt Hando with 14.
• Dylan Sanner scored a game-high 19 points and Roundup held off Winnett-Grass Range 44-40 behind big second and fourth quarters. The Panthers outscored W-GR 16=4 in the second quarter after falling behind by seven points and then overcame a two-point deficit entering the final eight minutes. Walker Doman and Derrick Zimmerman had 12 points apiece for Winnett-Grass Range. 
• Cory Chaney led all scorers with 24 points and Eureka broke open a close game in the fourth quarter for a 51-46 win over Deer Lodge. The Wardens led 39-31 entering the final eight minutes before the Lions took over. AJ Pacella's nine points helped Eureka. For Deer Lodge, Ben Anderson had 13 points and Logan Nicholson added eight. 
Class C
• Noxon got out to a strong start and handled Victor 49-24 at the Ronan Class C tip-off. Standouts Michael Antonich and Rylan Weltz had 18 and 16 points for the Red Devils. Victor was led by 16 points from Carson Varner.
• St. Regis scored 33 points in the first quarter as it ran past Drummond 68-27. Four players were in double figures for the Tigers, led by Caleb Ball and John Pruitt, who each had 15 points. Nicholas Day added on 13 for St. Regis and Tanner Day scored 10. Caleb Parke was the leading scorer for Drummond, tossing in eight points.
• Tied at halftime, Charlo outscored Lincoln 42-26 in the second half to pull out a 62-40 win. The Vikings had 21 points in each of the last two quarters, with Roper Edwards' 19 points — and five triples — leading the way. Dawson DuMont was also in double figures for Charlo, scoring 14. Ryan Greenwood had 16 for the Lynx, Nathan Brown scored 15 and Brodi Hendersen added 11.
• Plains jumped on Alberton-Superior early and rolled to a 55-28 win in Ronan. Treydon Brouillette scored 20 points for the Horsemen. Carson Callison had nine points for the Mountain Cats. 
• Philipsburg surged past Hot Springs 71-50 as Kade Cutler collected 28 points for the Prospectors. Brandon Knudsen had 35 points for the Savage Heat. 
• Caden Smerker went off for 40 points -- the top effort of the opening weekend at any level -- and Simms ran past Centerville 73-63. Smerker buried seven 3-point shots, including five in the third quarter, and had 25 points in the second half. Stephen Links backed Smerker with 11 points. Carson McGinness kept the Miners close with 20 points. 
• Tayt Hansen scored 28 second-half points to help Harlowton-Ryegate hold off Park City 61-57. Hansen, who didn't score in the first quarter, finished with 32 points. He made 14 of 17 free throws and went 12 for 14 from the line in the fourth quarter alone. Johnny Mysse added 12 points for the Engineers, who trailed 22-18 at the half but led 43-34 after three quarters. Tucker Johnstone's 16 points led the Panthers, and Jim Wetmore added 13. 
Girls Basketball
Class A
• Stevensville stormed to a 21-point lead into the first quarter en route to a 42-30 win over Libby in Frenchtown. Evynne Alexander paced the Yellowjackets with 18 points. Stevensville led 26-5 after a quarter but failed to score in the second quarter. Kennedy Praast added 10 points for Stevi. McKenzie Proffitt led Libby with 12. 
• Savannah Toms led a balanced offense with 11 points and all 10 players scored for Glendive in a 64-23 rout of Polson. Madison Wahl had 10 points and Kas Walker nine for the Red Devils. Mossy Kouley was the only Polson player with more than two points, netting 12 -- eight in the fourth quarter.
• Marie Five led with 14 points, Kamber GoodLuck added 12 and Julianna Takes Horse contributed 11 for Hardin in a 53-27 win over Frenchtown. The Bulldogs led 32-11 at halftime. Faith Rebich's seven points paced the Broncs. 
• Hamilton enjoyed a balanced scoring attack in a 44-35 win over Browning behind Taryn Searle's nine points. Maggie Ringer and Katelyn Dickemore followed with eight apiece. Tamika Guardipee led all scorers with 10 points for Browning, and Tatum Running Crane chipped in with eight.
You have free articles remaining.
• Ronan held off Butte Central for a 34-30 win in Frenchtown. Jaylea Lunceford scored 13 points for the Maidens. Sofee Thatcher topped all scorers with 14 points for Butte Central. 
• Tylia DeJohn led with 17 points Josey Jones added 11 as Dillon had little trouble with Whitefish 49-20. Jodi Walburn and Payton Kastella each had four points for the Bulldogs.
• Maddie Robison dropped in 17 points and Josie Windauer had 11 to carry Columbia Falls over Corvallis 58-34. Madeline Gilder scored 11 to lead the Blue Devils. 
Class B
• Brynna Wolfe led four players in double figures with 16 ponits as Whitehall broke open a close game in the second quarter and raced to a 61-44 win over Class C Manhattan Christian. Jada Clarkson and Megan Johnson had 14 points apiece and Kendra Klapan added 11 for the Trojans. Eliana Kuperus was the game's high scorer with 19 points for Manhattan Christian, and teammate Kiersten Van Kirk added 12 points and seven rebounds. 
• Blythe Sealey pumped in 27 points, Cate Cota added 12 and Chloe Cota contributed 10 as Roundup coasted past Class C Winnett-Grass Range 61-25. Tia Stahl did almost all the damage for W-GR, scoring 20 of her team's 25 points. Mya Olsen had the other five.
Class C
• In a nail-biter between two of the top teams in the class, Jenna Rust and Kiarra Brunelle scored 14 points apiece as Westby-Grenora slipped past Scobey 47-41. Samantha Ledahl added nine points for the Thunder. Kortney Nelson and Ryleigh Backman led the way for Scobey with 12 points apiece. 
• Noxon downed Victor 52-19 behind 14 points from Chelsea Vohs and 13 from Avery Burgess. The Red Devils outscored the Pirates 32-11 over the final two quarters.
• Ronan's JV team beat Valley Christian 51-16 at the Ronan Class C tip-off. Dani Coffman had 13 points for the Chiefs and Chloe Davis added on nine. Tayler Vance, MacKenzie Dierking and Maggie Harvey each had four for the Eagles.
• Charlo roared past Lincoln 49-18 in a game the Vikings led 16-1 at halftime. The Vikings scored 28 points in the second half.
• Drummond rode a strong first half to a 53-37 win over St. Regis. The Vikings hit seven 3-pointers in the first half and led 37-13 at the break. Macy Williams had 18 points, Jessie Strunna tallied 18 and Sydney Phillips scored 12 for Drummond. Kylee Thompson and Baylee Pruitt both had 11 for the Tigers.
• Plains started strong and held off Alberton-Superior for a 45-34 win in Ronan. Kylee Altmiller poured in 27 points for the Trotters. Darby Haskins tallied a team-high nine points for the Mountain Cats.
• Janessa Willekes scored 17 points, includnig seven in the fourth quarter, as Simms held off Centerville 44-41. Abbi Whitney was high scorer for the Miners with 13. 
• Maddie Cone led Lone Peak with 14 points in a 47-41 win over Absarokee. The Huskies, who trailed by 12 after the first quarter, got within three in the fourth before Ivy Hicks made three of four from the foul line to help secure the win. Breezy Williams led Absarokee with 12 points.
• Karli Lane's 15 points led the way and Keeley Chrest added 12 as Harlowton-Ryegate toppled Park City 46-37. Sydney Kluth and Abby Hoffman had eight points apiece for the Panthers. 
20-Point Club
35: Brandon Knudsen, Hot Springs
35: Riley Spoonhunter, Browning
33: Braden Harrington, Butte Central
32: Tayt Hansen, Harlowton
28: Kade Cutler, Philipsburg
27: Kylee Altmiller, Plains
27: Blythe Sealey, Roundup
23: Cole Trexler, Corvallis
20: Tia Stahl, Winnett-Grass Range
20: Carson McGinness, Centerville