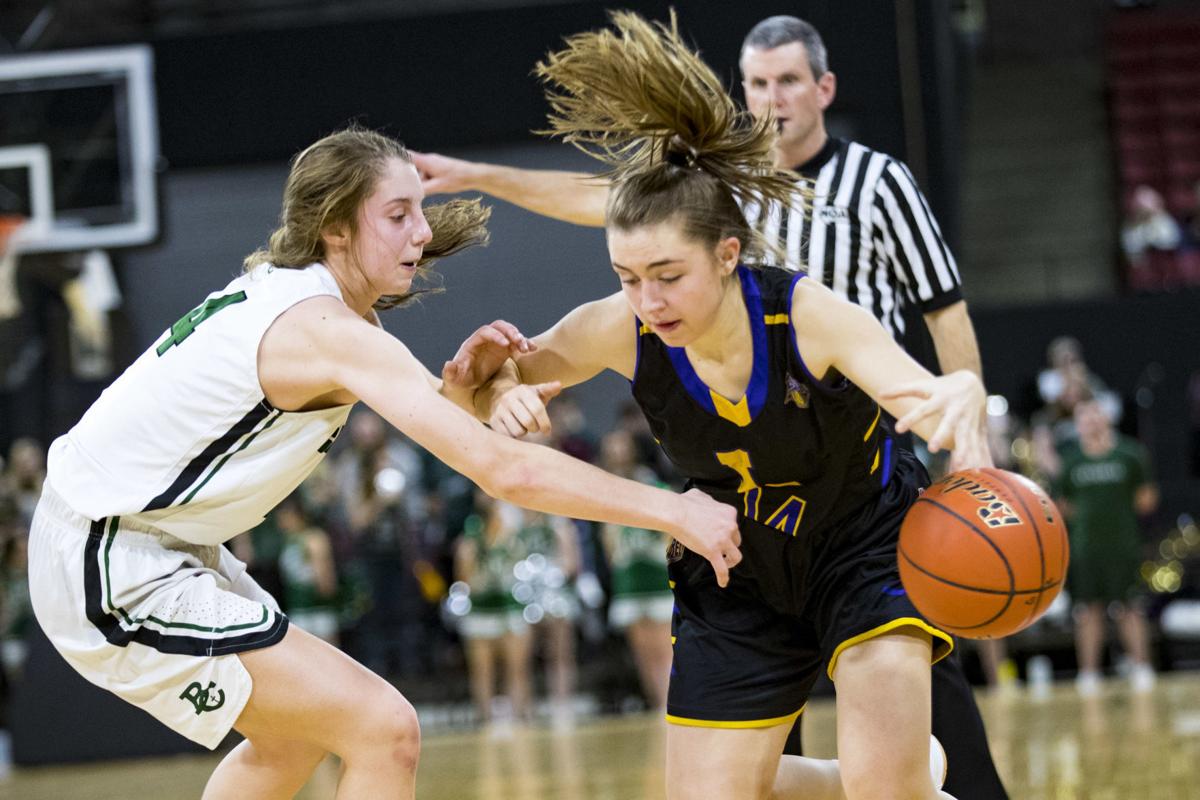 Editor's note: Full Court Press will be continually updated through the night as results arrive.
Boys Basketball
Class AA
• Second-ranked Billings West scored 25 points in the first quarter and went on to a 74-43 Eastern AA win over Great Falls CMR, the Golden Bears' 11 straight win. Four West players reached double figures, led by Logan Meyer's 16 points and Neil Daily's 12. Paul Brott and Josh Erbacher both had 11. Keegan Barnes of CMR led all scorers with 20 points. 
• Rollie Worster pumped in 23 points, Beckett Arthur added 11 and Abe Johnson 10 as top-ranked Missoula Hellgate remained perfec on the season with a 58-42 triumph over No. 3 Helena Capital. Shane Haller had 12 points and Brayden Koch 10 for the Bruins.
• Tre Reed led with 13 points, Ben Maehl added 11 and Draven Lincoln 10 as Missoula Big Sky built an early lead and held on to down Kalispell Glacier 61-58 for its first win of the season. The Eagles led by 10 at halftime, saw the Wolfpack rally for a one-point lead after three quarters, then slipped away over the final eight minutes. Drew Engellant led all scorers with 20 points for Glacier, and Weston Price had 16.
• Fourth-ranked Missoula Sentinel used 32 points by Alex Germer to roll over Kalispell Flathead 87-56. Germer also had five assists and five rebounds. Teammate Tony Frohlich-Fair added 18 points.
Class A
• Kellen Detrick had a big night with 25 points and Josh Warp added 10 to lift Havre over Sidney 74-47. The Blue Ponies, who had 10 players in the scoring column, led by seven after one quarter and built the lead to 20 by halftime. Aaron Entz had 15 points and Dawson McGlothlin 14 for the Eagles. 
• A 16-4 third quarter helped Billings Central overcome a slow start and hold off Laurel for a 59-56 Eastern A win. Gabriel Penha Dos Santos scored 14 points, and Malachi Stewart added 13 for the Rams. Laurel's Eli Aby and Colter Bales each scored a game-high 17 points, and fellow junior Nick Pasquarello added 10. The Locomotives led 23-20 at halftime.
Class B
• Eli Pedersen's 23-point effort led the way as No. 10 Florence pulled away from Arlee late for a 62-51 triumph. The Falcons led by six points entering the fourth quarter. Beau Neal contributed 14 points and J.P. Briney 10 for Florence. Arlee was led by 20 points from Cody Tanner and 13 from Tapit Haynes. 
• Four players scored in double figures as Jefferson pounded on Big Timber 71-39. Josiah Williams had 16 points, Avery Stiles 15, Trent McMaster 14 and Jaxson Yanzick 13 for the Panthers, who led by 10 points after one quarter and never slowed. Dawson Laverell, Connor Giesecke and Austin Nevin each had seven points for the Herders.  
• Malachi Little Nest pumped in 29 points and Damon Gros Ventre was right behind with 24 as top-ranked Lodge Grass rebounded from its loss to No. 2 Huntley Project by running away from St. Labre 97-69. The Indians scored 30 points in the first quarter and 33 in the third. Tegan MedicineBull and Kevin Shane each fired home 24 points for the Braves. 
• Colstrip's JT Baer was too much to handle with 27 points and the No. 3 Colts defeated No. 6 Lame Deer for the second time this season, 67-46. Colstrip won each quarter, building a six-point lead after the first eight minutes and advancing the margin to 14 by halftime. Ten playes scored for the Colts.
• Thompson Falls pulled a home upset win over Eureka 49-28. Sidney Akinde scored 14 points to lead the Blue Hawks. AJ Pacella had 10 and Cory Chaney nine for the Lions, who were outscored 16-4 in the fourth quarter. 
• Dustin Dalke scored 22 points and Micaiah Hauser had 19 as Three Forks shrugged off a slow start and regrouped to trounce Townsend 71-47. The Wolves trailed by six points after the first quarter but took a two-point halftime lead by holding the Bulldogs to five second-quarter points. Three Forks then went on a 27-16 binge in the third quarter. Tyler Christensen's 19 points led Townsend. 
• Keeley Bake was the night's big scorer with 36 points and Daniel Faith chipped in with 15 to carry Fairfield over Rocky Boy 79-77.
• Logan Murray led four players in double figures with 17 points and Shepherd needed every one to offset the hot shooting of Red Lodge's Trey Allen in a 61-56 triumph over the Rams in overtime. Colton Zubach scoerd 15 points, Jaxon DeHaven 11 and Colt Hando 10 for the Mustangs in a game that was tied at halftime, after three quarters and in regulation. Allen poured in 27 points for Red Lodge, which also received 10 from Corby Mann.
• Rhett Reynolds continued his hot shooting with 23 points, and Logan Leck and Tanner Parsons each dropped in 12 to lead Shelby over Great Falls Central 58-48. Drew Neuman and Shane Girres each scored 12 for the Mustangs, and Logan Warren added 11. 
Class C
• Nelson Smith led the way with 24 points and three other Darby players scored in double figures as the Tigers routed Charlo 75-46. Preston Smith was next with 17, followed by Tyler Davis with 14 and Gabe Smith at 13. Darby led by a point after one quarter but built the lead to nine at halftime and pulled away with a 26-11 third quarter. Brayton Zempel's 10 points led the Vikings.
• Quinlan Ream was tops with 16 points and Brayden Rodriguez helped with 14 to power Seeley-Swan over Lincoln 59-40. Walker McDonald and Dakota Wood each added nine for the Blackhawks. Nathan Brown scored 18 and Brodi Henderson 16 for the Lynx.
• Grady Gonsioroski scored 25 points and Blake Lien added 13 points for Richey-Lambert in a 68-66 win over Culbertson. Eli Williams poured in 29 points and Gabe Granada did his share with 18 for the Cowboys.  
• Kade Cutler scored 20 points to lead Philipsburg to a 64-47 conquest of Alberton-Superior. Brian Ward added 19 points and Daniel Brabender had 14 for the victors, who led 24-2 after the first quarter. Aaron Waddle had 25 points and Carson Callison 12 for the MountainCats.
• Josiah Amunrud led with 19 points, Caidin Hill added 15 points and nine assists, and Sam Leep 10 as top-ranked Manhattan Christian moved to 15-1 with a 71-31 romp at Shields Valley. The Eagles led 51-17 at halftime. Kaden Acosta scored 12 for the Rebels.
• Ryan Roth had 13 points, Clint Darlington added 11 points and six rebounds, and Parker Proulx had 10 points and six rebounds as Big Sandy rolled over North Star 57-37. Garrett Spicher was North Star's only player in double figures, with 10 points. Caden Rettig had eight rebounds for the Knights.
• Jesse Strickland scored 25 points, Derek Bowker added 18 and Bainville held off Circle 60-57. The Bulldogs trailed by a point after three quarters. Hayden Lockie scored 21 points and Blayne Hubing had 10 for the Wildcats. 
• Garrett McMillen had a big night with 20 points, Tucker Johnstone added 14 and Austin Dennis had 10 to lead Park City over Broadview-Lavina 52-24. Hank Tuszynski scored nine for the Pirates, who were held to six second-half points. 
• Walker Doman led Winnett-Grass Range with 18 points and Derrick Zimmerman chipped in with 12 as the Rams fended off Geraldine-Highwood 52-42. Jacob Jessen added nine for Winnett-Grass Range.
• Colt Miller pumped in 22 points and Jovonne Nesbit added 17 to lift No. 9 Froid-Lake over Westby-Grenora 54-38. The Red Hawks led by only a point at halftime and six after three quarters, but put it away in the final eight minutes. Adain Harbin had 10 points for the Thunder. 
• Mick O'Connor scored 22 points to lead Ekalaka to an easy 55-13 win over Wibaux. Ekalaka led 17-2 after one quarter and by 21 points at halftime.
• Aiden McDaniel was top scorer with 18 points, Hunter Vogl was next with 15 and Kaimen Evans had 10 as Belt coasted past Hobson-Moore-Judith Gap 61-36. Matt Erke's 14 points led H-M-JG.
• Eleven players cracked the scoring column as No. 7 Chinook won 83-49 at home against Turner. The Sugarbeeters were sparked by the 17 points of Reese Elliot. His 10 teammates added five to eight points apiece. Chinook was in command 53-25 by intermission. Turner's Austin Welsh scored a game-high 29 points, including four 3-pointers.
• Corbin Lonebear led with 16 points, Shaun Ball had 14 and Zarek Jones 10 for Dodson in its 57-36 victory over Saco-Whitewater-Hinsdale. The Mavericks received 14 points from Dustin Ostrom and 10 from Beau Simonson.
• Dallin Nelson was on fire with 31 points and Simms bolted to a big early lead and cruised past Valier 77-35. Brennyn Rushton scored 12 and Kaidin Thibert 11 for the Tigers. Brett Stoltz paced Valier with 10 points and Brody Connelly had nine.
• Sloan McPherson had the hot hand with 21 points, Logan Nelson was right with him at 19 and Gage Bloesser helped with 15 as Savage pulled away from Brockton in the second half for a 61-34 victory. Savage trailed 27-24 at halftime but outscored Brockton 17-0 in the third quarter in a battle of the Warriors.
• Kolden Hoversland paved the way with 19 points, Elijah Lenihan added 18 and Terry Allmer 15 to power Lustre Christian to a 79-27 romp over Frazer. Klein Ackerman scored 16 to lead the Bearcubs.
• Charlie Kruer's 21 points led second-ranked and unbeaten (16-0) Twin Bridges over West Yellowstone 74-38.
• Justin Stulc scored 18 points, Brody Geer added 14 and Tyler Fordyce offered 12 to push Roy-Winifred past Centerville 55-33. Carson McGinness topped the Miners with 16. 
• Tristan Kipp led with 17 points and Cameron Falcon added 13 to lead Heart Butte over Power 51-44. Ben Lehnerz topped Power with 18 points, followed by Jackson Widhalm with 10.
Girls Basketball  
Class AA
• Lily Johnson scored 13 points and Jensen Keller added 12 to help Billings Senior to a 49-29 win over Belgrade in an Eastern AA game. Johnson scored seven on her points in the second quarter as the Broncs opened up a 30-13 halftime lead. Gracy Carter scored 10 to lead Belgrade. 
• No. 4 Billings West won its eighth game in a row with a 48-39 Eastern AA victory over Great Falls CMR. Willa Albrecht scored 15 points and Shauna Stene added 10 for the Golden Bears, who improved to 10-3 and 6-0 in the league. Kiely Gunderson led CMR with 11 points. 
• Lexi Deden popped in 16 points and Challis Westwater contributed 14 as No. 3 Missoula Sentinel built a 19-point halftime lead and cruised past Kalispell Flathead 49-36. Jenna Johnson scored 14 points and Kenedy Kanter added 10 for the Bravettes.
• Bailee Saylor scored 20 points and No. 2 Missoula Hellgate rebounded from its Thursday upset loss at Helena with a 53-51 victory over No. 1 Helena Capital, handing the Bruins their first defeat in 13 games. Keke Davis tied the game at 51-all for the Knights with two free throws and gave them a one-point lead with another free throw before Lauren Dick's free throw made it 53-51 with 14.7 seconds to play. Capital then missed an open 15-footer just before the buzzer. Davis, Dick and Addy Heaphy all scored 10 points for Hellgate. Paige Bartsch scored 18 points and sister Dani Bartsch added 10 for the Bruins.
• Ellie Keller scored 17 points and Kalispell Glacier kept Missoula Big Sky winless (0-14) with a 64-29 win. Corbyn Sandau led the Eagles with eight points. 
Class A
• Kamber Good Luck led four players in double figures as Hardin improved to 15-1 with a 73-30 trouncing of Miles City. Ivery Fritzler scored 16, Navaeh Alden 14 and Marie Five 12 for the Bulldogs, who sprinted to a 29-6 lead after one quarter and improved the margin 39 by halftime. 
• Kylee Pittman was tops with 11 points and Ainsely Shipman added 10 to lead Dillon over Stevensville 44-29. Evynne Alexander scored nine points and Syd Paul added eight for the Yellowjackets. 
• No. 3-ranked Havre received 19 points from Sadie Filius and 17 from Kyndall Keller in beating visiting Sidney 72-34. Kadia Miller also hit for 11 points for the reigning State A champion Blue Ponies. Have jumped ahead 21-8 after one quarter and 42-21 by halftime. Maddie Peters of Sidney finished with 12 points.
• Mya Hansen came back to haunt her former teammates with 21 points as No. 2 Billings Central rolled past arch-rival Laurel 56-39 thanks to a dominant fourth quarter. The teams were tied 33-all entering the final eight minutes before the Rams took over. Solei Elletson scored 14 and Olivia Moten-Schell added 11 points and 14 rebounds for Central. Sammi Spitzer scored 13 points and Gracey Wills had 11 for the Locomotives.
• Maddie Robison led with 14 points, Josie Windauer added 12 and LaKia Hill 10 as No. 5 Columbia Falls put 12 players in the scoring column and routed Polson 66-7. The Wildkats led 21-0 after one quarter and 40-2 at halftime.
Class B
• Taya Trottier was unstoppable with 32 points and No. 3 Harlem withstood a huge fourth-quarter rally to down No. 7 Glasgow 52-43. The Wildcats had a comfortable 44-18 lead entering the final eight minutes. L'Tia Lawrence chipped in with eight points for Harlem. Tyann Graham helped keep it interesting for Glasgow with 12 points and Abe Nielsen added 11. 
• Jessi Jordan led a balanced Colstrip offense with 14 points and the sixth-ranked Fillies jumped to a big first-half lead en route to dispatching Lame Deer 72-48. Baily Egan had 13 points and Addison Casterline 10 for Colstrip, which led by nine points after one quarter and 23 at halftime before the Morning Stars made a third-quarter push. MiShayne Bearchum led Lame Deer with 23 points. 
• Maddison Underdal scored 16 points and Brook Luly added 10 as Shelby had little trouble with Great Falls Central 58-25. Ten players scored for the Coyotes, who led 21-6 after one quarter. Michaela Hawk's eight points led Central. 
• Priscilla Flatmouth poured in 30 points, Teegan Ewing added 13 and Madison Big Horn 11 to carry St. Labre over Lodge Grass 72-58. The Braves led by only seven points at halftime but used a 19-7 third quarter to pull away. Shantell Pretty On Top led the Indians with 21 points, followed by LaRea Wallace with 13 and Dramond Amyotte at 12. 
• Kenna Pitcher scored 23 points, Cheyenne Maddox 13 and Madison Rosenbuam 10 to lead Fairfield over Rocky Boy 56-45 in OT. Angela Gopher scored 17, Mariah Arkinson 12 and Jeralyn Parker 10 for the Stars. 
• Taylor Noyes scored 14 points and a balanced Townsend squad toppled Three Forks 46-41 after rallying from a seven-point halftime deficit. The Bulldogs outscored the Wolves 7-0 in the third quarter to tie it and then won the final eight minutes 19-14. Sterling Owens added nine points for Townsend. Kendall Lynn had nine for the Wolves. 
• Megan Hanson and Jadyn Pluid each scored 12 points and Eureka won a wild one in double overtime over No. 8 Thompson Falls 57-55. The Lions led by nine points entering the fourth quarter only to see the Blue Hawks rally. Ellie Baxter led all scorers with 19 points for Thompson Falls, which also received 13 points from Belle Cooper and 11 from Jody Detlaff.
• Kasidy Yeoman pumped in 23 points and a balanced Florence team outperformed Arlee 59-29. The Falcons led by only two points after one quarter and nine at halftime but poured it on with a 19-4 third quarter. Jerny Crawford's eight points topped Arlee.
• Bailey Finn scored 20 points and Hailee Brandon contributed 12 to carry Big Timber over Jefferson 51-46. Darby Johnston added eight for the Herders. Grace Alexander scored nine and Ashton Oxarart and Emma Grange eight each for Jefferson. 
• Liddia Fontaine scored 14 points, Lilly Fouts added 12 and Red Lodge outlasted Shepherd 53-51 in overtime. The Rams led 25-18 at halftime only to see the Fillies rally and lead by one after three quarters. Kiera Dennison scored 14 points and Aubrey Allison added 12 for Shepherd. 
• Hayley Story and Isabelle Adams each scored 12 points as Park City rolled past Broadview-Lavina 37-20. The Panthers led by five points after one quarter but outscored the PIrates 12-2 over the next eight minutes.
• Jenna Rust kept up her hot hand with 19 points and Elizabeth Field chipped in with 16 as No. 8 Westby-Grenora used a big second-half rally to fend off Froid-Lake 48-34. The Thunder (15-1) trailed by eight points after one quarter and 11 at halftime, but made up all the ground and more with a 24-6 third quarter. The Thunder outscored the Red Hawks 37-12 after intermission. Sydney Dethman's 15 points topped Froid-Lake.
• Liv Wangerin led with 18 points, Shayla Fawcett had 14 and Plentywood held off a late rally by Fairview for a 45-43 win. The Wildcats used a 15-4 third quarter to build a 12-point lead, only to see the Warriors rally. Jadyn Gackle led the charge with 16 points and Macy Sendeck added 12 for Fairview. 
• Dana Lerum poured in a season-high 31 points and nearly outscored Lima by herself as Harrison-Willow Creek downed the Bears 61-34. Lauren Cima added 10 points for the Wildcats, who trailed 13-8 after one quarter but outscored Lima by 26 points over the next two quarters. 
• Faith Borland's 13 ponits led a balanced Culbertson offense and the Cowgirls withstood a fourth-quarter Richey-Lambert push for a 58-54 triumph. Culbertson led by 10 points entering the final eight minutes. Makena Hauge scored 12 points, Ashtyn Ator added 10 and Kelsie Williams had nine for the Cowgirls. Richey-Lambert's Courtney Herman led all scorers with 21 points. Jaylyn Klempel helped with 12. 
• In a sister act, Ryann Moline and Alexis Moline each had 12 points in Circle's 49-42 toppling of Bainville. The teams were knotted at 38-all entering the fourth quarter, which was dominated by the Wildcats. Lakyn Rabbe scored 16 points and Kiylee Kellis added 12 for the Bulldogs. 
• Eliana Kuperus led with 19 points, eight rebounds and four steals, and Kiersten Van Kirk helped with 17 points, six rebounds and three steals as No. 10 Manhattan Christian cruised past Shields Valley 49-31. Hope Kenney had six assists for the Eagles.
• Macy Hill had the hot hand with 28 points, Kylie Thompson provided backup with 21 and Sunny Shoupe pitched in with 18 to power St. Regis over Two Eagle River 74-40. The Tigers dominated from the start, building a 12-point lead after one quarter. Ceslana Shepherd did most of the damage for Two Eagle, hitting for 22 points. 
• Reece Pitcher scored 20 points and Amelia Hill added 15 in Philipsburg's 61-35 win over Alberton-Superior. The Prospectors limited Clark Fork to 12 second-half points to pull away.
• Sylvie Stewart was tops with 19 points, Lois Flat Lip had 12 and No. 7 Plenty Coups pulled away from Roberts 74-51. Kimberly Bear scored 17 points and Emma DeVries added 12 for the Rockets.  
• Marni Schieffer scored 21 points, Ceara Miske added 14 and Layni Schieffer had 11 as Wibaux slipped past Ekalaka 59-57. Heather LaBree pumped in 21 points and sisters Heidi LaBree and Hannah LaBree had 12 and 10 for Ekalaka.
• McKenzie Cannon led the way with 17 points and Sydney Jackson pitched in with 16 to carry No. 6 Hot Springs over Noxon 66-43. Brianna Gray added 12 for the Savage Heat, who led 17-4 after one quarter.
• Carlee Fryberger had 18 points and six steals, and Liev Smith added 13 points and five rebounds to lead Charlo over Darby 57-20. Destiny Manuel hadded eight points and eight rebounds for the Vikings, who led 17-3 after one quarter. 
• Jade Wendlend was the game's high scorer with 17 points and North Star routed Big Sandy 65-23. Kaytlyn Domire had a double-double with 14 points and 10 rebounds, and Shayla Borlaug 10 for the Knights. Erin Taylor and Mia Dilworth had six points apiece for the Pioneers. 
• Jonna McCullough had a game-high 19 points and Azzia Rowland added nine to help Geraldine-Highwood past Winnett-Grass Range 49-39. Tia Stahl, one of the state's leading scorers, led the Rams with 18. Shani Browning added 12. 
• Brooke Schraner led four players in double figures with 15 points and No. 2 Belt had little trouble with Hobson-Moore-Judith Gap 62-29. Kolby Pimperton scored 12 pionts, and Lindsay Paulson and Shelby Paulson each added 10 for the Huskies (15-1). Danielle Horan scored 13 for H-M-JG.
• Kia Wasson's 18 points were tops and Kaitlyn McColly pitched in with 10 as Saco-Whitewater-Hinsdale fended off Dodson 42-32. Melony Fetter led the Coyotes with 13 points. 
• Laura Zietzke scored 17 points, Janessa Willekes added 16 and Simms used a huge fourth-quarter rally to overtake Valier 68-64. The Tigers trailed by 10 points entering the final eight minutes but outscored the Panthers 27-13. Emma Valdez scored 15 points, Hannah Monroe 14 and Erica Ramsey 12 for Valier.
• Haylie Conradsen outscored Brockton all by herself and then some with 35 points in Savage's 65-25 trouncing of the Warriors. Brooke Reuter backed Conradsen with eight points for Savage.
• Cassie Nack's 17 points topped all scorers and No. 1 Fort Benton stayed perfect with a 71-36 romp over two-time defending state champion Box Elder. Emerson Giese added 12 points and Aspen Giese nine for the Longhorns. Sarah Parisian's 10 points led the Bears.
• Brandy Calvert and Sarah Billmayer each dropped in 15 points and Shyann Krass contributed 12 to lead Turner past Chinook 58-22. Anna Murrow's five points topped the Sugarbeeters.
• Kaylandra St. Marks produced nearly half of her team's points with 23 and Kaydin Sibley added 14 to carry Frazer over Lustre Christian 47-44. Alexa Reddig scored 16 points and Amber Reddig added 15 for Lustre.
• Danna Ochoa scored 16 points and Emmie Collins chipped in with 10 to help West Yellowstone overcome Twin Bridges 37-32. The Wolverines led 23-8 at halftime and were still up by 12 entering the final eight minutes. Hailey Pack's nine points led the Falcons.
• Sophia Darr led four players in double figures with 14 points and Gardiner coasted past White Sulphur Springs 63-40. Kyndra Long scored 11 points and Leah Veress and Josie Thomas had 10 apiece for the Bruins. Kenzie Hereim led the Hornets with 14 points. 
• Hailey May's 12 points and 11 from Veronica Smelser lifted Power over Heart Butte 45-18. Marie Kennedy scored 10 for Heart Butte.
• Olivia Geer scored 19 points and Dyauni Boyce and Isabelle Heggem provided 10 each to power No. 3 Roy-Winifred past Centerville 60-14. 
20-Point Club
36: Keeley Bake, Fairfield
35: Haylie Conradsen, Savage
32: Taya Trottier, Harlem
32: Chad Germer, Missoula Sentinel
31: Dana Lerum, Harrison-Willow Creek
30: Priscilla Flatmouth, St. Labre
29: Malachi Little Nest, Lodge Grass
29: Eli Williams, Culbertson
27: Trey Allen, Red Lodge
25: Kellen Detrick, Havre
25: Grady Gonsioroski, Richey-Lambert
25: Jesse Strickland, Bainville
25: Aaron Waddle, Alberton-Superior
24: Damon Gros Ventre, Lodge Grass
24: Tegan MedicineBull, St. Labre
24: Kevin Shane, St. Labre
23: Eli Pedersen, Florence-Carlton
23: Kenna Pitcher, Fairfield
23: Rollie Worster, Missoula Hellgate
23: Kaylandra St. Marks, Frazer
23: Kasidy Yeoman, Florence-Carlton
23: Rhett Reynolds, Shelby
22: Ceslana Shepherd, Two Eagle River
22: Colt Miller, Froid-Lake
22: Mick O'Connor, Ekalaka
22: Dustin Dalke, Three Forks
21: Courtney Herman, Richey-Lambert
21: Shantell Pretty On Top, Lodge Grass
21: Kylie Thompson, St. Regis
21: Heather LaBree, Ekalaka
21: Marni Schieffer, Wibaux
21: Mya Hansen, Billings Central
21: Hayden Lockie, Circle
21: Sloan McPherson, Savage
21: Charlie Kruer, Twin Bridges
20: Keegan Barnes, Great Falls CMR 
20: Kade Cutler, Philipsburg
20: Bailee Saylor, Missoula Hellgate
20: Drew Engellant, Kalispell Glacier
20: Garrett McMillen, Park City
20: Dawson Murnion, Jordan
20: Keenan Murnion, Jordan
20: Bailey Finn, Big Timber
Get in the game with our Prep Sports Newsletter
Sent weekly directly to your inbox!