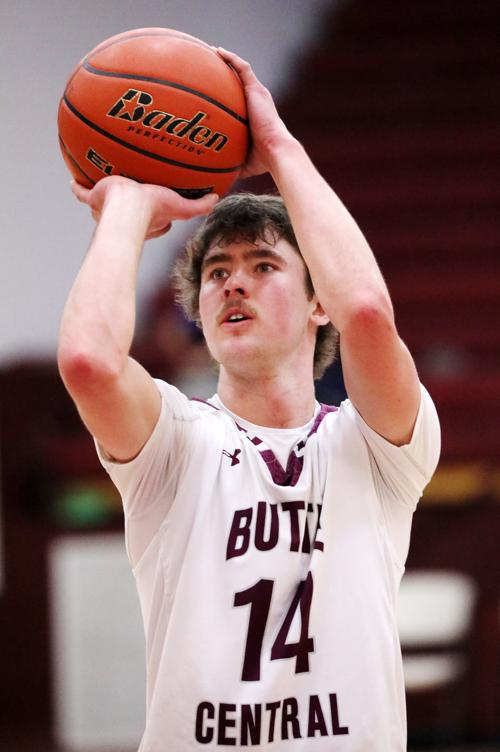 Editor's note: Full Court Press will be continually updated through the night as results arrive.
Boys Basketball
Class AA
• Second-ranked Missoula Sentinel suffered its first loss of the season at fifth-ranked Helena Capital 72-59. Parker Johnston paced Capital with 17 points. The Bruins went on an 18-6 run in the fourth quarter. Alex Germer scored a game-high 27 points for Sentinel. . 
Class A
• Charlie Parkan scored 15 points and Brock Blatter added 13 as Billings Central won its third game in a row, 70-40 over Glendive. The Rams, who had six players combine for eight 3-pointers, led 40-14 by halftime. Glendive's Taven Coon scored 16 points to lead all scorers.
• Led by Cade Baker's 13 points, 11 Frenchtown players scored in a 59-39 whipping of Ronan. The Broncs led by eight points after one quarter and put the game away with 23-7 run in the second eight minutes. Brandon Finley and Zack Baker added nine apiece for Frenchtown. Ten players scored for the Chiefs, led by Girma Detwiler with and Zarec Couture with seven apiece. 
• Famous Lefthand scored 25 points, Trae Hugs added 19 and Kevion Ladson pitched in with 16 as top-ranked and unbeaten Hardin kept rolling with an 88-40 rout of Lewistown. The Bulldogs led 42-17 at halftime and built their lead from there. Grayden Sanders topped the Golden Eagles with 13 points. 
• Nick Battrick led a balanced Livingston offense with 11 points and Sage McMinn added 10 in the Rangers' 65-54 victory over Class B Big Timber. Eli Landos added nine points for Livingston. Dawson Laverell  scored 20 points and Tristin Matzik added 13 for the Herders. 
Class B
• Undefeated and top-ranked Class C Manhattan Christian was beaten at home 63-62 by No. 4 Three Forks. The visiting Wolves led by as many as 13 points early in the game. Micaiah Hauser led the way for Three Forks with 27 points and seven rebounds. Sam Leep of Manhattan Christian finished with 26 points and eight rebounds. The Eagles shot just 5 of 28 from 3-point territory.
• Rhett Reynolds led three players in double figures with 19 points and No. 10 Shelby held off Malta 60-50. The Coyotes led by five points entering the final eight minutes. Logan Leck scored 18 points and Tanner Parsons addec 17 for Shelby. Malta received 14 points from Kooper Oxarart, 12 from Rex Williamson and 10 from Tanner Smith.
• Colby Martinez had the hot hand with 28 points and Reece Hogstad added 13 to power No. 7 Columbus over Red Lodge 71-62. The Cougars took an 11-point lead after one quarter and kept the Rams at arm's length the rest of the way. Trey Allen kept Red Lodge close with 23 points, and Austin Heimer and Corby Mann each scored 14. 
• Lance St. Germaine scored 15 points, Nick Page had 12 and Treyton Lilley 11 for Wolf Point in a 65-46 romp past Glasgow. The Wolves led 34-14 at halftime. The Scotties received 11 points from Kiegan Skolrud and 10 from Tim Wageman.
• Hayden Harrell was on fire with 36 points and Devin Gober notched 22 as Cut Bank eased past Class C Great Falls Central 61-55. Cayle Schraner scored 20 and Drew Newman 17 for the Mustangs. 
• Blake Cantrell led five players in double figures and No. 6 Rocky Boy kept rolling with an 87-65 victory over Choteau. Backing Cantrell were Joe Demontiney with 17 points, Wyatt Caplette at 14, Nacona Limberhand 13 and Sean Gibson 10. 
Class C
• Caden Rettig had a game-high 23 points -- 10 in the fourth quarter -- and Austin Hansen added 10 as North Star rode a balanced offense to a 59-46 win over Turner. Eight players scored for the Knights. Austin Welsh scored 15 points and Jack Harmon and Shane Kimmel added 11 apiece. 
• Jason Todhunter led 10 players in the scoring column with 14 points and Harlowton-Ryegate rolled over Fromberg 72-30. The Engineers led 21-4 after one quarter. Ryan Fenley and Tayt Hansen added 11 points apiece for Harlowton. Brody Dobson scored 10 for Fromberg. 
• Braeden Romo scored 20 points and Bainville got off to a fast start en route to downing Savage 67-52. The Bulldogs led 18-9 after one quarter and built the margin to 15 by halftime. Kaden Hansen had Romo's back with 19 points and Derek Bowker was right behind with 17. Sloan McPherson led all scorers with 31 for Savage. 
• St. Ignatius edged visiting Arlee in an overtime thriller 80-76. Zoran LaFrombois paced the Bulldogs with 27 points. Cody Tanner scored 26 for the Warriors.
• Wibaux fell behind big early and fell 69-28 to Beach (N.D.) despite 17 points from Colten Miske. The Longhorns trailed 27-2 after the first eight minutes. Gage Swanson scored 34 points to lead Beach.
• Shayden Cooke pumped in 26 points to lead four players in double figures as No. 4 Melstone swamped Northern Cheyenne 85-41. Bryce Grebe scored 14, Ty Kombol 11 and Askew Kreed 10 for the Broncs, who had 11 players etch their names in the scorebook with points.  
• Matt Kaiser dropped in 26 points and teammate Charlie Kruer was right behind with 22 to lead No. 2 Twin Bridges to its 76-51 romp over Philipsburg. Bryce Nye added 10 for the Falcons. Bryan Ward scord 19 for the Prospectors. 
• Justin Stulc hit for 29 points in leading Roy-Winifred to a 57-49 victory at Winnett-Grass Range. Stulc accounted for 11 of Roy-Winifred's 21 fourth-quarter points. Winnett-Grass Range was ahead 38-36 going into the final eight minutes. Brody Geer and Tyler Fordyce both had 10 points for the visitors. Jacob Jessen tallied 20 points for Winnett-Grass Range. Teammate Derrik Zimmerman added 10.
• Brendan Falls Down and Clarence Stewart each scored a team-high 17 points and Zane Plainfeather contributed 11 to lift No. 10 Plenty Coups to a 56-39 victory over Park City. The Warriors trailed by six points at halftime but ran away with it with a 21-3 third quarter. Tucker Johnstone scored 13 points and Austin Dennis had 12 to keep it close for the Panthers. 
• Jovonne Nesbit poured in 26 points and Froid-Lake won a wild one in overtime over Richey-Lambert 73-71 in a game that was close the entire way. Tyler Wivholm scored 14, Colt Miller 13 and Mason Dethman 10 for the Redhawks. Grady Gonsioroski had the answer for Richey-Lambert, scoring a game-high 27 points. Caleb Senner and Blake Lien each scored 16 for the Fusion.
• Brothers Hayden and Garrett Diekhans combined for 32 points as No. 3-ranked and undefeated Fort Benton won at No. 7 Chinook 71-39. Hayden's game-high 23 points led the way. Fort Benton was in control 35-20 by halftime and 53-29 after three quarters.
• Douglas Murnion scored 23 points and cousin Edward Murnion added 11 for Jordan in a 50-44 victory over Terry. Dawson Murnion scored seven, Keenan Murnion six and Cole Murnion three as the Murnion family scored all 50 Mustangs points. 
• Blayne Hubing had 11 points, Rhett Bailey added 10 and Hayden Lockie nine to carry Circle to a 48-34 win over Nashua. 
• Drew Ouradnik had the hot hand with 25 points and Brayden Osse contributed 18 to lead Billings Christian past Heritage Christian School 97-34. Filipp Smirnov added 14 for Billings. 
Girls Basketball
Class AA
• Bozeman's 3-point attempt near the buzzer was short, and Billings Senior hung on for a 43-40 win in a game that nearly duplicated the Broncs' overtime loss to Billings West less than 24 hours earlier. Senior led 42-31 with 3:15 to play before the Hawks closed to 43-40 on a 3-pointer by Emily Williams. Unlike Friday's game, when West's Laiten Lantis hit a tying 3 at the buzzer to send the Golden Bears to an OT win, Senior survived Bozeman's final shot. Brenna Linse scored 9 points to lead Senior and Cass Venner had eight. Addi Ekstrom had 11 points and Lucy Child finished with 10 for Bozeman.
• Mara McGinley topped all scorers with 17 points and Mashayla O'Malley added 12 as top-ranked Helena Capital rallied past No. 3 Missoula Sentinel 53-42 in a Western AA showdown. Sentinel led 30-23 at halftime before the Bruins took over with a 15-4 third quarter. Lexi Deden led three Spartans in double figures with 11 points. Challis Westwater and Jayden Salisbury added 10.
Class A
• Second-ranked Havre knocked off Class B No. 9 Fairfield 56-31 as Kendall Keller scored 16 points and teammates Loy Waid and Sadie Filius each contributed 10 points. Kenna Pitcher carried Fairfield with 19 points. 
• Josey Jones led Dillon with 17 points and the Beavers knocked off Hamilton 40-29. Maggie Ringer scored 11 for the Broncs in the Southwest A battle. 
• Jaylea Lunceford led all scorers with 19 points, Regan Clairmont added 12 and Ronan coasted past Frenchtown 51-32. Lunceford scored 13 points in the first half. Cassidy Bagnell's eight points topped the Broncs.
• Mya Hansen and Olivia Moten-Schell combined for 37 points in Billings Central's 47-31 win over Glendive. The No. 1-ranked Rams improved to 9-0 after pulling away from the Red Devils in the second half. Central led 21-18 at the break. Hansen finished with 19 points and Schell had 18. Karsen Murphy led Glendive with 18 points.
Class B 
• Justine Lamb led 10 players in the scoring column with 13 points and Malta coasted past Shelby 51-33. Kylee Nelson had nine points and Allie Kunze eight for the M-ettes. Bailey Nelson led all scorers with 16 points for Shelby.
• Top-ranked Missoula Loyola moved to 11-0 with a 56-40 win at fourth-ranked Whitehall. Leading the way for the Breakers were Syd Koppang with 16 points, Lani Walker 13 and Nat Clevenger 12.
• Peyton Page came up with 13 points, seven rebounds and three steals as Three Forks won at Class C Manhattan Christian 38-34. The Eagles entered the game ranked 10th in the state. The Wolves also received nine points, five rebounds and three assists from Kendall Lynn. Eliana Kuperus helped keep the Eagles close with her double-double of 20 points and 10 rebounds.
• Emily Cooley dumped in 17 points and teammate Hailee Brandon helped with 13 to lead No. 3 Big Timber over Class A Livingston 56-50 behind a big fourth quarter. Trailing 40-35 entering the final eight minutes, the Herders piled up 21 points and held the Rangers to 10. 
• Brenna Rouane scored 14 points and Reed Johnson added 11 to lead No. 8 Columbus over Red Lodge 53-25. The Cougars led by only six points at halftime but outscored the Rams 20-6 in the third quarter. Alice Fouts topped Red Lodge with nine points. 
• Shantell Prettyontop led the way with 23 points, Jordan Jefferson added 20 and Dramond Amyotte contributed 11 as Lodge Grass held off Lame Deer 74-68. MiShayne Bearchum helped keep it close with 26 points for the Morning Stars. She had plenty of help from Iesha Eaglefeathers (12 points), Paris McLean (11) and Madison Doney (10).
Class C
• Jenna Rust poured in 36 points as No. 6 Westby-Grenora traveled across the state line for a 67-28 romp over Ray, North Dakota. Rust had help from teammates Kiarra Brunelle with 12 points and Elizabeth Field with 11. The Thunder struck for a 20-6 first-quarter lead and built the margin to 41-11 by halftime.
• Kortney Nelson led the way with 20 points and Elli Linder chipped in with 12 to carry Scobey over Wolf Point 57-25. The Spartans bolted to a 14-point lead in the first quarter and never let up. 
• Kenedee Wolery scored 19 points and Kaytlyn Domire added 18 -- including nine in the fourth quarter -- as North Star slipped past Turner 67-65. Jade Wendland was also big for the Knights with 16 points. Turner had four players in double figures led by Shyann Krass with 18. Sarah Billmayer added 17, Laci Maloney 12 and Brooke Reed 11. 
• Liv Wangerin scored 13 second-half points to help Plentywood erase a halftime deficit in a 40-32 win over Fairview. Wangerin finished with 19 points, including eight in the third quarter, as the Wildcats took a 30-21 lead after trailing 14-10 at the break. Teigan Taylor led Fairview with 14 points.
• Mulleeuh Stiffarm and Ella Messerly each scored 14 points and Hays-Lodgepole downed two-time defending state champion Box Elder 47-36. Nashone Shambo added 14 points for the Thunderbirds. 
• Aubrey Picard's 16 points were the difference as Bainville outlasted Savage 34-30. The teams were tied 20-all after three quarters. Haylie Conradsen was tops for the Warriors with 12 points. 
• Carlee Blodgett had 23 points for Reed Point–Rapelje in defeating Absarokee 43-32. The Huskies' well-rounded attack was led by Kaiya Holmquist's eight points.
• Sylvie Stewart pumped in 20 points and Anonda Goes Ahead added 14 to carry No. 9 Plenty Coups over Park City 59-25. Nine players scored for the Warriors. Hayley Story topped the Panthers with 11. 
• Baylee Davidson had 19 points, Sydney Dethman 15 and Sydney Labatte 10 as Froid-Lake rolled past Richey-Lambert 55-33. The Redhawks led by 10 points after one quarter and 19 by halftime.
You have free articles remaining.
• Alberton-Superior used balanced scoring to post a win at Darby 44-35. Sorren Reese and Isabella Pereira each scored 11 points for the Mountain Cats, and Zoe Kelsey and Emmah Baughman each added 10. Gracie Lang scored 11 for the Tigers.
• Klaire Kovatch led the way with 13 points, Sarah Maughan added 12 and all 10 players scored for Seeley-Swan in its 65-6 trouncing of Victor. The Blackhawks shut out the Pirates in the second and third quarters and led 58-2 entering the final eight minutes. 
• Kari Kittlemann was tops with 14 points, Heather LaBree had 13 and Whitney Kittlemann contributed 12 as Ekalaka bolted to a 26-0 first-quarter lead and rolled past Plevna 70-13. 
• Draya Wacker dominated with 25 points and No. 5 Melstone rode a high-scoring fourth quarter to a 52-38 win over Northern Cheyenne. The Broncs led only 30-27 entering the final eight minutes. 
• Kaitlyn McColly led with 19 points and Kia Wasson contributed 12 to lift Saco-Whitewater-Hinsdale to an easy 57-18 victory over Frazer. The Mavericks led 22-0 after one quarter and upped it to 36-3 by halftime.
• Laynee Elness scored 21 points as No. 2-ranked and unbeaten Roy-Winifred won at Winnett-Grass Range 75-25. Elness had plenty of help, with Dyauni Boyce scoring 15 points, Olivia Geer 14 and Isabelle Heggem 12. Roy-Winifred took command, 29-2, by the end of the first quarter. Tia Stahl had 19 points for WGR.
• Sophia Darr topped all scorers with 18 points and Jose Thomas helped with 10 as Gardiner coasted past Broadview-Lavina 46-20. Hailey Fiske scored 12 for the Pirates. 
• Karli Lane was the big gun with 18 points, but Alexis Hagl and Mesa Butler added 15 apiece to lead Harlowton-Ryegate past Fromberg 69-29 on the strength of a 29-3 first quarter. Siera Guffy did her part for Fromberg, scoring 14 points. 
• No. 1-ranked and undefeated Fort Benton posted a 56-10 victory at Chinook. Maci Molinaro's 14 points sparked a balanced attack by the Longhorns. Teammates Aspen Giese and Abby Clark chipped in with 10 points each. It was 22-2 after one quarter and 36-6 by intermission.Chinook had just three field goals overall, including a 3-pointer.
• St. Ignatius used 22 points by Sydney Brander to earn a home win over Arlee 64-23. Azia Umphrey added 16 points for the Bulldogs. Peyton Lammerding scored 12 points for the Scarlets.
• Philipsburg made a gallant comeback, outscoring Twin Bridges by 14 points in the fourth quarter to earn a 54-52 home win. Amelia Hill led the Prospectors with 21 points and Shelby Struna added 12.  
• Ryann Moline scored 16 points and Alexis Moline chipped in with 11 to lift Circle over Nashua 52-32. The Wildcats led by a point after one quarter but outscored the Porcupines 22-7 over the next eight minutes.
• Layni Schieffer had 15 points and sister Marni Schieffer added 11 to lead Wibaux over rival Beach (N.D.) 44-42. The host Longhorns trailed by nine points at halftime but pitched a 14-0 third-quarter shutout and withstood a comeback in the final eight minutes. Sam Oech scored 22 points for Beach.
20-Point Club
36: Jenna Rust, Westby-Grenora
36: Hayden Harrell, Cut Bank
31: Sloan McPherson, Savage
29: Justin Stulc, Roy-Winifred
29: Emiliano McMakin, Lame Deer
28: Colby Martinez, Columbus
27: Alex Germer, Missoula Sentinel
27: Grady Gonsioroski, Richey-Lambert
27: Zaron LaFrombois, St. Ignatius
27: Micaiah Hauser, Three Forks
27: Blake Cantrell, Rocky Boy
26: Sam Leep, Manhattan Christian
26: Jovonne Nesbit, Froid-Lake
26: Shayden Cooke, Melstone
26: Matt Kaiser, Twin Bridges
26: Daynon Bear, Reed Point-Rapelje
26: MiShayne Bearchum, Lame Deer
25: Sydney VonBergen, Denton-Geyser-Stanford
25: Famous Lefthand, Hardin
25: Draya Wacker, Melstone
25: Drew Ouradnik, Billings Christian
23: Caden Rettig, North Star
23: Carlee Blodgett, Reed Point-Rapelje
23: Trey Allen, Red Lodge
23: Hayden Diekhans, Fort Benton
23: Douglas Murnion, Jordan
23: Shantell Prettyontop, Lodge Grass
22: Sydney Brander, St. Ignatius
22: Charlie Kruer, Twin Bridges
22: Devin Gober, Cut Bank
21: Laynee Elness, Roy-Winifred
21: Amelia Hill, Philipsburg
20: Kortney Nelson, Scobey
20: Braedon Romo, Bainville
20: Makena Hauge, Culbertson
20: Syvlie Stewart, Plenty Coups
20: Dawson Laverell, Big Timber
20: Cayle Schraner, Great Falls Central 
20: Jordan Jefferson, Lodge Grass
Wrestling
• Great Falls was the team champion at the Jug Beck Rocky Mountain Classic in Missoula. The Bison scored 213 points. Kalispell Flathead was second with 198 and Mead was third with 180. The individual champions were: 103, Landen Stewart, Frenchtown; 113, Teegan Vasquez, Glacier; 120, Colten Martello, Great Falls CMR; 126, Cooper Birdwell, Lewistown; 132, Avery Allen, Bozeman; 138, Drew Roberts, Coeur d'Alene; 145, Fin Nadeau, Flathead; 152, Hunter Meinzen, Missoula Big Sky; 160, Gunner Giulio, Coeur d'Alene; 170, Bridger Hall, Missoula Big Sky; 182, Noah Kovick, Helena Capital; 205, Elijah Davis, Great Falls; 285, Ethan DeRoche, Great Falls.
• The Billings West wrestling team went 4-0 at the Border Wars Duals in Sheridan, Wyoming. West beat Sheridan 47-28, downed Cheyenne South 72-6, defeated Riverton 61-12 and topped Thunder Basin 33-32.
• Glasgow won the 33-team Choteau Classic with 173 points. Saint Ignatius-Charlo was second with 114.5 and Townsend was third with 114. Champions were: 103, Leo Anderson, Jefferson; 113, Jase Frederick, Poplar; 120, Tanner Cook, Columbus-Absarokee-Park City; 126, Roper Mycke, Conrad; 132, Colten Fast, Glasgow; 138, Nathan Schmidt, Eureka; 145, Ron Barnhill, Conrad; 152, Kaden Zimmerman, Glasgow; 160, Austin Vanek, Cut Bank; 170, Isaiah Alik, Saint Ignatius-Charlo; 182, Dylan Nieskens, Glasgow; 205, Cooper Larson, Glasgow; 285, Mayson Phipps, Glasgow.