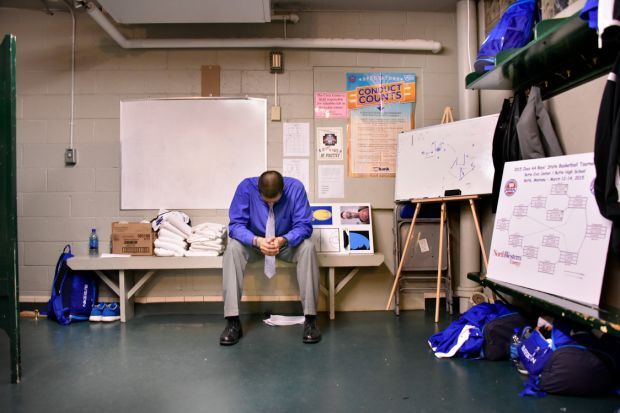 BUTTE — Kevin Morales, at times, can be a little more upfront than his coaching brethren.
The Billings Skyview first-year boys basketball coach conceded on multiple occasions that, yes, upon inheriting the keys to the Falcons program, he felt some pressure.
Not only to continue what predecessor Toby Hill had accomplished in reaching three semifinals in six years at the Class AA tournament, but to do more.
Hill left after last season, vacating a head coaching spot but leaving a stacked roster. It was a roster so highly regarded that not only were the Falcons themselves thinking they could do better than the program's best-ever showing — a third-place finish in 1997 and 2013 — but outsiders did as well.
Just before the season began, Guy Almquist, coach of the then-defending champion Helena Capital Bruins, said he felt Skyview had the best, deepest roster in the state.
So it was a bit of a shock to the Falcons when they went to Missoula on opening weekend and lost to Hellgate, considered another title contender, by 30-plus points. In fact, Morales called it a "punch to the gut" at the time.
Morales, an assistant with Hill for six seasons, could finally catch his breath after the Falcons beat Billings West 62-56 last Saturday night at the Butte Civic Center for Skyview's first boys basketball championship.
"The coaches kind of joked with me that I've had a season-long gut ache ever since that punch to the gut," Morales said among the celebrating masses around him after the game. "But I told them right after the final buzzer rang, 'I don't have that gut ache anymore.'
"It's just a big relief. Some pressure is off my shoulders a little bit and our program as well. Skyview's here and Skyview's going to be here to stay."
Hill was at the tournament and saw his former team claim the championship. He stood in the Butte Comfort Inn parking lot after checkout Sunday morning, briefly talking about how wonderful it was to witness the Falcons get their historic victory.
He finished buckling his young child into the car seat, and when told that the players, and especially Morales, continually bring up his name and attribute a good portion of their success to him, Hill genuinely seemed uncomfortable.
"Well, they shouldn't," he said. "They did a fantastic job."
And with that, Hill was off on his return to Billings. But the whole time in the parking lot, he was wearing a big smile.
Over at West, first-year coach Kelly Darragh walked into a big responsibility as well, following in the footsteps of Doug Robison.
All Robison did was take West to six straight championship games from 2007-12, winning titles in '07, '08 and '12.
But there the Golden Bears were again Saturday night, just 32 minutes away from another championship despite a decided lack of playing time for leading scorer Jared Samuelson.
The senior forward, who is headed to the University of Montana, injured his back the previous week in a playoff win over Butte. There was some question whether Samuelson would be able to play at all at state, but he was able to log 46 out of a possible 96 minutes, obviously moving gingerly at times.
During the regular season, Samuelson averaged nearly 16 points per game. He scored a total of 16 points all tournament, eight in the championship loss, but Darragh declined to play the what-if game of considering what might have been had Samuelson been 100 percent.
"Every team plays through injuries," Darragh said Saturday night. "I thought Jared battled and he competed his butt off. Jared gutted it out and tried to do his best all weekend, and we had other kids step up, even tonight. So no excuses."
• Erika Gustavsen made it three first-year coaches in the two title games.
Gustavsen, Bozeman's volleyball coach, was named to the head girls basketball job when veteran Brad Rustan suffered severe head trauma when he fell during the summer. An assistant of Rustan's, Gustavsen guided the Hawks to a regular-season championship and to the state tile game, which was won by Helena Capital.
Rustan has had a long recovery, but he was in Butte for the tournament. After Friday's semifinal he was congratulating players and coaches, and after the title loss he and Gustavsen shared a long hug.
"To have Brad here is really special," Gustavsen said Friday night.
• Capital's girls sealed their championship win with spectacular free-throw shooting. The Bruins made 21 of 22 in the fourth quarter and 32 of 37 overall in their 63-55 win. During that fourth quarter, Capital made 20 in a row. Bruins coach Bill Pilgeram had no idea.
"I was not," he said, when asked postgame if he had been counting. "I liked seeing them go in (though)."
• Hellgate's third-place finish in the boys tournament surely was a disappointment to a team that entered 19-1 and as one of the favorites. Tres Tinkle was anything but a disappointment, though.
In the Knights' four games, Tinkle, the Knights' standout senior who is headed to Oregon State to play collegiately for his father, Wayne, averaged 25.8 points and 13.8 rebounds per game. He shot 51 percent from the field, making 38 of 74 shots.
Get in the game with our Prep Sports Newsletter
Sent weekly directly to your inbox!