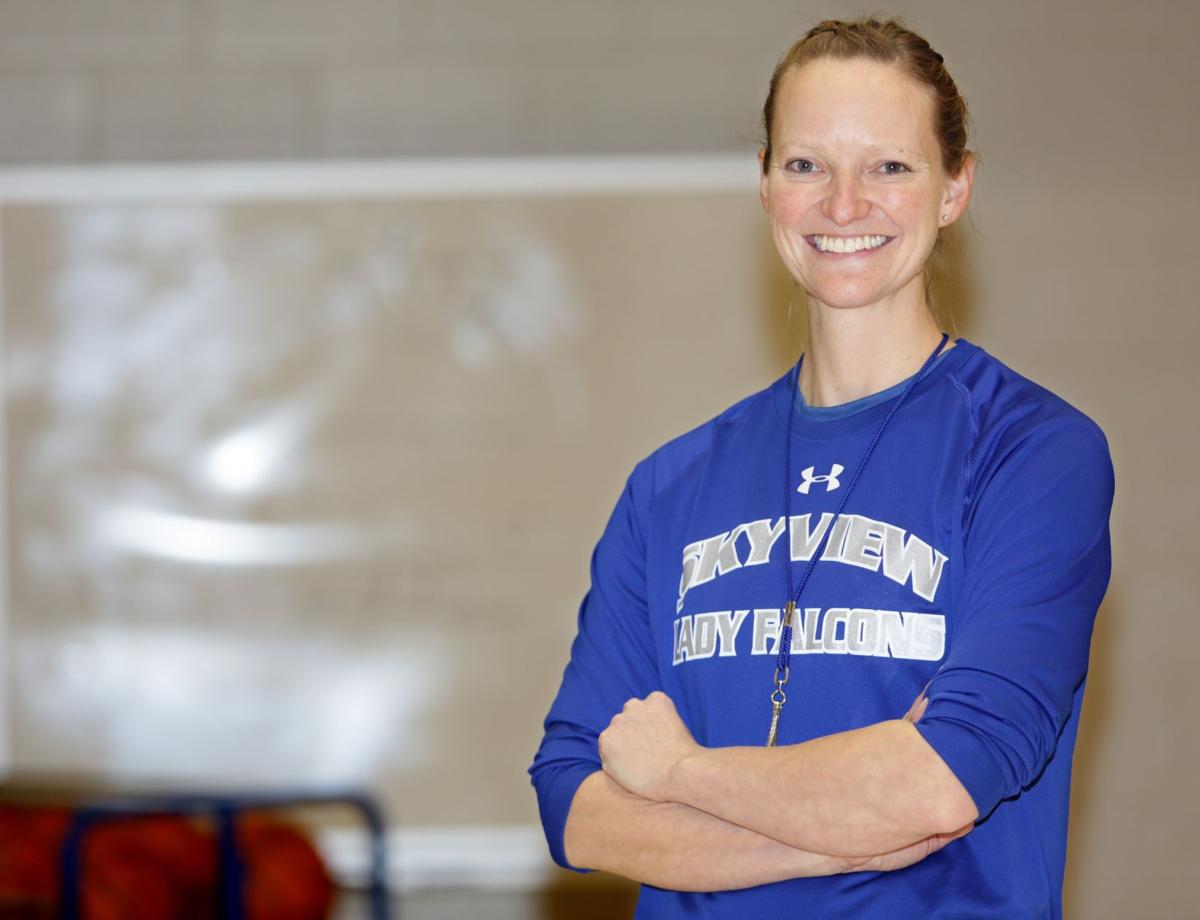 BILLINGS – To say Robbyn Hergenrider is excited to coach her first games this weekend is an understatement. But she's not going to overstate what the games will mean to her Billings Skyview Falcons girls basketball team.
"These first few games we're just building consistencies," Hergenrider said earlier this week. "We're a new coach, a new group of girls. When you look at our team, we've never played together in a game. We're building that continuity among ourselves. Really, it's just for us to build confidence and grow with each other."
Hergenrider previously sat on the Skyview bench for four seasons on Larry Newell's staff. When Jim Wilsey took over two seasons ago, Hergenrider took a break from the game. She's back after being named head coach of the program in June, and she's well-versed in what has been the Falcons' attempt to end a long-standing state-tournament drought.
This weekend, though, as their season tips off Friday against Missoula Big Sky, the Falcons' goals are on a more immediate, smaller scale. They return just one starter – senior Kenzie Ketchum – from last year's 7-13 team that lost a playoff game 44-39 to Billings Senior and have a varsity roster that includes freshmen to seniors, so opening weekend is more a fact-finding mission.
The state tournament, of course, is the long-term goal, something that hasn't been achieved since 2001 at Skyview. Despite that absence, or maybe because of it, Hergenrider said she senses a change in the atmosphere around the program.
"Even just the energy from open gym," Hergenrider said. "The first day of tryouts we had 62 kids. That's the most we've had in quite some time. The girls feel change is among them and they're very excited about the season. They feed off that energy and they're pushing each other, they're challenging each other. They see potential."
After playing Big Sky, the Falcons host Missoula Hellgate on Saturday. Like Skyview, Hellgate is another long-suffering AA program, having not reached the state tournament since 2003.
Win or lose this weekend, Hergenrider said the Falcons will put the results aside and move on to the next games as the program builds for the Eastern AA divisional, which will be held this season after several years of a playoff system to determine state qualifiers.
"I like how excited they are about the season," said Hergenrider, a Belfry native who teaches third grade in Billings. "Honestly, it's the feel of a new start, a new program up here at Skyview for the girls basketball team. Just watching them practice, they are excited. They want to be here."
Fast breaks
• It's a busy weekend in Billings with all six Missoula boys and girls teams in town. Hellgate's boys feature sophomore Rollie Worster, who committed to Montana not long ago, and Sentinel has Sam Beighle, a Carroll College commit. Sentinel's girls return five players with starting experience from last year's second-place team, including all-staters Kylie Frohlich and Jordyn Schweyen.
• Billings Central's teams open this weekend as well. The Rams boys and girls travel to Worland, Wyo., on Friday and return for a home doubleheader on Saturday against the boys and girls from Livingston. The girls game tips off at 2 p.m. and the boys follow at 4 p.m. Both games are at the Ralph Nelles Activities Center.
Get in the game with our Prep Sports Newsletter
Sent weekly directly to your inbox!