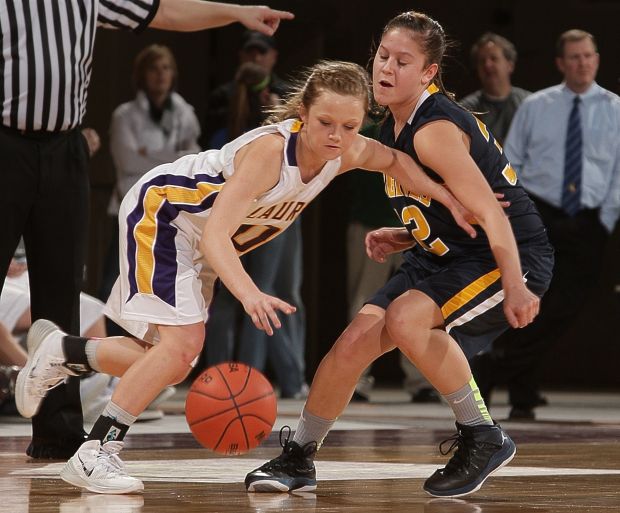 For Laurel, it's not necessarily about defending a championship. It's about writing a new chapter.
At the outset of this season the Locomotives were forced to compensate for the graduations of five starters from last year's team, which edged rival Billings Central in a title game thriller. That included star guard Jayde LeFevre, who made the winning free throws with one second left.
But coach Amber Griffith's new group discovered its niche, won the Eastern A title and is now in position to make a run at another championship at the State A tournament this weekend in Great Falls.
The Locomotives (16-4) play a first-round game against Anaconda on Thursday at 6:30 p.m. Miles City, the Eastern A's other state tourney representative, faces Hamilton at 2.
"We were worried at the beginning" of the season, Laurel guard Allie McGrath said, the team's leading scorer. "But knowing that we had plenty of girls step up during the offseason, I think everyone in practice knew what they were capable of and that really motivated us.
"The fact that we were defending champs, I mean, we had something to prove to everybody."
The Eastern A has experienced an overflow of state tournament success through the years. Nine times since 2000, at least one Eastern A team has advanced to the championship game. The league has gone head-to-head for the title five times in that span, including last season.
Against Anaconda (12-9), the Locomotives will look to slow guard Courtney Moodry. During the Southwestern divisional tournament Moodry became the third Copperheads player to score 1,000 career points, following in the footsteps of past standouts Ali Hurley and Torry Hill.
"She'll be a focal point for us," Griffith said. "We've been talking about that for a week now. They play really hard. We have to match their energy and get the job done on both ends."
Miles City, making its first state tourney appearance in five years, also must contend with a Southwestern standout -- Hamilton guard Taylor Goligoski. Goligoski is the reigning Gatorade player of the year in Montana and had another big season, averaging 20.9 points per game.
But the Cowgirls (12-9) come in as one of the hottest teams in Class A, having won 11 of their past 14 games. And they've gotten solid performances throughout the lineup, from the likes of Shaylee Singleton, Ashlie Larson, Kadie Heinle, etc.
"The girls have just busted their butts for the entire season," said coach Jacqui Engstrom. "I'm so proud of how far they've come and we're so excited for how much more they have to go and how much more they have in them. They've just done a tremendous job all around."
At 19-1, Columbia Falls has the best overall record. The Wildkats are coached by Cary Finberg, who last week coached the boys team to a state-title victory over Dillon.
The Wildkats open with Belgrade (9-13) in the first round. The Panthers got a boost at the Central A divisional from guard Alexis Clingingsmith, who scored 12.5 points per game.
Frenchtown (15-6) is led by Vanessa Stavish, a Montana State Billings recruit and one of the best scorers in Class A. Stavish averages roughly 18 points per game, and poured in 36 in a game earlier this season.
The Broncs face Havre (14-6) in the opening round. The Blue Ponies have become a fixture at state under coach Dustin Kraske. They thrive on the play of Brandy Lambourne and Peyton Filius.