GREAT FALLS — Billings Central's Mya Hansen was visibly frustrated when she missed her first four shots of the Rams Class A state quarterfinal game against Whitefish Wednesday at the Four Seasons Arena in Great Falls.
Yet, as with her team, the No. 1 squad in Class A girls basketball, it was only a matter of time before the tide turned.
Hansen closed the first half by connecting on three 3-pointers and scoring 13 points as Central wrapped up a third consecutive berth in the Class A state semifinals with a 57-35 victory.
"We are just thankful to be here," Billings Central head coach Jetton Ailes said. "We had to settle in and knock some shots down, but we adjusted and the girls did their job."
Not only did the Rams hit five 3-pointers in the first half, they scored 14 points off turnovers and seven more on second-chance opportunities as they built a 29-14 edge after 16 minutes.
Whitefish trimmed the lead down to 11 midway through the third quarter, but a 3-pointer from Isabelle Erickson and another hoop from Hansen, pushed the lead back to 16.
The Bulldogs wouldn't get closer than that until two minutes left in regulation, once the outcome was decided and the benches were cleared.
Hansen led all scorers with 21 points; Erickson added 15 for the Rams, who connected on seven 3-pointers in the win. Gracie Smyley led Whitefish with 10. Jadei Walbrun also added eight. 
The win by Central, the defending co-state champions, sets up another game with Eastern A rival Hardin, the other co-champ from a season ago.
The two teams were supposed to play in the state championship game a year ago and Thursday night (7:30), the co-champions will meet to see which team gets to defend its title Saturday night.
"Anytime you can play Hardin, it's a lot of fun," Ailes said. "Coach (Cindy) Farmer is going to have them ready to go. It's a fun, physical battle and should be a great basketball game."
Hardin 66, Ronan 38 
The Hardin Bulldogs didn't shoot the ball particularly well in the first half against Ronan Wednesday, but the Bulldogs didn't need to.
That's because in their quarterfinal matchup of the Class A girls state tournament, Hardin's defense and offensive rebounding more than made up for some early scoring struggles.
20 forced turnovers in the first half helped the defending co-state champions build a 28-10 halftime lead. Then, in the third quarter, Hardin's perimeter shots started falling too and that was all she wrote for Ronan, which bowed out to the loser-out bracket following a 66-38 defeat.
"We always say that we have to do it with defense," Hardin head coach Cindy Farmer said. "We know that defense can be consistent and offense can be off and it was tonight. If we can get some turnovers and easy baskets, it kinds of gets us going."
In the first 16 minutes, both teams struggled to score and were a combined 12-for-48 from the field. Yet, the Bulldogs converted those 20 turnovers into 16 points. They also grabbed eight offensive boards and added six second-chance points as they went ahead 18 points at half.
After just two 3-point makes in the first half, Kamber Good Luck and Alyanna Big Man made consecutive treys to open the scoring in third as Hardin opened a 38-10 lead.
The Maidens got hot from beyond the arc in the fourth quarter and trimmed the lead to 51-35 on a triple by Margaret Cordova with just under four minutes to play. Unfortunately, for Ronan, it was too little too late.
Nevaheh Alden led the Bulldogs with 14 points, she also grabbed eight rebounds. Kylee Old Elk contributed with 12 and Breanna Old Elk finished with 11. Jay Lunceford paced Ronan with seven. Jae Gatch and Margaret Cordova both had six. 
The Bulldogs will face Billings Central for a berth in the title game on Thursday. 
"I think it just says a lot about what we are building," Farmer said of five straight semifinal appearances. "It says a lot about the kids and the culture that we have. You just can't say enough about how hard these kids work."
Columbia Falls 37, Glendive 21
Playing a state tournament game on a Wednesday morning isn't always easy. It's especially difficult if your opponent starts as hot as Columbia Falls did in its first round game against Glendive at the Class A girls state basketball tournament at the Four Seasons Arena. 
The Wildkats, who missed the state tournament a season ago, were eager to return and played like it in the first quarter. Hannah Schweikert knocked down a triple and Columbia Falls built a 14-2 lead, before eventually going up 17-2 early in the second quarter on the way to a 37-21 victory. 
"It's good to be back at the state tournament," Columbia Falls head coach Cary Finberg said. "We had a pretty good streak going until last year. This team has been determined from day one to get back. We punched our ticket last week and came out and got the first win. We are in the state semis so I'm proud of the kids and hopefully, we can play better tomorrow against Havre."
Glendive, which started slowly on the offensive end, scored 10 points in the second, which included a late three from Codi Nagle, cutting the C-Falls deficit to 17-12 at the half.
In the third quarter though, the Red Devils couldn't build on that momentum. Maddie Robison connected on a 3-pointer for Columbia Falls, which pushed the Wildkats lead back to 12.
Another jumper from Robison extended the lead to 13 in the fourth and from there, C-Falls was able to hold on and advance to Thursday's semifinal against Havre. 
Robinson wound up scoring nine points to lead all scorers in the game. Lauren Falkner pitched in with eight and Schweikert added six. Nagle led the way for Glendive with six in the loss.
"We didn't play that well offensively, but hopefully that's just the first round at the state tournament," Finberg said. "We forced their best players to have tough opportunities, but tomorrow, Havre is good. They are really good and we are going to have to be better."
Havre and C-Falls will square off Thursday at 5:30 in the first semifinal. 
Havre 54, Hamilton 37
The Havre Blue Ponies enjoy playing in the Four Seasons Arena and that was evident Wednesday morning as they registered their 10th straight state tournament win in the building.
Havre (15-2), the No. 2 seed out of the Eastern A, has won the last three Class A state tournaments played at the Four Seasons and continued its winning ways there with a blowout win, 54-37, over Hamilton (14-7), the third-seed out of the Western AA.
Known for their defensive prowess, the Ponies suffocated the Broncs on the defensive end in the first half allowing just 11 points on seven shot attempts. On the other end, Havre was red hot from deep, knocking down seven first-half 3-pointers, including three from senior Kylie Walker.
"The kids came out of the locker room ready to go," Havre head coach Dustin Kraske said. "They did a wonderful job defensively and were able to force some turnovers defensively and get some easy buckets. Then, you know, once you get a little confidence going. I thought our kids played just fantastic."
The Ponies scored a blistering 1.43 points per possession in the first 16 minutes as they built a 30-11 halftime lead. Then, in the third, following a 3-ball by Layne Kearns of Hamilton, Havre scored eight straight points, on the back of two steals, to go up 41-14 and put the game away for good.
The Broncs did manage to score 16 points in the third, five more than they managed in the first half, but Havre scored 18 and extended its lead. 
Hamilton got as close as 16 points in the fourth quarter but that was as close as it got. Yelena Miller led the way for Havre with 10 points and was matched by Walker, who scored all 10 of hers in the first half.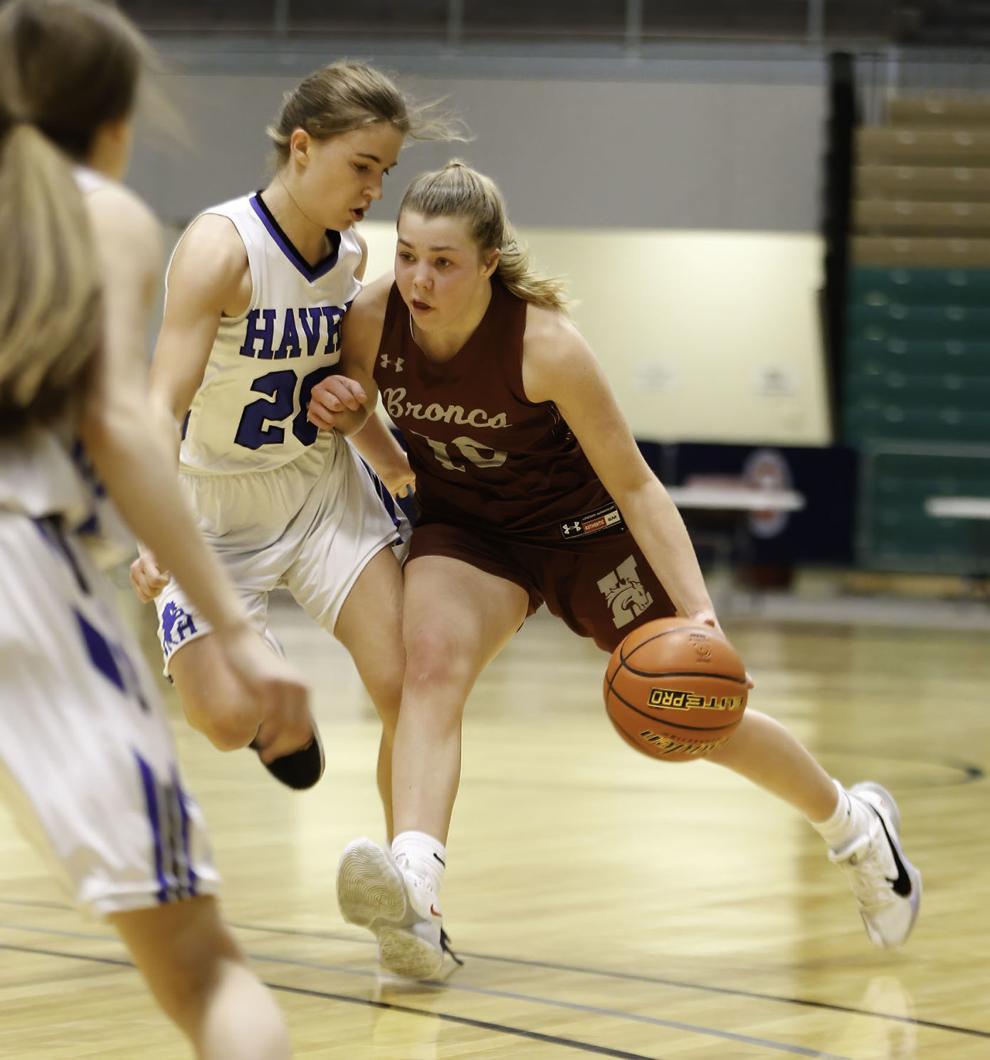 Layne Kearns led all scorers in the game as she poured in 23 points in the losing effort for the Broncs, with 19 of her points coming in the second half. 
"Havre is just a great team, a great program," Hamilton head coach Richard Griffin said. "They bothered us with some of their pressure and you just see every year, they do a lot of the same things. That's what we want to build and that's why this is important for us. We needed to be here and see the best if we want to compete with the best."
Havre will now advance to the Class A semifinals for the fourth consecutive year.
"If we move the ball around and shoot the ball that well," Kraske said. "We are going to be a tough out I think."
Chris is the sports editor and lead preps reporter for the Independent Record and 406mtsports.com. Follow him on Twitter @cmpetey406