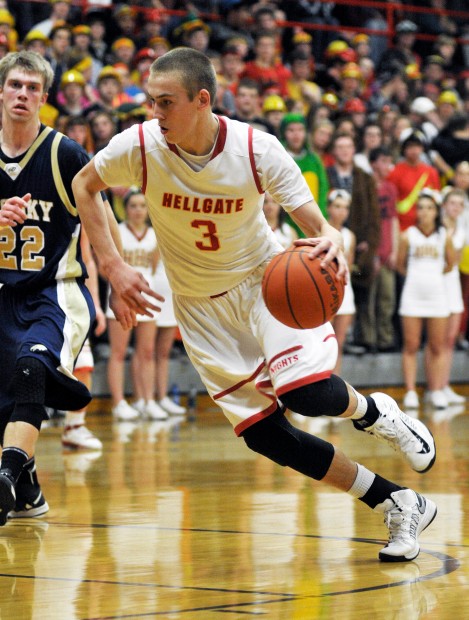 For high school hoopsters, basketball is a year-round affair. Their high school seasons end in March, their teams play in tournaments in early summer, and then many attend camps or hit the AAU (Amateur Athletic Union) circuit after that.
As weird as it seems, the month of July is probably the biggest recruiting stage for college hopefuls. And no Montanan had a better July than Tres Tinkle from Missoula Hellgate. In fact, it's been a pretty good year for Tinkle, until he broke his collarbone on Aug. 4 while spending time with friends at a lake. Doctors say he should be cleared for full contact within six weeks.
After helping lead the Knights to the State AA championship in March, Tinkle burst onto the national scene this summer while playing with the Montana D-I Ambassadors team that included players Jared Samuelson and Dan Betcher of Billings West, Kendal Manuel and Nolan McHugh of Billings Skyview, Henry Garrett and Chase South of Helena, and Jack Akey from Idaho. Joel Francisco with ESPN.com called Tinkle the "best unknown prospect" to play at one of two big events in California in mid-July.
Josh Gershon, a basketball recruiting analyst for Fox Sports and Scout.com, saw Tinkle play at the Best of Summer Tournament in Anaheim and was impressed by his versatility.
"He does almost every single thing very well," Gershon said. "He can take his defender into the post, or he can bring him outside and shoot over them. He's a very good passer, he can rebound, he has (good) footwork. How hard he plays and the way he affects the game … his versatility is his attribute."
Tinkle said his dad, Montana coach Wayne Tinkle, told him to focus on the little things this summer.
"He's a D-I coach, so you have to listen to him," said the younger Tinkle. "Coaches know you'll be able to score, but they want to see what else you can do. They like that I take charges … running in transition, working hard, just the little things."
Tinkle said he is currently 6-foot-6, but expects to continue growing. If he does that, some are already expecting him to be one of the best basketball players to come out of Montana.
"(Offensively) he is certainly on his way into that capacity," said Hellgate coach Jeff Hays. "If he can continue to develop defensively where he imposes his will on both ends of the court, he can move up the charts and enter that category at some point. He is a special player."
While it remains to be seen just how good Tinkle can be — he's only starting his junior year of high school later this month — the potential is there. This summer, he picked up a scholarship offer from Utah, who is coached by former Griz player Larry Krystkowiak. Krystkowiak was also the head coach at Montana for the 2004-05 and 2005-06 seasons when Wayne Tinkle was an assistant. Tres Tinkle said receiving the offer was very exciting.
"Just knowing that you already have one offer just boosts your confidence," Tinkle said, "but it also lets you know that you have potential to get more offers, and that you can improve to get other schools looking at you."
Schools from all over the western United States have expressed varying degrees of interest. Tinkle listed Arizona State, Boise State, Cal, Colorado, Gonzaga, Montana, Oregon State, Pepperdine, Portland and Stanford, as well as Boston College, Harvard and Rice as colleges to talk with him. Gershon said it's only a matter of time before more offers start rolling in.
"If he grows with standard progression, I don't see any reason why he wouldn't be a Pac-12 caliber talent," Gershon added. "If he's 6-8 with that same skill set and basketball IQ, he's very easily a high-major player."
♦ Soon-to-be juniors Samuelson and Manuel turned some heads this summer in tournament play, too. They're on the radar of Division I programs.
♦ While this year's junior class might be getting the headlines, Montana boasts a solid senior class, too. According to Helena Capital coach Guy Almquist, Oliver Carr of Bozeman and Jared Schulz of Stevensville are arguably the two best players in the 2014 class. With strong seasons, both could play their way up to the D-I level.
♦ Almquist thinks the Frontier Conference could have some success finding forwards and centers from Montana. He said Capital's Carson Dummer is getting Frontier looks, as well as some interest from Division II schools. Hellgate's Pat Colberg, Glendive's Bryden Boehning, and Manhattan's Gavin DeJong are other bigs with college interest.
♦ Some of the best girls players in Montana have already made their college decisions. Fairfield's Jill Barta has given a verbal commitment to Gonzaga according to her coach, Dustin Gordon. Missoula Sentinel coach Karen Deden said Spartan guard Maddie Keast has verbaled to play at Montana.
♦ Deden said Olivia Roberts, another Sentinel senior, is getting close to making her decision, too. "I would say mid-September," Deden said. "I think in reality she has it down to two schools, but she's trying to make an educated decision about it. I think Montana and Wyoming are the frontrunners, but I think she wants to make a good decision."
♦ Michaela Dowdy of Capital is also getting some attention from D-I schools. Cassidy Hashley of Kalispell Glacier, Vanessa Stavish of Frenchtown, and Jacy Thompson of Townsend, who is recovering from an ACL injury, are all in the mix at the D-II and NAIA levels.
♦ Drummond's Krissy Paske and Belt's Kara Gerke and Katie Fertterer are Class C seniors on the Frontier Conference radar, according to Belt coach Jeff Graham.