BILLINGS — Sam Fulbright likes many things about high school cross country. The competitiveness is one of them. So is the camaraderie of Fulbright's team, the Lewistown Golden Eagles.
"Not the running itself," Fulbright said with a laugh.
No, Fulbright isn't obsessed with running like some in his shoes. It wasn't even the sport he wanted to pursue until a few years ago. But the Lewistown senior is dedicated to cross country (and track, when spring rolls around), and his work might lead to a state title this fall.
Growing up, Fulbright wanted to play football. He got his first taste of the sport at a summer camp when he reached junior high.
"I got hit by an eighth grader," he said, "and decided football wasn't for me."
One of Fulbright's grade school teachers raved about running, and Fulbright remembered that as his football dream faded. He tried cross country, succeeded at it and decided it was the sport for him.
Fulbright placed 14th as a freshman at the 2016 State A cross country championships with a time of 16 minutes, 19.9 seconds on the three-mile course. He finished sixth at state the following year, when the distance increased to 5,000 meters, with a run of 16:59.1.
Last fall, he earned his first individual victories (at the Butte Central and Havre invitationals) and placed second at state. His time of 16:28.8 was bested only by Laurel's Levi Taylor, who broke his own Class A record with a run of 16:18.2.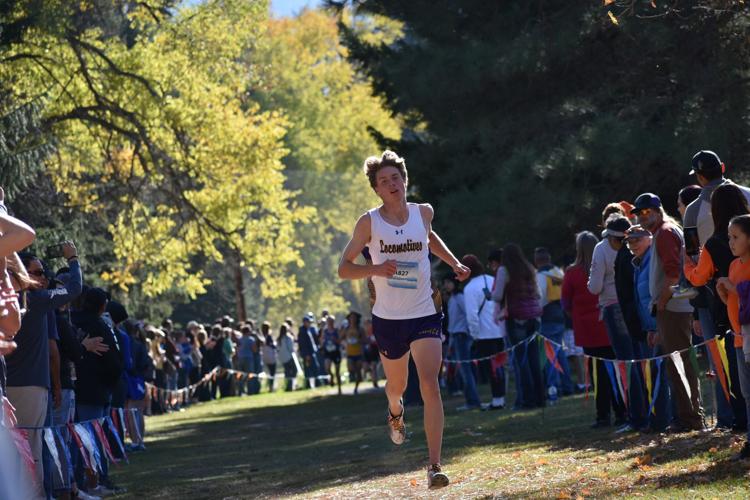 You have free articles remaining.
"I'm not gonna lie, it's nice to have him graduated so hopefully I can win a state title," Fulbright said. "But it's been great running with him, too, so I'll definitely miss racing him."
The third-place finisher last year at State A was Columbia Falls' Joe Lamb, who ran more than 13 seconds slower than Fulbright. A Fulbright state championship this fall is a no-brainer, then, right?
"I don't think it's ever a no-brainer," said Lewistown coach Suzie Flentie. "There's a lot of talent out there, there's always newcomers, and Sam knows that. He knows that it will be something to work for."
Way ahead of you, Suzie. This summer, Fulbright followed a summer workout program set up by his chemistry teacher, Timothy Nefzger, who ran cross country in high school and has competed in ultramarathons, according to Fulbright.
The workouts went like this: slow runs on Mondays, mostly designed to burn fat (three-to-five miles at a nine-minute mile pace); tempo runs on Tuesdays and Wednesday (25-to-35 minutes of six-minute miles or faster); weight lifting, plyometrics and other strength and agility exercises on Thursdays; speed work on Fridays (four 400-meter runs on the track, for example); a long, moderate run on Saturdays (four-to-six miles at a 6:50-per-mile pace); rest on Sunday.
Fulbright is still chasing Taylor — chasing his state meet record. Fulbright also wants to break his 5k personal record of 16:11.7, and he'd love to crack 16 minutes.
He isn't looking ahead that far just yet, planning instead to tackle one race at a time. It might be cliché, but there's a reason so many athletes repeat it.
Fulbright has always been a one-at-a-time type of guy. He got serious about running after junior high, when he was focused on another sport. He likes math and science, especially chemistry, but he has no clue which major he'll pursue in college. For that matter, he doesn't know which college he'll attend yet.
Fulbright would like to run in college, and he could probably earn an athletic scholarship. The 4.0 GPA student could also receive academic aid, so he's keeping his options open.
"I don't want running to become my job," he said. "I want to run because I love it."