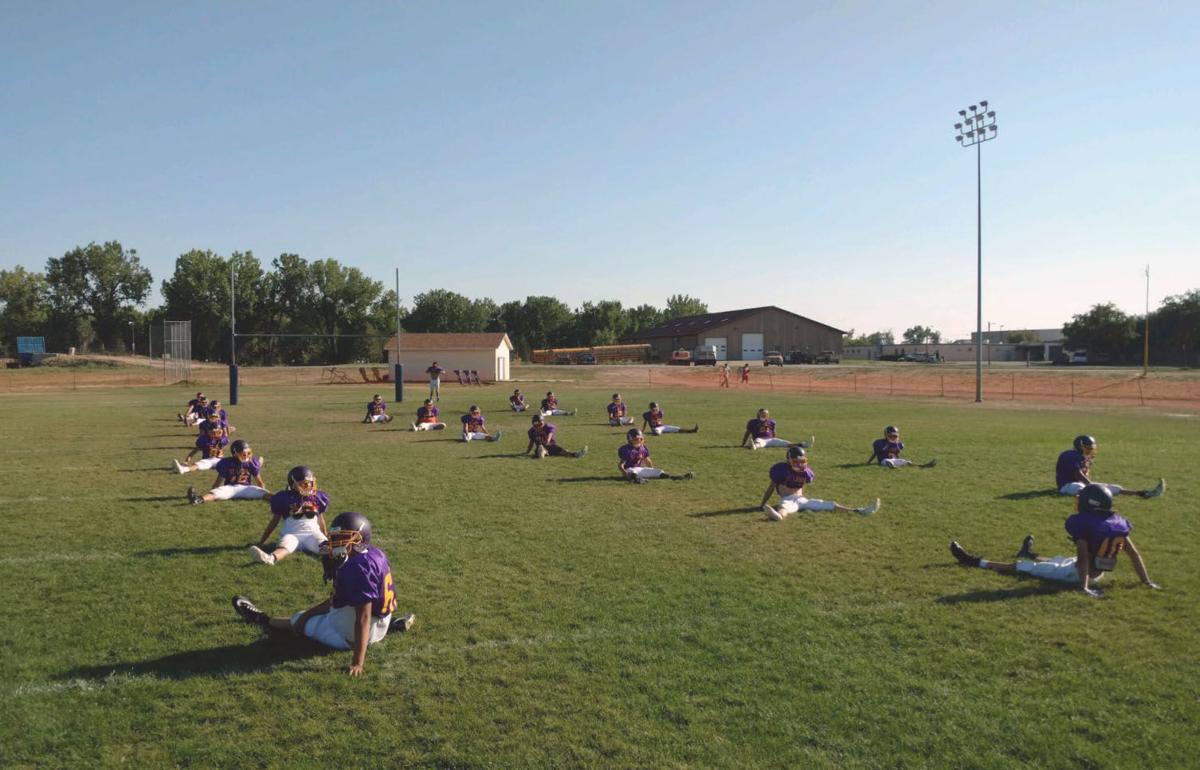 BOZEMAN — After a school year without fall sports, and then a summer in which a wildfire imperiled the school and surrounding community, one can imagine how eager St. Labre Indian School's athletes were to put those larger-than-life challenges behind them and just play ball.
As such, it even seemed fitting that the Braves were scheduled to kick off the state's football season at 6 p.m. Thursday — one of two games that night — against rival Lodge Grass, which also opted to forgo sports last fall due to COVID-19's ravaging of the Crow and Northern Cheyenne reservations.
But the fates, it seems, aren't ready to embrace St. Labre.
Athletic director Larry Cady told 406mtsports.com on Tuesday that the 8-Man Braves must postpone Thursday's game due to lack of players as well as mandatory practice time ahead of a game. Lodge Grass has rescheduled against Harlem at 1 p.m. Saturday; Cady said he doesn't know if the Braves will be able to make up the lost game.
"I'll tell you what, the kids were excited — I know I'm excited," Cady said. "I want kids here; it's pretty quiet without kids here. Now we've got to wait one more week and hope we get enough kids out and get things going again. It's tight on kids."
In fact, there's no guarantee the Braves will even have football this fall, at least at the varsity level.
St. Labre's first scheduled game now is Sept. 3 at Broadus, but even that is in limbo.
Cady, who doubles as transportation director, said the Braves couldn't begin practice until Aug. 18 because the school and town of Ashland had to be evacuated due to the Richard Spring wildfire, which burned within a mile of campus; even when it was OK to return, closure of U.S. Highway 212 west of Ashland prevented the busing of students from Lame Deer, Busby, Northern Cheyenne, Crow Agency, Lodge Grass and Wyola.
Tryouts thus have been a trickle: As of Tuesday, only nine players were out for football. Cady said the Braves need 14 or 15 to comfortably compete in 8-Man from a player-safety standpoint.
"Football right now is one of the problems," he said, adding that St. Labre might have to consider at junior varsity schedule. "We're hoping to get more (kids out), but we are going to have to make a decision here pretty soon. We've got to let the other schools know if we're not going to be able to go. We're looking at making a decision in the next couple days."
Cady said enrollment is down at the 500-student boarding school because it closed in March 2020 due to the pandemic. And although vaccination rates are high on the Northern Cheyenne and Crow reservations, COVID-19's resurgence in Montana could also impact the season.
"We're trying to follow all the protocols," he said. "I tell the kids the (COVID) delta variant is coming and we've got to make sure we're prepared for it and not get into that situation. We've got to be careful. We don't want to get something started with all the craziness going on."
All that said, Cady is still hopeful St. Labre will have a vibrant volleyball, cross country and, yes, football presence this fall.
Then came 2020's gaping void. At this point, what's another week?
"Fall sports is going to be kind of a test pilot for us going into winter sports," Cady said. "Once we get everything going it's going to be positive, and the kids, of course, are jacked about it."
What's disappointing, he added, is that the showdown with Lodge Grass was scripted to be the first of many with the Indians to start a season. Ironically, the idea for an annual opening against a big rival was to spur football participation.
"Kind of one of those dangling out a carrot things," Cady said.
With schedules booked up, the Lodge Grass carrot will have to wait another year. At this point, Cady is just hopeful the Braves will be able to keep their commitment to the other 8-Man schools on their 2021 schedule.
"It all comes down to a numbers game," he said. "We have to see numbers."