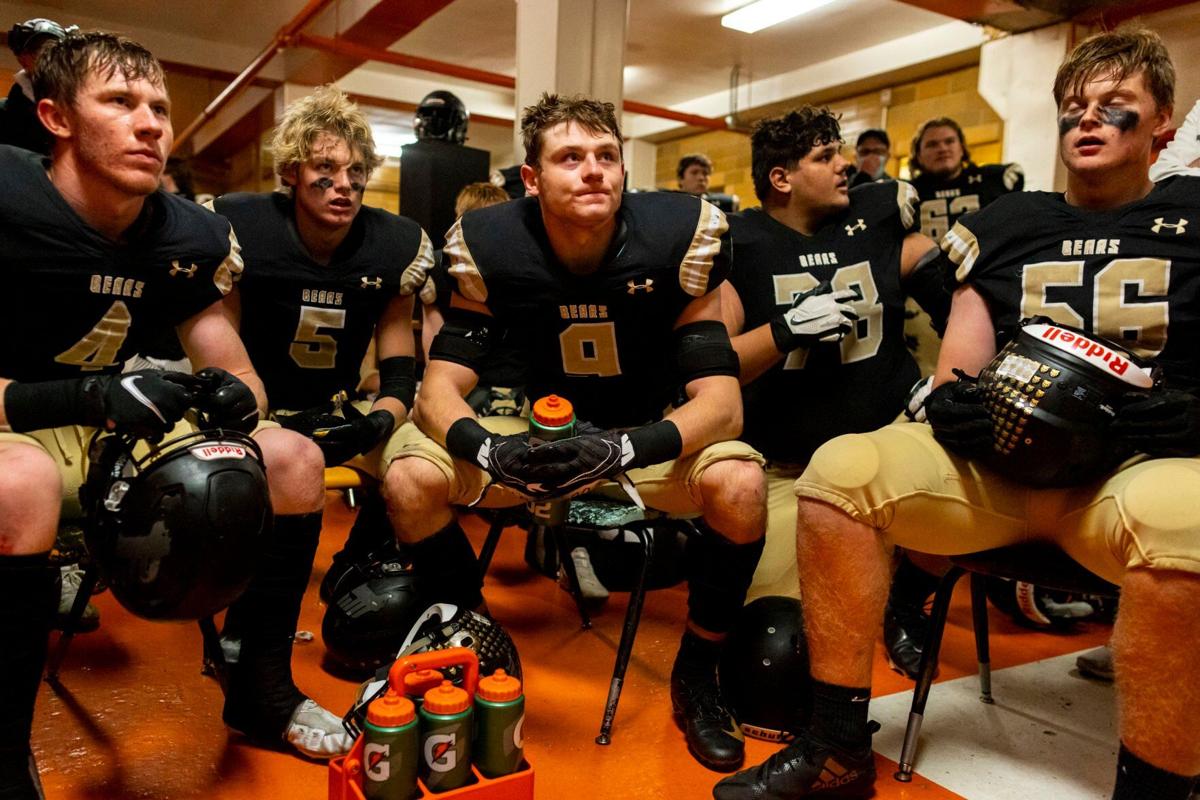 BILLINGS — Highs and lows.
Every sports season features moments of great joy and times of frustration.
For the Billings West Golden Bears football team, it isn't any different.
The State AA runner-up Bears were disappointed with the results of a 35-6 championship game loss to defending champion Missoula Sentinel on Friday in Missoula. However, the team as a whole and its approximately 25 seniors have left their mark on the program.
The Bears were also state runner-up in 2020 to Sentinel and state champions in 2018. In 2019, the Golden Bears reached the semifinals.
"I'm very proud of our coaches and our team and our senior leadership," West coach Rob Stanton said. "Our seniors were a part of three state championship games and one semifinal. As hard as it stings you, it's hard to get too down after something like that."
The closeness of the team, especially the seniors over the last four years, is what helped the Bears achieve a golden standard.
"No. 1, they got along and hung out together and their work ethic and drive is pretty phenomenal," said Stanton. "They would always be at weights. They are involved in multiple sports and are competing with each other and against each other since they were little kids. It's just a passion and drive and how they wanted to win so badly. We did everything in our power to make sure that would happen. They obviously have extremely good families to set the table for them. That's part of it; the drive the families have and the passion they have. It's pretty rare and these guys had it."
All good teams have their share of star players, and West is no different with many key players on both sides of the ball. However, Stanton said over the course of the season the contributions of the group as a whole were pivotal to the Bears' success.
"And it's real special when we have a bunch of seniors. Some didn't play as much as the ones that are always highlighted," Stanton said. "There were 7, 8 or 9 that just saw the field a little bit, or on special teams. Most kids, especially today, if you aren't getting something with all the work they are displaying, or practices (might quit). Those 7 or 8 kids are pretty special.
"It is really hard when you are putting all the hard work in and not getting the paycheck. We had a really good bunch of kids that bought into our program. They got some plays but maybe wanted more, but they were willing to do that."
Stanton said the Bears will take a short break over the Thanksgiving holiday to reset. Then, many of them will find their way to a winter sport or the spring track season.
Although there will be a big graduation loss, the veteran coach isn't too worried about the future of the Bears, saying the foundation is in place.
"We still have some good kids in the program. We didn't lose a game at the freshman level or JV level this last year," Stanton said. "The only two losses in our program were to Sentinel the first game and the last game. That is something our kids can look forward to. Our freshmen, sophomores and juniors have to be willing to step up and are ready for that. As much as it may sting right now, the cupboard is not bare. After Christmas break, we'll start focusing on next year. Nobody is going to feel sorry for us and we won't feel sorry for ourselves. We'll have some good kids ready to go next year, too."
While the Bears' didn't feel their performance was indicative of "the product we put on the field the entire year" in their loss to the Spartans — who have won 21 straight games and finished the year 11-0 — Stanton said "it was just one of those games where you tip your hat to Sentinel."
Stanton explained that the Bears enjoyed their season, and soon will be focused on other tasks and challenges awaiting them this school year and beyond.
"First and foremost is just the type of kids we had in our program. Our seniors, all the different wins. That's part of it. Whether you win it, or get second like we did, or don't make the playoffs, it's part of the process," Stanton said. "The memory making is something you look at later on.
"I tell the kids it's time to turn the page, there is no last days for anything. There is always something better out there. Just keep working."