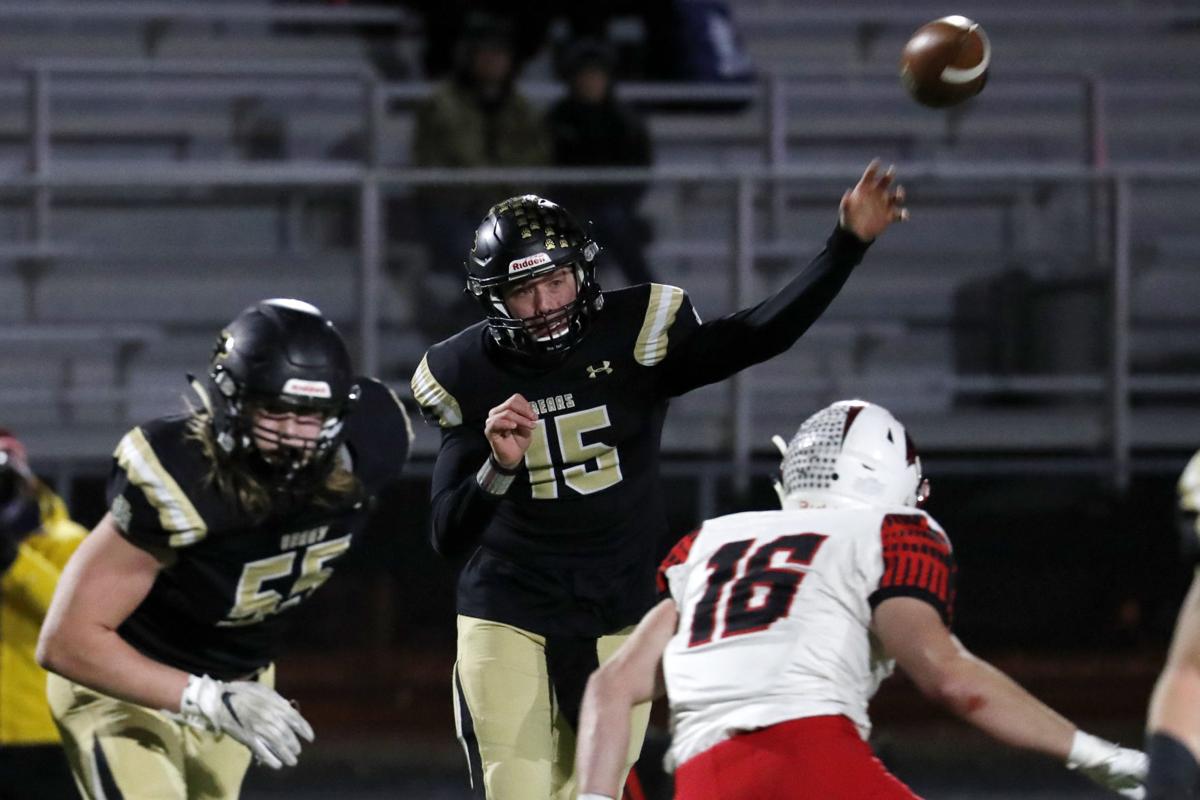 BILLINGS — It's not only a clash of styles, it's a clash of histories.
Friday's Class AA state championship football game features one program trying to end a long drought, another trying to win a second title in three seasons. One team has a dual-quarterback offensive system, while the other employs a traditional pocket passer.
The final questions of the 2020 AA season will be answered Friday night, when top-ranked Missoula Sentinel visits No. 2 Billings West with everything on the line. The game is scheduled for a 7 p.m. kickoff at Wendy's Field at Daylis Stadium.
While West has become a somewhat regular visitor to the championship game, Sentinel is playing the part of newcomer. Friday marks West's sixth championship game this century, and the Golden Bears have made nine previous trips to title games: They are 4-5 in those games, including 2018's win over Kalispell Flathead, after making their first championship appearance in 1988.
The Spartans haven't played in the AA title game since 1984 and haven't won a championship since 1972.
"Our first team meeting was in March and I was staring at 70 boys on a little screen in my basement," said Sentinel coach Dane Oliver, whose teams reached the semifinals last season and in 2017. "And now we're playing for a state title. The atmosphere is one of excitement, enjoyment and a lot of energy."
Oliver was referencing the virtual Zoom meetings that have become routine since the coronavirus pandemic reached the United States. Given all the restrictions, uncertainties and grief that COVID-19 has caused in the past nine months, teams are happy to have even reached this point.
The goal now is to win this last game. Both teams are 9-0 with high-octane offenses and hard-to-crack defenses. Sentinel averages 47.5 points per game; West on average scores 46.1. The Spartans give up just a touchdown per game (6.0 points); West checks in at 10.9.
The Spartans are led by quarterbacks Dayton Bray and Camden Sirmon, a pair of seniors who are more than happy to share the role. Sirmon is getting a few more reps during the postseason, but both are threats behind center. Bay has thrown for 848 yards and 13 touchdowns, while Sirmon has 839 passing yards and 11 TDs.
Sirmon is more of a threat to run, rushing 85 times for 795 yards and 11 more scores, compared to Bay's 11 attempts. The quarterbacks throw to a balanced set of receivers in TJ Rausch (30 catches-387 yards-5 TDs), Haiden Crews (22-301-5) and Jace Klucewich (22-337-4).
"(Sirmon) is 6-1, 195 pounds and he's going to be hard to bring down. They run a lot of quarterback power with him," West coach Rob Stanton said. "But the other one, Dayton, he led them to the semifinals last year so he has a lot of games under his belt.
"And then you have to worry about the guys on the outside, they have a lot of speed outside there, too. They have more than one weapon. They have a lot of explosive guys who are going to be difficult to bring down."
West plays a more traditional offense, with quarterback Isaiah Claunch standing tall in the pocket. He's completed 114 of 177 attempts (64.4%) and hands off to a pair of running backs in Jaymn Medlock and Michael DeLeon noted for their strength and speed. Medlock has rushed for more yards (719 to 532), but DeLeon has found the end zone more often (12 TDs to 8). On average, they are startlingly similar in that Medlock averages 6.5 yards per carry and DeLeon 6.4.
The Bears also have Taco Dowler, whose 12 touchdown catches — including a 97-yard catch-and-run — and two kickoff returns for scores emphasize his ability to break a play at any time. Caden Dowler and Neil Daily have five TD catches each.
"When I think of West High I think of speed and size," Oliver said. "They seem to always have a big front and they always seem to have speed.
"It's a well-operated machine and I think it's going to be a heck of a football game."
At least one of the three AA Billings teams has played in the championship 11 times since 2003 when Skyview toppled Senior. It's been a 26-year absence for Missoula (Big Sky defeated Hellgate for the 1994 title) and with the Montana Grizzlies and Big Sky Conference football season postponed until the spring of 2021, the Spartans are the last ones standing on a Garden City gridiron.
"So with that comes added pressure and expectations," said Oliver, who is in his ninth season as head coach of the Spartans. "We knew that coming into the year because we had so many talented players. To reach the pinnacle is great, now it's keeping the boys focused and trying to keep business as usual and going through our normal process so we can put a good product on the field Friday night."
A few final interesting storylines for Friday's game:
• Five players on the field are recruits of either the Griz or Montana State Bobcats. Rausch, Klucewich and Sentinel center/linebacker Geno Leonard are headed to Montana, while West's Paul Brott (DE) and Daily (WR/LB) are going to be Bobcats.
• Daily, incidentally, is a former Spartan. He went to school at Sentinel until his family moved to Billings prior to his junior year of high school. "I know No. 4 (Daily) well, I coached him for two years," Oliver said. "Great kid, great student and he's flourishing down there and making their defense tick."
• Stanton said the atmosphere heading into the championship game "isn't the same" as in year's past. The game time atmosphere won't be the same either, with Billings Public Schools sticking to its season-long policy for attendance. BPS has consistently allowed two guest tickets per participant for home and away teams this season and that remains in effect for Friday.
"As a country and a state we have a lot of anxiety and a lot of stress and a lot of mental things going on in our brains, from adults to kids," Stanton said. "So it's different this year. The unfortunate part, for a game like this you're usually going to have 5,000 to 6,000 people in the stands and it'd be a cool atmosphere. But it's not that way.
"Luckily we still get to play, but they're missing out a little bit on that part where the pat on the back that you usually get for kids is not there because it's a different feel."