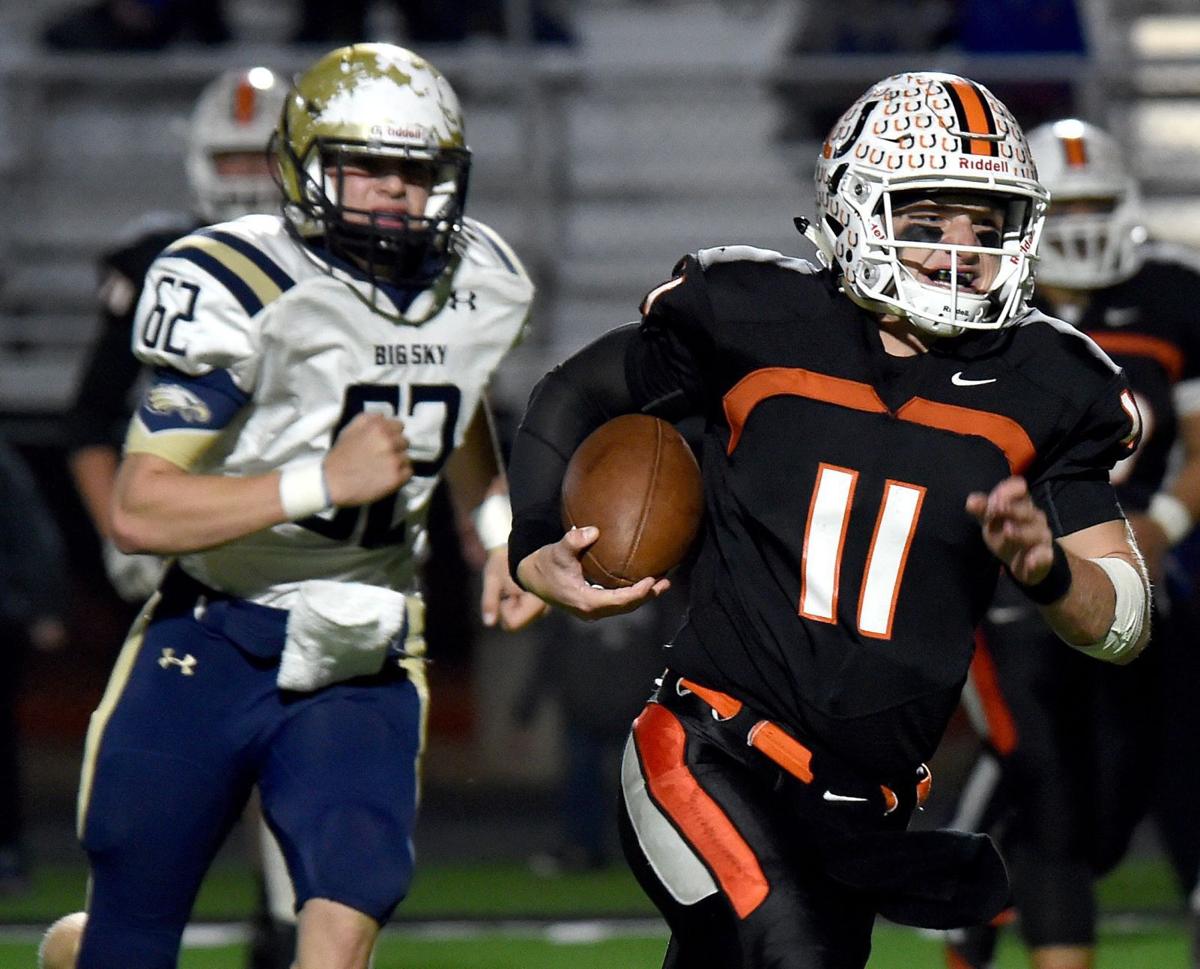 BILLINGS — Nate Dick is coming home.
The former Billings Senior Bronc standout is transferring from the University of Montana's football program to Rocky Mountain College he told 406mtsports.com on Thursday night.
Recruited as a quarterback, Dick redshirted his first year with the Griz. 
"A lot of it was I was homesick," Dick said over the phone. "I really miss my parents and my family and kind of being in that family environment is really a big thing for sure ... I really believe in Coach (Jason) Petrino and what his vision is with his coaching staff and honestly that's probably where I was going to go last year before Missoula offered me and they offered me pretty late in the process, so kind of in the back of my mind that's the place I wanted to be."
Dick said the idea of being close to friends and family was tough to pass up.
"I just think it will kind of be a better fit for me," Dick said. "I was just thankful for the opportunity that Coach (Bob) Stitt gave me, too. Not a lot of people believe in short kids that play quarterback. He really believed in me so I thank him. He gave me a shot."
Dick said the recent coaching changes at UM, including the firing of Stitt and re-hiring of Bobby Hauck, did not have a significant impact on his decision to transfer. 
"The new coaching staff came in and they were upfront and honest with me and said they'd give me a shot at quarterback," Dick said. "I honestly would've got a fair shake here."
Dick said Rocky still felt like home and like a place he would want to contribute in the future. Dick said UM had granted his release and that his transfer to Rocky has been complete. Because Dick is dropping from the FCS level to the NAIA, he does not lose any years of eligibility and will still have four years left of football. He will be able to compete in spring ball for Rocky once that rolls around.
"Every time I was at Rocky it just felt like the place where I wanted to be and where I wanted to contribute and I'm just glad that Coach Petrino believed in me still," Dick said. "He's definitely a guy that I'd go to battle with and that I'd play for and work my butt off just for him."
While at Montana, Dick used his redshirt season and was a major contributor to the scout team.
At Montana football's season-ending banquet, Dick was presented with the Offensive Scout Team Player of the Year Award.
For Dick, he said he doesn't regret going to UM and that he will miss the relationships he's had with his friends and teammates.
"Every kid in Montana believes that if you get offered by UM I think it's just something that you have to take and go with it just with all the success they've had here," Dick said. "I just felt like I would have been mad at myself if I didn't take this opportunity you know? ... I'm just glad that I gave it a shot and it just didn't really work out ... I'm just thankful I get another chance to go play college football."
As a senior at Senior, Dick led the Broncs to a 13-0 record and their first state football title in 37 years. He passed for 2,639 yards and 34 touchdowns while only throwing three interceptions. On the ground, Dick ran the ball 153 times for 1,222 yards and 19 touchdowns.
Montana's Assistant Director of Communications Eric Taber said in a text on Thursday, "We wish him the best in his endeavors."
Other quarterbacks currently remaining on Montana's roster are Gresch Jensen, Caleb Hill and Tanner Wilson.
Jacob Bakken, of Wibaux, began the year as Rocky's starting quarterback before going down with an ACL tear. Drew Korf, a freshman from Boise, finished the year as the starter for the Battlin' Bears.
Going forward, Dick said he's looking forward to a fresh start.
"Those two guys are talented kids and they're going to come to work every single day too," Dick said. "I'm just excited for the competition."
Get in the game with our Prep Sports Newsletter
Sent weekly directly to your inbox!