BUTTE — With a long, rich history, the East-West Shrine Game is a major point of pride for many football-loving Montanans.
It is an honor to be picked to play for the game, and with the proceeds going to support sick children and their families, it could not be for a better cause. Even so, some athletes choose to hold themselves out of the game for a variety of reasons, one of the biggest being injury risk.
A majority of this year's East-West Shrine players will start their college athletic careers in a matter of weeks — 55 of the 82 on Saturday's roster, to be precise — and all are hoping to avoid something that delays the start of their next step.
They are just trying hard not to dwell on the possibility.
"I mean, it's always in the back of your mind, but you can't have that in the back of your mind," said Helena High grad and future Montana State football player Holden Sampson. "You have to be out there and go play your game. You can't be worrying about that. It's all for the kids, and you just got to go out there and play."
Sampson, like many players around both teams, firmly believe that playing in the game is important and especially so because of the money they are raising. In fact, the Bengals standout mentioned two of his cousins have benefited from the Shriners Hospital, making this game mean even more to him.
But injuries in all-star games happen, with the most recent blow coming to Bozeman's Joe Olson, who tore his ACL during the Badlands Bowl earlier this summer against the North Dakota all-stars.
Olson, a Montana State signee, is expected to miss the entire 2019 season. That, however, has not stopped former Bozeman teammate and future Montana Griz football player Ryan Simpson from putting on the jersey for the East squad.
"I try not to think about (injuries)," Simpson said. "When you think about it, that's when you're a bit more cautious, and that's when you end up getting hurt, so I try not to think about it."
It is not only players who are thinking about these things, it is coaches — both at the Shrine Game and in the college ranks — as well. While Bobby Hauck and his Montana program do not have an official rule against playing in any all-star game according to UM media relations staff, Simpson did mention he was asked by a coach to choose either the Badlands Bowl or Shrine Game to play in.
The Montana State football program was also asked a similar question in regard to all-star games, though it did not immediately respond to an email inquiry.
It is hard, if not impossible, to blame college football programs for being overly cautious with incoming recruits. Real time and money have been invested into the futures of these athletes, and a major injury in an exhibition game could delay their chances of making an impact in the college ranks.
You have free articles remaining.
Keep reading for FREE!
Enjoy more articles by signing up or logging in. No credit card required.
The coaches picked to lead the Shrine Game understand this, and nothing is clear cut.
"Well, number one, you're never gonna hear me say a bad thing about these all-star games," West team and Drummond-Philipsburg head coach Mike Cutler said. "These kids work very hard... I also understand the demand from these college coaches, because they have these new, prized recruits, great kids, great athletes, that they surely don't want to risk the injury.
"What the answer is? I don't know. I'm a proponent of the all-star games. There could be some potential times of the year changes and things like that, whatever. But I certainly understand both sides of the story."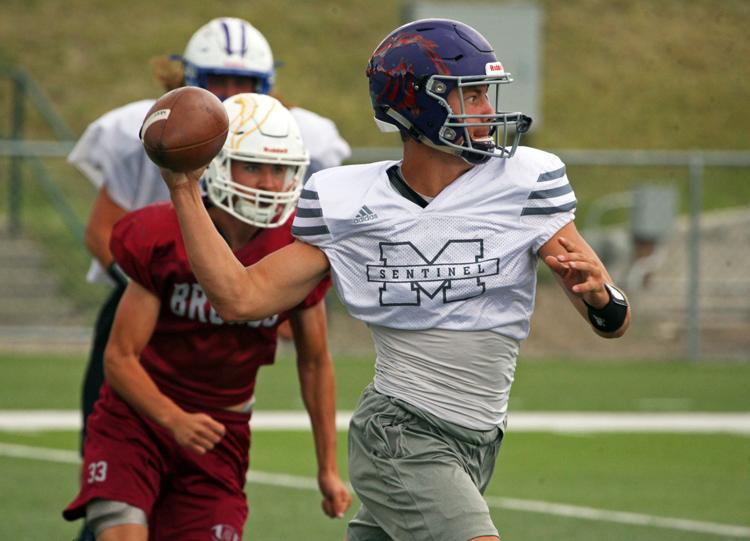 Moving the all-star games is certainly one possibility, though it could prove to be difficult. In its 73rd iteration this season, the Montana East-West Shrine Game is the longest continuous game of its type in the country, according the Montana Shrine Game website.
Trying to adjust history would be difficult, not to mention it could interfere with the 6-man All-Star Game, the Bob Cleverley 8-man All-Star Game, and the Badlands Bowl.
"I don't know, really, truly, how to feel about it," East team and Fairview head coach Les Meyer said. "It's the times, the way things change, they're never the same. Maybe they'll come back around another time. You certainly understand both sides of it, and that just is the way it is. And so you just deal with it. You either change it, or you deal with it.
"Is it tough? On both sides, yes. But it is just the way it is, and you just pick up and go on."
Several players on the East side dropped out of the game, and Meyer reached into the pool of alternates to grab a few more players. This happens fairly regularly and likely will continue, but even then, it's simply giving the chance to more athletes.
Regardless of what the future holds for the game, the Montana Shrine Game certainly is not going anywhere. Especially if players care as much about the charity part of the Shrine Game as they have this year.
"You don't want to get injured and have to tell your coaches," UM signee and former Whitefish standout Dillon Botner said. "But you can (get) injured doing anything, like walking up and down the stairs. It's a good cause and a fun thing to do.