HIGHWOOD - There is something special about the connection between a quarterback and wide receiver. Friday night, during the 25th annual 6-Man football All-Star Game, Nick Widhalm and Aidan Jenkins showcased their chemistry and put on a show for the fans in attendance.
"They've known each other before," Shields Valley and Red team head coach Mitch Ward said. "They're going to [Montana] Western together this fall, so they kinda had that relationship already. Just that quarterback-wide receiver relationship that had already started, when we got five days to work with it, they really worked hard to get on the same page and they did a great job this week."
Widhalm, a standout at Power-Dutton-Brady, and Jenkins, who was an all-star from Shields Valley in his senior season, were paired up on the Red squad and shredded the Blue team's defense for the better part of 48 minutes.
On 21-for-35 passing, Widhalm racked up 306 yards and six touchdowns, and added another 41 on the ground. Two times in the first half he hooked up with Jenkins for touchdowns, helping the Red team build a 20-0 advantage by halftime.
"Aidan and I go back to when we played [with] Power-Dutton-Brady and Shields Valley in the quarterfinals," Widhalm said. "I just knew that he and I were going to be great teammates down in Dillon. It's just a great feeling to have that connection with one amazing, talented receiver."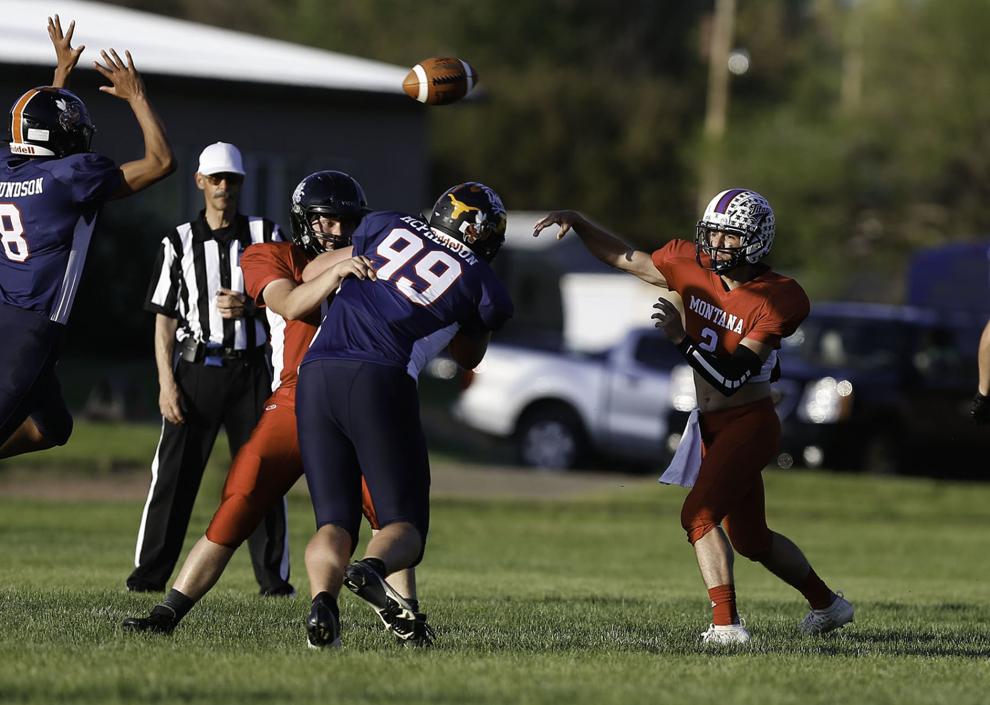 Shields Valley got the better of Power-Dutton-Brady in last season's playoffs, but with the duo teamed up, the Red Team rolled to a 51-20 victory Friday. Widhalm earned Offensive MVP.
"It's like a dream come true," Widhalm said. "I got nominated for it and I was like, 'I want to get Offensive MVP.' I set my mind to it and my teammates bought in with me. They trusted me and I trusted them."
Jenkins finished with seven catches for 90 yards, and added another 103 yards rushing on 11 carries. His 40-yard run in the first quarter was his second of three total touchdowns in the first 24 minutes.
"It was the best week of my life," Jenkins said. "Just fun. Just some aggressive guys [ready] to go play some football. That's all I wanted to do was play some football."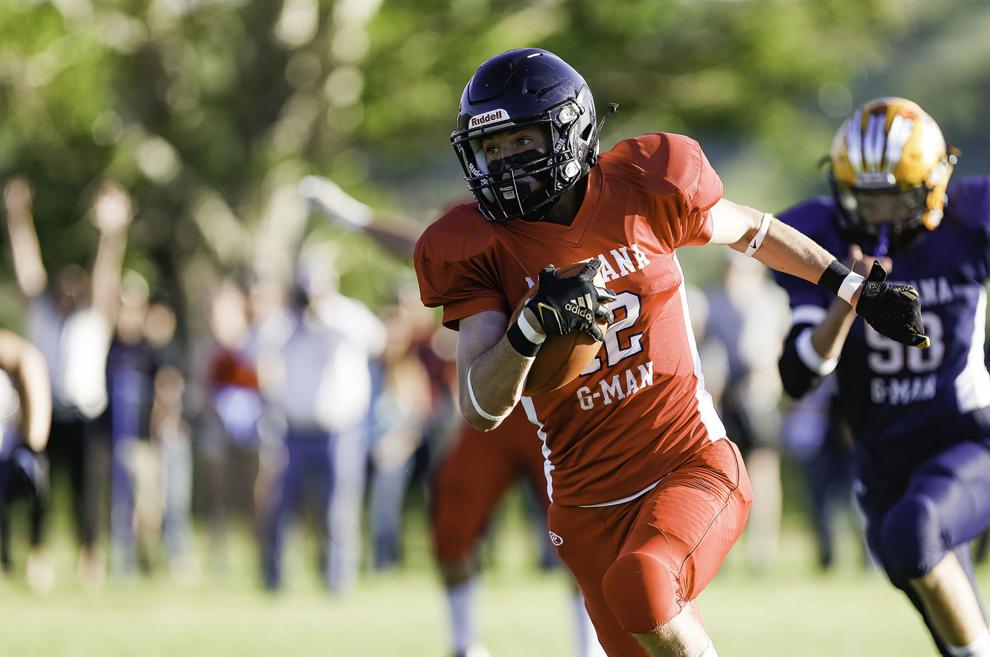 Jenkins was one of the more aggressive guys on defense for the Red, booking four tackles and an interception. He helped keep the Blue team off the scoreboard into the third quarter with some hustle plays. For his efforts, Jenkins earned Defensive co-MVP along with Denton-Geyser-Stanford's Zach Solomon.
"I was just excited to go out there and play with the boys," Jenkins said. "I was talking all week about going out there and being aggressive and us setting the tone from play No. 1. That's exactly what we did."
Four other receivers caught passes for the Red all-stars, including Sunburst's Stanley Jarvis in the third quarter and Grass Range-Winnett's Derrick Zimmerman to cap the scoring late.
"That was honestly one of the most exciting games I've ever gotten the opportunity to coach," Ward said. "It was just so much fun with how the guys bought in to be on the Red team, to be teammates and come together in five days. They loved playing with each other and that's what made it so fun tonight."
Widhalm and Jenkins have known since late last year they were going to be teammates in more than just an all-star game. Jenkins inked his letter of intent with Western in October and Widhalm followed a few weeks later.
While the pair will not get to renew that quarterback-wide receiver relationship at the collegiate level — at least not at first, because Jenkins will focus on defense — they will always have this experience to remember.
"It was absolutely amazing," Jenkins said. "He threw some perfect balls. I was pretty excited to go out there and play with my future teammate. Go Dawgs."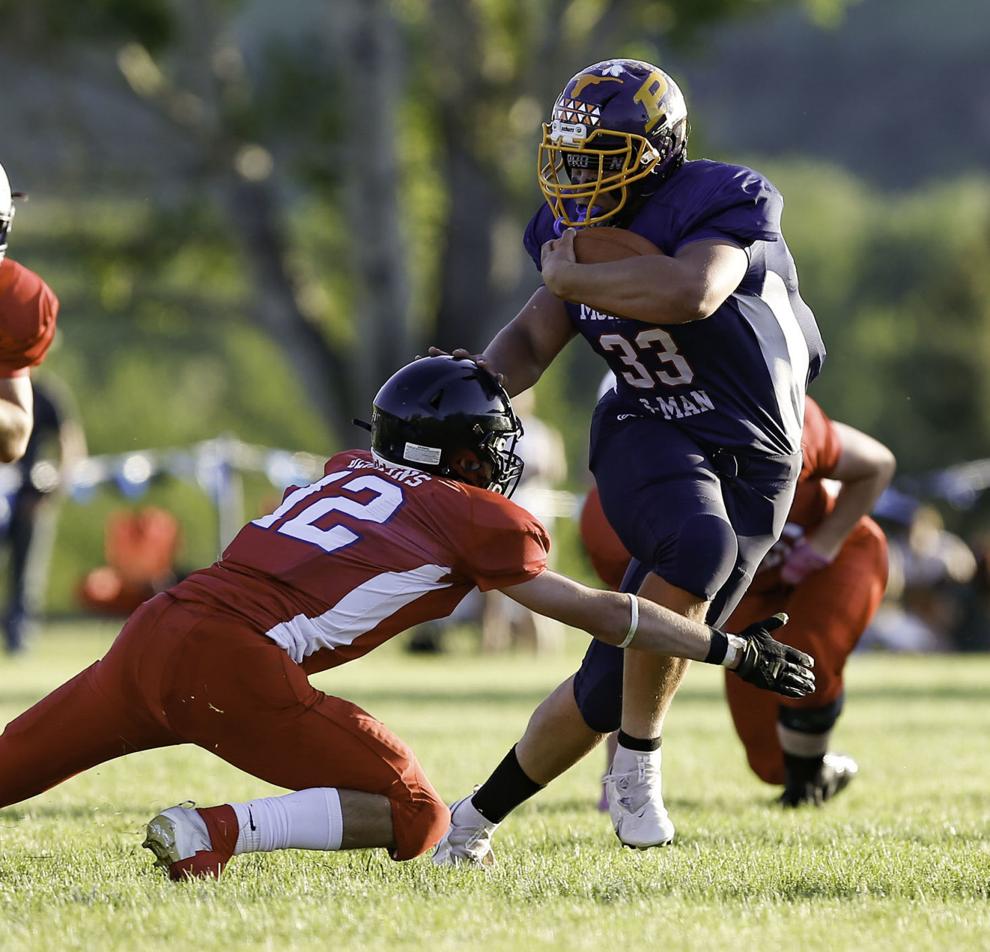 White Sulphur Springs' Caden West and Big Sandy's Kade Strutz earned Offensive and Defensive MVP honors for the Blue team. West racked up 122 yards receiving and Strutz was credited with five tackles.