BILLINGS — It is just after 11 a.m. on a Friday morning, and Billings West history teacher Rob Stanton couldn't be further from his regimented and diversionary daily world of high school football.
As senior students clatter into Room 274, one opens a bag of microwavable popcorn and spills the contents on his desk. Others swipe the faces of their cell phones or chat with classmates. Several banter playfully with one of West's most popular teachers, who is dressed casually in a black Golden Bears pullover jacket on the morning of a playoff football game against Butte.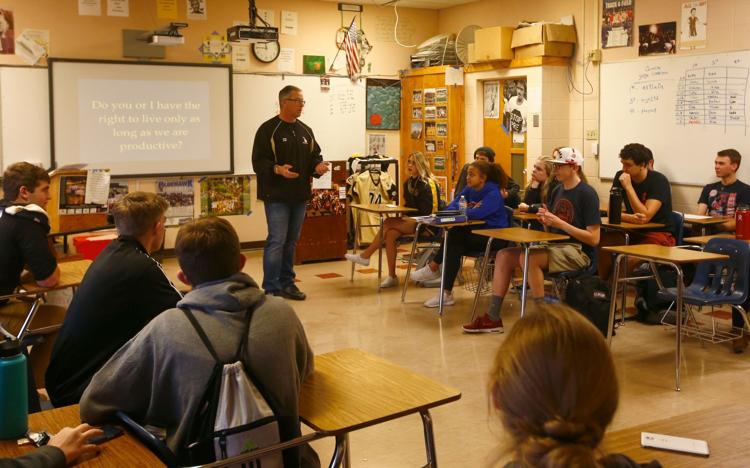 Once the students settle into desks shaped like the 'U' portion of football goalposts, Stanton puts up a hand and calls for a modicum of order.
"You guys want Will Ferrell?" he asks.
It is more reminder than actual question, because Stanton always begins his Friday classes with a video of the comedian — a pre-emptive strike to balance the heaviness certain to descend upon a class that might be unique to all of Montana.
Laughter emanates from a diverse group as Ferrell feigns uncontrollable distress to late-night talk-show host Conan O'Brien over the breakup of actors Kristen Stewart and Robert Pattinson. After Ferrell has shed his final faux tear, Stanton queues up another computer presentation on the screen at the front of a room busy with social, political and sports posters and memorabilia.
It's a pop quiz about "feeble-mindedness" and North Carolina's history of institutionalizing certain "non-productive" citizens a half-century ago. Stanton scans the room and selects a student to read the first true-false question.
Random students are selected to answer 10 questions that have many shaking their heads. In the end, the group gets half right, earning an 'F'.
"Good effort," Stanton says with an impish grin as the class collectively groans, "but you failed your pop quiz."
"Which means you failed us as a teacher," a student interjects to more laughter.
Stanton chuckles and then drives home the point of the quiz, pushing the discussion deeper into the unvarnished darkness of world history to a tragedy that served as the genesis of his genocide class a decade ago. Eventually the topic turns to the Holocaust and World War II, when Nazi Germany sent millions of "non-productive" Jewish people to gas chambers after initially disenfranchising and then demonizing them at the bottom of what Stanton calls "the pyramid of hate".
Another image flashes on the screen, a grainy black-and-white. It shows a small group of Germans with musical instruments celebrating the 10,000th euthanizing of "nonproductive" or "feeble-minded" citizens, some Jewish but many not.
"So there's a point to this," Stanton says before reaching his crux question: "Do you or I have the right to live only as long as we are productive?"
Inserts a male student: "What's the definition of 'productive'?"
Responds Stanton, as he floats about the room: "Great question."
What ensues is a lively and occasionally heated discussion that typifies the class. The coach of the state's second-ranked football team, which hosts Helena in a Class AA semifinal game Friday night, fuels the conversation by playing devil's advocate in rare moments when the conversation ebbs.
When Stanton fast forwards to Yemen and an image of an emaciated, soon-to-die toddler and grim reports of 14 million people suffering from starvation, two students argue over whether the United States, as the wealthiest nation on the planet, should intervene.
"They're babies!" a girl pleads, incredulous that anyone would disagree. "They're starving!"
It has been this way in Stanton's daily genocide classes since he heard a Holocaust survivor speak about 10 years ago in Bozeman. After conducting research, he asked his department head and principal about adding Genocide to West's history curriculum as an elective. From an initial three classes, now there are six each year.  
"It's called 'Genocide' but it's really more than just that," Stanton said. "It's really about human behavior and social justice. It's about how we treat each other and about how events can lead to things like violence and then mass killing and then something like genocide."
Roughly 175 seniors each year take a class Stanton says has a waiting list. Most of the wall space in Room 274 is covered haphazardly with photos or posters, ranging from his sports exploits at Dickinson State (N.D.) and his coaching stints in track and football at West to political and social commentary.
It's impossible to tell Stanton's political leanings, and that's by design. Trump, Obama, Reagan and Bernie Sanders posters are clustered together. A large peace symbol shares the back wall with the famous Edmund Burke quote, "The only thing necessary for the triumph of evil is for good men to do nothing."
Behind Stanton's desk, a whiteboard reads: "Genocide. Why the Jews? Why the Germans? Why didn't or couldn't anyone prevent this?"
"It makes you go out of your comfort zone," senior Shea Dolan said of the class, describing some of what she's learned as "gruesome stuff — stuff you wouldn't think happened that happened."
"We get into some pretty heated debates sometimes."
The previous day Stanton, wearing his ubiquitous devil's advocate hat, asked, "What's the purpose of women?" Suffice it to say, that got the class rolling.
"Mr. Stanton, he'll kind of egg us on to some things like, 'How could somebody possibly think that?'," Dolan said. "And then somebody will think that in class. He'll start with a broad question and we'll dive in and start talking about what we think and other people think."
Said fellow senior Lilly Murphy: "It's definitely a new adventure every single day, which is what I love about it. It's just an awesome class that makes you think every single day."
For some students, the experience climaxes with a visit to the Holocaust Museum in Washington, D.C., and even a trip to the Auschwitz concentration camp in Poland, all funded by the Spungen Foundation. Dolan and Murphy are both going next summer.
The Holocaust anchors the class but Stanton also draws on similar tragedies from Yemen, Rwanda and other cultures torn apart by genocide. That includes his own country and its own tarnished chapter in the 1700s and 1800s as European settlers marched west, devastating and displacing indigenous tribes.
Every semester as part of a larger conversation, Stanton brings in Walter Runsabove, a Northern Cheyenne tribal member, so his students, some of them Crow and Northern Cheyenne, can hear stories from the Native perspective.
"You have a lot of historical and cultural trauma for a lot of people in our area," Stanton said. "We have seven reservations in Montana, a lot of people in our backyard. We cross cultures a little bit so we have to be respectful for the trauma that has been thrown at them for hundreds of years."
A guest on this particular Friday is Northern Sports Network's Rocky Erickson, whose daughter Karissa took Stanton's class as a senior and who chaperoned trips to Washington, D.C., and Auschwitz. Erickson has since hosted three Auschwitz survivors, including Eva Kor, who has spoken to large crowds in Billings.
"It's a really, really tough subject, and for a beloved football coach to do it I think that's really … he does it with a lot of compassion," Erickson said. "It's important for him to let the young people know this is what happened and to never let them forget."
Said Stanton, who has been to Auschwitz seven times: "We're not sugarcoating anything. I'll talk about the gassings — we'll talk about everything. It's real. It's intense. Sometimes we get hurt feelings and I'll calm them down. But parents know what the class is about, and the kids go home and a lot of times the conversation goes to the dinner table, too. That's good, too."
Stanton concedes that both the loosey-goosey nature of the class and unsanitized heaviness of the subject matter contrast starkly with the almost-militaristic structure of practices at what is, at the end of the day, a game.
He takes the separation of academia and athletics so seriously that he never watches film in class, a nod not only to the dark topic but also as a walk-the-talk message to his students, some of them football players, about priorities.
And yes, football is a welcome diversion.
"My wife and I always joke that coaching is always recess, which is not really true," Stanton said, adding that, "It's just playing and it's a game and it's fun — or it better be.
"People ask if I have nightmares about this (genocide), and no, I'm lucky I can flush this stuff out. But sometimes when I'm reading or watching something I have to shut it off or close the book because I can't believe people were like that or are still like that."
As the Friday class wound down a pall engulfed the group, as it often does.
The students had to digest the reality of Germans gassing fellow citizens at the top of Stanton's "pyramid of hate". They viewed images of starving Yemenis, a baby that was one of the last Holocaust victims, and a video clip of two or three Americans (out of about 1,500) yelling "let them die" when presidential candidate Ron Paul was asked during a debate in 2011 what should happen to uninsured people who become seriously ill.
And they were reminded that by answering correctly only half of the questions on a pop quiz they might've been deemed "feeble-minded" and "non-productive" in a different time and place.
"There are days like this where I just feel drained," Murphy said moments after class ended, adding with a laugh: "I told my friend we should watch Will Ferrell at the end instead of the beginning."
A girl in back ended the brief silence.
"Why don't you tell a joke?" she asked.
"I am a joke," Stanton quipped self-deprecatingly.
"I hope you win tonight," the girl continued.
Stanton smiled. The mood already was lighter and a man who informs young minds about killing fields was a diversionary step closer to the football field that seemed so far away for an hour.
"That's why we watch Will Ferrell," he noted as the students as shuffled out. "So when the bell rings we can go back to being 17- and 18-year-olds."