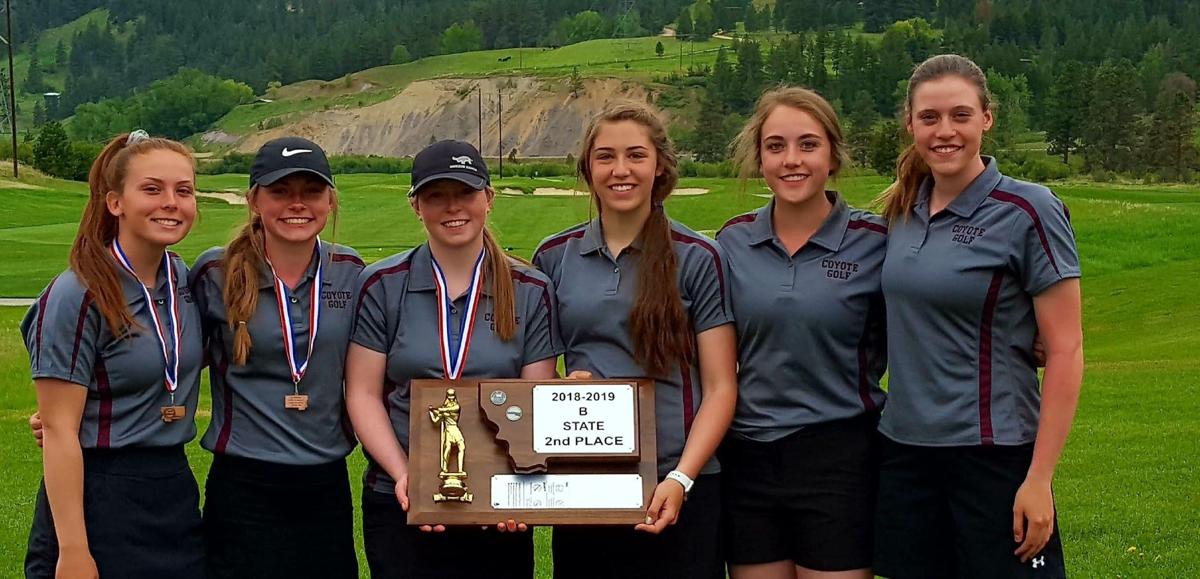 BILLINGS — Reese Whitted felt so confident her team would win the 2020 Class B girls state golf title, she placed a bet.
Two years ago, Whitted's brother, Brock, helped Shelby earn the State B boys championship. The Shelby girls finished second that year for the second straight season, and Whitted was a sophomore on that team. She had two more chances to lead the Coyotes to a No. 1 finish.
Shelby placed second again at last year's State B girls tournament, but that didn't dash Whitted's faith. Before this spring, she bet Brock $50 that she and her teammates would take first place at state.
The 2020 State B golf tournament was scheduled to run this past Tuesday and Wednesday at Eaglerock Golf Course, but the coronavirus pandemic forced the cancellation of Class B and C golf, as well as softball, tennis and track and field. Perhaps no one has struggled to deal with the lost season more than the Shelby girls golfers and their coach Travis Clark. After three straight runner-up finishes, the Coyotes had good reason to believe they'd break through this spring.
All they got was heartbreak.
"I just wanted to give them a hug," a tearful Clark told 406mtsports.com this week. "As big as this seems, in life it's just another challenge. It's not a big deal. But I would've loved for those girls to have the opportunity."
The Coyotes lost by 27 strokes to Three Forks at the 2017 State B girls tournament in Shelby, by 43 to Missoula Loyola in 2018 at Eaglerock and by 40 to Loyola last spring in Missoula. Loyola graduated 2019 state medalist and Carroll signee Katie Fagg but returned Isadora Tomazeli (fifth at state) and Kelsey Esh (ninth).
Tomazeli and Esh were Loyola's only returning state placers, while Shelby only lost Skyler Martin, who finished second behind Fagg and now golfs at Montana Tech. Seven seniors and one junior (Maddison Underdal) would have competed for the Coyotes' top five spots this spring. Whitted placed 14th at state last year, Kendall Anderson was tied for 10th and Kelsyn Lohr and Underdal both finished tied for 35th. Now-senior Bailey Johnson was an alternate last year despite qualifying for state as a freshman and sophomore.
Johnson worked hard over the summer to regain her underclassman form, and she often golfed with her equally motivated teammates, she said. Clark believed the pressure-filled experiences from the previous state tournaments "would've given us the upper hand come the 2020 season."
"I was super excited for this year because Loyola was losing their top player. I was like, 'Maybe we'll get a chance to actually win,'" Whitted said. "I really wish us seniors, since we've been together so long, could have one last golf season together."
Shelby received the first of many bad omens on Friday, March 13. Anderson, Johnson and Underal helped the Shelby girls basketball team reach state for the first time since 1997, and the Coyotes advanced to the semifinals, where they faced Loyola on March 13. The Breakers beat Shelby 46-21 at the Butte Civic Center. A few hours later, the Montana High School Association canceled the rest of the tournaments after the state's first presumed cases of COVID-19 were announced.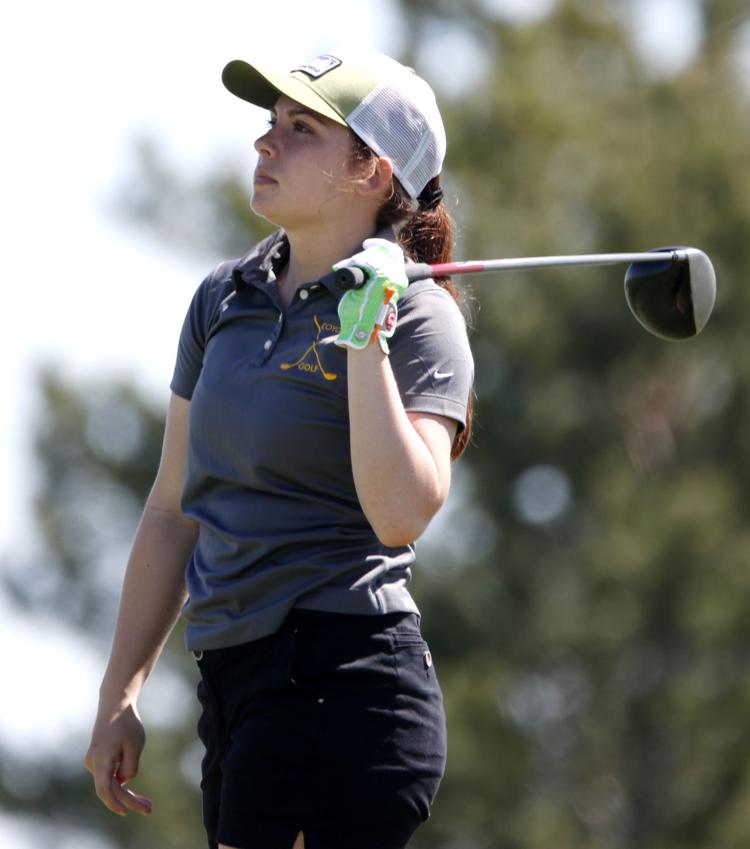 By the time the county's COVID-19 case count subsided, the spring sports season looked all but over. None of the Coyotes were surprised when it was officially canceled on April 22. That didn't make the news any easier to digest.
"I miss it a lot," Anderson said. "Golf, and sports in general, is a way to get away from school and (all) that, and it is sad that everything is just gone all of the sudden."
Most of the Shelby girls have still played golf this spring, but not frequently and not as a group, which is one of the things they love most about being on the team.
Whitted hoped she could play well enough this season to earn a college scholarship — another painful what-if. She will attend Montana Tech and is thinking about walking on to the women's golf team.
Shelby's golfers feel as bad for their coach as they do for themselves.
"What first probably went through my mind was, 'Oh, we really don't get another shot to make Travis proud of us,'" Lohr said. "That is his passion. He was so excited to get back out there and help us become even better golfers."
The Coyotes will always wonder where they would have finished at this year's State B tournament. They were confident they'd end the runner-up streak, win their first state title since 2005 and make Whitted $50 richer (the bet was nullified). But belief and good odds can't fill a trophy case.
Clark's heart breaks for his players, especially the seniors who were robbed of their final seasons by a once-in-a-century health crisis. But he wants them to remember how much they've accomplished. In one lens, three straight second-place finishes look like missed opportunities. They're also impressive achievements.
The seniors not only succeeded during their shortened careers, they laid the foundation for Shelby's next championship team, Clark said. Once it's deemed safe, they could all use a hug.
"They'll have a story that hopefully no other class has," Clark said.
Get in the game with our Prep Sports Newsletter
Sent weekly directly to your inbox!