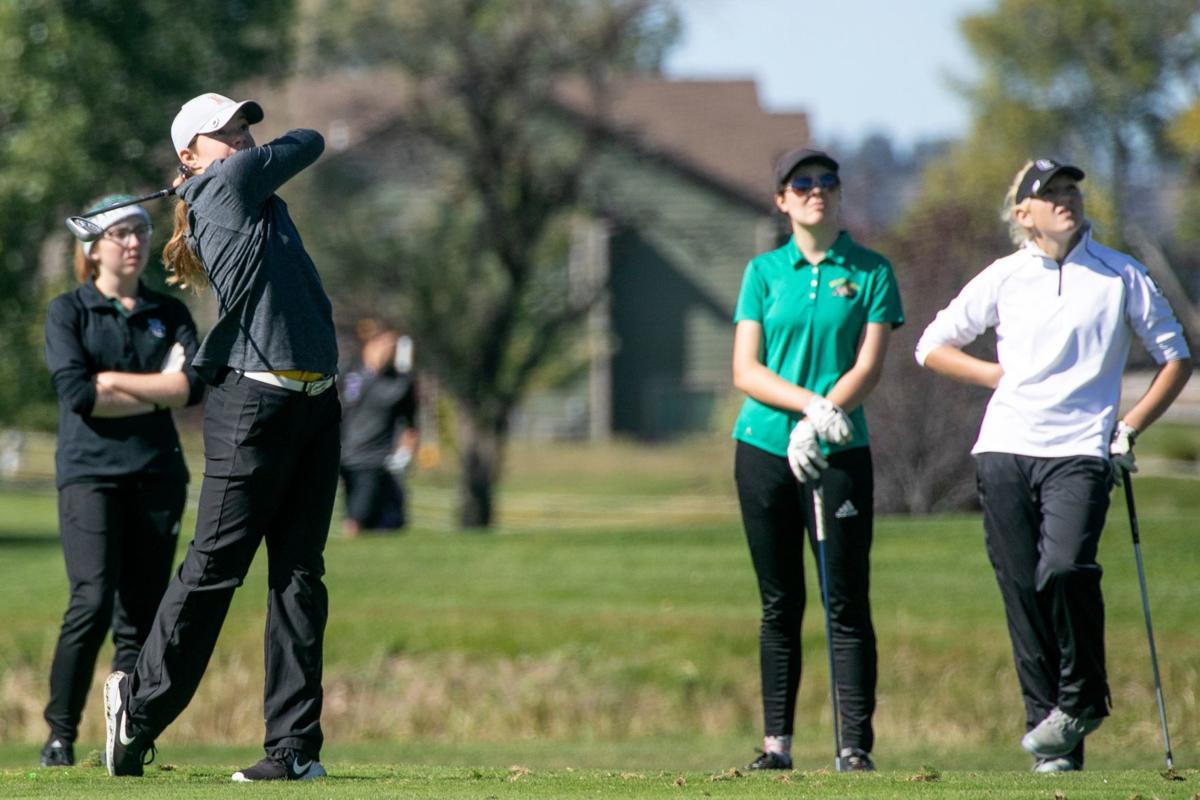 LAUREL — Hannah and Haylee Adams are used to being grouped together.
They're twins, for one, and they're two of the best golfers on the defending Class A state champion Laurel girls team. They finished tied for fourth place as freshmen at last season's state tournament.
The sisters thrived at state again Thursday at Laurel Golf Club in the first round of the 2019 edition. An 11-over 83 put Hannah in a tie for first place with Corvallis sophomore Macee Greenwood. One stroke behind them is Haylee. Those three will play with Miles City senior Ashtyn Swigart in the final girls group Friday.
"We've had a goal since we started that we wanted one of us to win it," Hannah said, referring to her sister. "For us to both be up there, top five, is pretty exciting."
The Adams' performances helped the Locomotives build a 34-stroke advantage over Corvallis in the girls team standings. Swigart sits in fourth place after firing an 86.
Billings Central sophomore Connor Walsh carded a 5-over 77 to top a cramped boys individual leaderboard. The boys team standings are equally close: Central's score of 335 has the edge over Hamilton (339) and Laurel (341).
The tournament was delayed 30 minutes due to frost, and the flood of over-par rounds did not help the pace of play. The leaders said Laurel Golf Club is tough overall, and the greens were firm and quick on Thursday.
"The wind got me on the back nine," Greenwood said. "I'm kind of nervous. I'm sure the nerves will get to me more tomorrow."
The State A boys medalist was essentially a foregone conclusion the previous two seasons.
You have free articles remaining.
In 2017, Libby's Ryggs Johnston shot a 68 and led by seven going into the final round, and a 67 last year put him ahead by four. He won each tournament by an average of 10 strokes.
Johnston now plays for Arizona State, and the race for State A boys medalist is back on.
On the girls side, only the top four golfers are within 13 strokes of the leaders. That number is 25 for the boys.
Hamilton's Tristan Hanson is in second place and one stroke behind Walsh. Laurel's Carson Hackmann and Whitefish's Cameron Kahle both shot 79. Lewistown's Caleb Myers, Laurel's Nick Pasquarello and Polson's Trey Kelley carded 80s. Hamilton's Tanner Hanson finished at 81. Frenchtown's Colby Emmons, Billings Central's Reese Jensen and Hamilton's Bryce Reed are tied for ninth but just six strokes off the lead.
Walsh, who finished tied for 16th place as a freshman, saved par with a putt of about 60 feet on his first hole Thursday. On the next hole, he sunk a putt from a similar distance for birdie.
It was a perfect start in what was otherwise an inconsistent round: two other birdies, five bogeys and a triple-bogey on hole No. 10. But he'll happily take a lead into the final round.
"I don't really like having a big lead. I like kind of being closer and having to compete more with the other players," Walsh said. "You can play aggressive."
Tricia Joyce denied the Adams twins and Greenwood of a state title last year. She, like Johnston, has since graduated (now golfing at Montana), and the sophomores will compete Friday for the right to raise their first individual trophy.
Hannah had a simple message for her final grouping going into the final round.