BOZEMAN – The negative temperatures didn't cool off any of the action in the Bozeman Swim Center on the final day of the 2019 state swim meet.
And just like the past five years, it ended with Missoula Hellgate jumping in the pool to celebrate its sixth straight sweep of the team titles.
On the AA girls side, the Knights won by scoring 280 points. Host Bozeman was second with 224 and Missoula Sentinel was third with 193. Whitefish won the AB girls championship with 91 points. Billings Central was second with 88.
For the AA boys, the Knights scored 262 points. Great Falls CMR was second with 150 and Helena High was third at 144. Havre and Billings Central shared the AB championship with 63 points each.
"We really couldn't have asked for a better outcome," said Missoula coach Helen Houlihan, who leads all of the Missoula teams but will be retiring after this season.
And so they celebrated with belly flops by the coaches off the starting blocks, cheering and chanting "Fill the jug!" which had rested empty on the tables in front of the coaches throughout the day.
The jug lives in Houlihan's garage most of the year, but is filled with water from the pool of their last championship. Right before the next state meet it is poured into their home pool and refilled to bring with them in hopes of refilling it again.
And that was after the pool was calming down after a frenetic climax of the past two days in the 400 freestyle relays.
Relays
In the AA girls race, Bozeman was seeded first, but Hellgate's Gabby Smart made a charge on the final stretch and looked like she almost caught the Hawks at the line. Bozeman won in 3 minutes, 40.69 seconds compared to the Knights' 3:40.90.
"We haven't beat Hellgate in a relay I want to say in maybe six years boys or girls and they broke our school record that was set in 2001," Bozeman coach Siobahn Gilmartin said. "So that's really really exciting with two freshmen on that relay."
The Knights ultimately won five of the six relays.
In the AB boys 400 relay, Havre won in 3:43.25, helping the Blue Ponies clinch a co-championship with Billings Central.
"In the six years I've been coaching we have not (won a boys championship). We haven't even sniffed one," Havre coach William Kilgore said. "We knew if we swam real well that we'd have an opportunity. Central always gives us trouble. They are just so strong, but we knew we matched up with them fairly well."
AB finals for the first time
This was the first year that the AB division got its own championship heats. Previously, AA and AB competitors were combined into two heats based strictly off qualifying times. But instead, this year they were separate.
Coaches and administrators recognized the pluses and minuses after the meet.
"I think it's great because there's so many kids that are able to final now that never could final before and enjoy the experience so that's awesome," Billings Central coach Robyn O'Nan said.
O'Nan did express some concern about the competition levels available for swimmers who stand out and whose times may compete with those in the AA finals.
"But that's OK," she said. "It's a give and take and hopefully this will build Class A and so we made the right decision."
Great Falls coach Ed McNamee, who is part of the MHSA rules committee, explained part of what went into the decision by comparing swimming to sports like wrestling and track and field. They hold state events at the same time as other classes, but still earn their own state championships.
"They are the best of the best for Class A so they should be recognized for that," McNamee said.
Katharine Berkoff caps standout high school career
The meet also served as the final high school races for one of the most decorated swimmers from Missoula.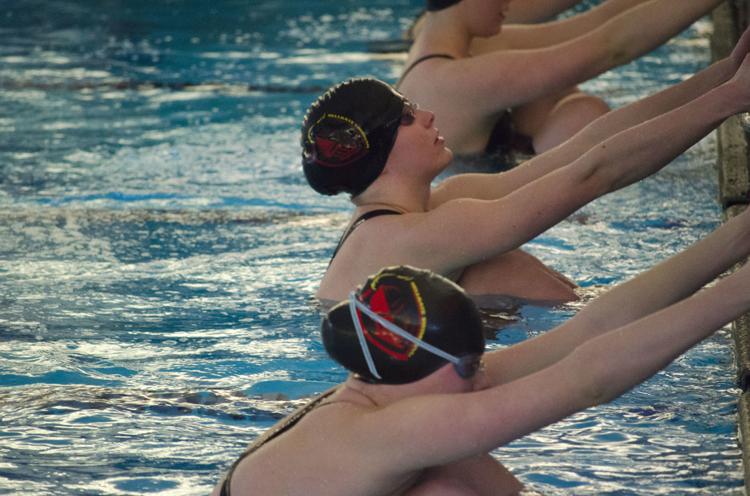 Katharine Berkoff finished off her high school career with two state records (lowering ones she previously held) in the 100 free (49.90) and 100 backstroke (54.40) and wins on the 200 free and 200 medley relays.
"We're not going to see a swimmer like Katharine for awhile. She's really tremendous," Houlihan said. "She's reached that national stage and she's really solid and she's been super successful and that leadership is just ... I mean, when four girls know they have Katharine on their relay, they're fired up."
But Berkoff also took time to enjoy it.
"It's kind of nice having the last few events to just cheer because it really gets you amped up and it's fun to watch other people swim," she said. "I'm just super excited right now."
And it isn't the records that will stand out to her when she looks back on her career.
"How close everyone is and how much fun it is," Berkoff said. "It's much more fun than club swimming just because it's more social and it's more about the experience than anything and I'll just always remember how fun every meet was."
She is committed to swimming in college at North Carolina State.
Dual winners
The Knights got dual wins from four swimmers, including Berkoff, to help extend their dominance. Sawyer Keyes won the boys 200 free (1:44.53) and the 500 free (4:44.5), Gabby Smart won the girls 200 IM (2:10.28) and 500 free (5:09.74), and Finn Westenfelder won the boys 50 free (21.97) and 100 free (48.01).
Whitefish had a big meet. Ada Qunell won the girls 200 IM (2:15.92) and 100 fly (1:01.99), Preston Ring won both the boys 50 free (21.96) and 100 free (48.65) and Annie Sullivan won the girls 500 free (5:41.01) and 100 breaststroke (1:14.48).
Billings Central's Jack Leuthold won the boys 200 free (1:53.84) and 500 free (5:05.08). Julia Peterson won the girls 50 free (23.99) and 100 free (52.85).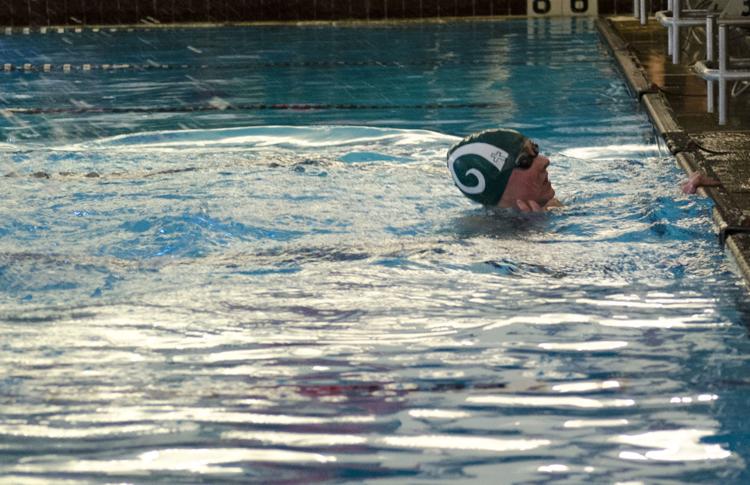 "I broke 24 for the first time in my 50 free and that was really exciting especially not having been in the pool a lot," Peterson, who also juggles swimming with playing basketball for the Rams, said after.
Butte junior Catherine Russo also defended both of her individual championships for the third year in a row. She won the girls 50 free (23.28) and 100 fly (55.67).
"I think about it like 'I've done it two times already,'" Russo said. "Nothing's different this time so that kind of helps me ease up a little bit. There's always going to be pressure there, but I feel like I like to perform under pressure. I feel like it's the most fun so I enjoy doing that."
And Hardin's Dominic Stevens came away with wins in the boys 100 fly (56.25) and 100 breaststroke (1:06.75).
He celebrated from the pool by raising an arm and looking toward his coach, who also stood with both hands in the air.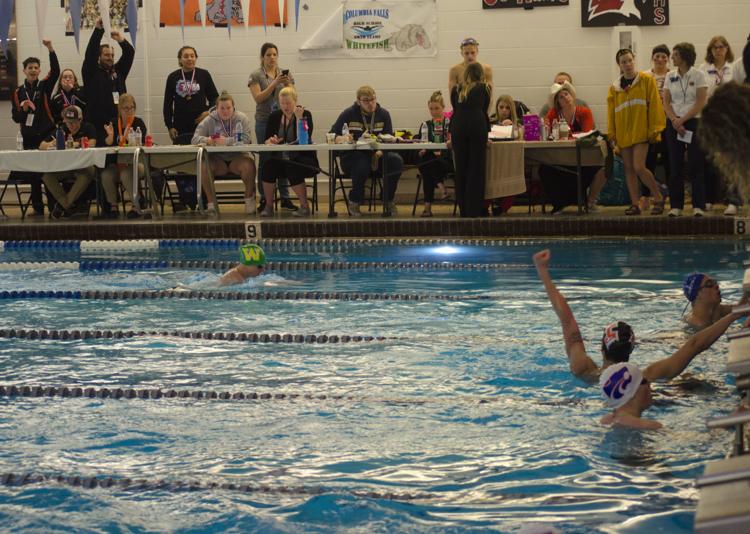 "I just felt like he put so much effort into me to make it here because I wanted to make it here and make it past this and so far we've been doing pretty good as a team," Stevens said.
Editor's Note: The team scores of the Whitefish and Billings Central girls were incorrect. They have since been updated.