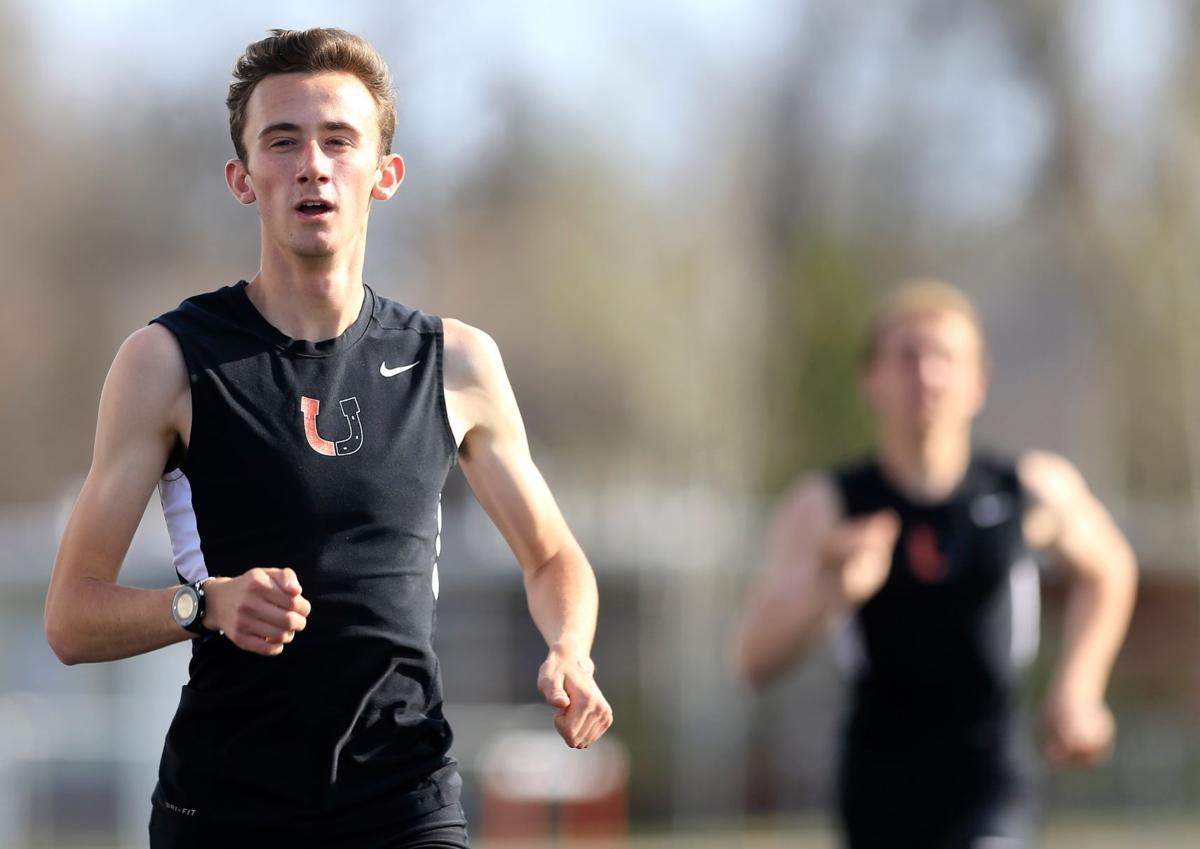 The alarm clock went off in Dawson LaRance's bedroom Thursday morning.
It just wasn't your typical beeping or radio playing.
This time, it was the sweet tune of his mother, Jill LaRance, informing Dawson that he had been selected the Gatorade Montana Boys Track and Field Athlete of the Year.
"That was very exciting. I was very happy to hear that this morning. I found out actually when I was still sleeping and my mom came downstairs and woke me up. She said, 'Congratulations, you are Gatorade Athlete of the Year,' " LaRance said. "I was sleepy, but I was really excited and happy to hear that news. I knew it would be yesterday or today they came out with that news, so I'm really happy to get it for sure. It was really cool. It's a nice way to finish off the great senior season I've been having and just another thing to show all of my hard work is paying off. It is really nice to be recognized for that for sure."
The Gatorade Company also announced Thursday that Kalispell Glacier's Annie Hill was the Gatorade Montana Girls Track and Field Athlete of the Year. She captured three individual State AA titles this past season, winning the 800, 1,600 and 3,200.
The award acknowledges athletic achievements, academics and character. LaRance, who will compete in college at Minnesota next year, is a finalist for the Gatorade National Boys Track & Field Athlete of the Year award to be announced later this month.
The 6-foot, 150-pounder captured a pair of individual titles and shared in a third at the State AA meet this spring, leading the Broncs to a second-place finish as a team. LaRance won the 800-meter run in 1:50.22 and the 1,600 in 4:15.51 before anchoring the winning 1,600 relay. His 800 time at the state meet ranked as the nation's No. 6 performance among prep competitors this year.
LaRance is a member of Senior's concert choir and the National Honor Society and has volunteered locally on behalf of his church youth group. He has a 3.88 GPA.
According to LaRance, his father, Randy LaRance, had been following the selection process as well and alerted Jill he'd won it before Jill delivered the thrilling news.
"Someone tagged me. Hudl tagged me on Hudl and tagged me on a post and my dad had been checking the Gatorade website," he said. "We had seen the soccer Gatorade Player of the Year had been announced and we were wondering when track would be announced. The website said today or yesterday and my dad had been looking at that website. When my dad woke up before he went to work, it had said my name for the Montana Gatorade athlete."
The award caps a busy few weeks for LaRance since graduating from Senior. At the Great Southwest Classic in Albuquerque, New Mexico, he was first in the 800. LaRance also claimed first in his section with a personal-best time in the 800 at the Portland (Oregon) Track Festival. In Shoreline, Washington, he won the 800 at the Brooks PR Invitational.
For the most part, LaRance is done racing for the summer. He will compete in the Montana Mile at the Big Sky State Games and may run in a couple of road races to keep in shape. 
"Right now, I am taking a rest and just kind of enjoying and looking back on the season I had," LaRance said.
When he goes to Minnesota, LaRance said he will run indoor and outdoor track and field. Once he visits with the coaching staff, a decision will be made whether or not he competes in cross country. College cross country races are a longer race than the three miles competed in Montana high school competition. Most college cross country races are an 8K or 10K said LaRance, who focuses on the 800 and 1,600 in track and field.
"It's a big difference between the 10K and 800," he said. "We just have to see where my endurance is at and how things go. I'm for sure running indoor and outdoor track. Cross country is definitely not out of the question. It's just a matter of what is going to happen my freshman year."
Before he reports to Minnesota sometime around the end of August, LaRance, his younger sister Elizabeth and their parents will visit New York City. While there, they will visit the Statue of Liberty and 9/11 Memorial and Museum, catch a Yankees game, and take in two Broadway shows.
"My family and I will go to New York for a graduation trip," he said. "It will be one of the last trips that we have as a family before I head off to college. After that I will stay in Montana and go camping and stuff like that and relax and spend time at home before I head out in August."
Before he knows it, the alarm clock will be going off again and LaRance will be competing in his next big race.