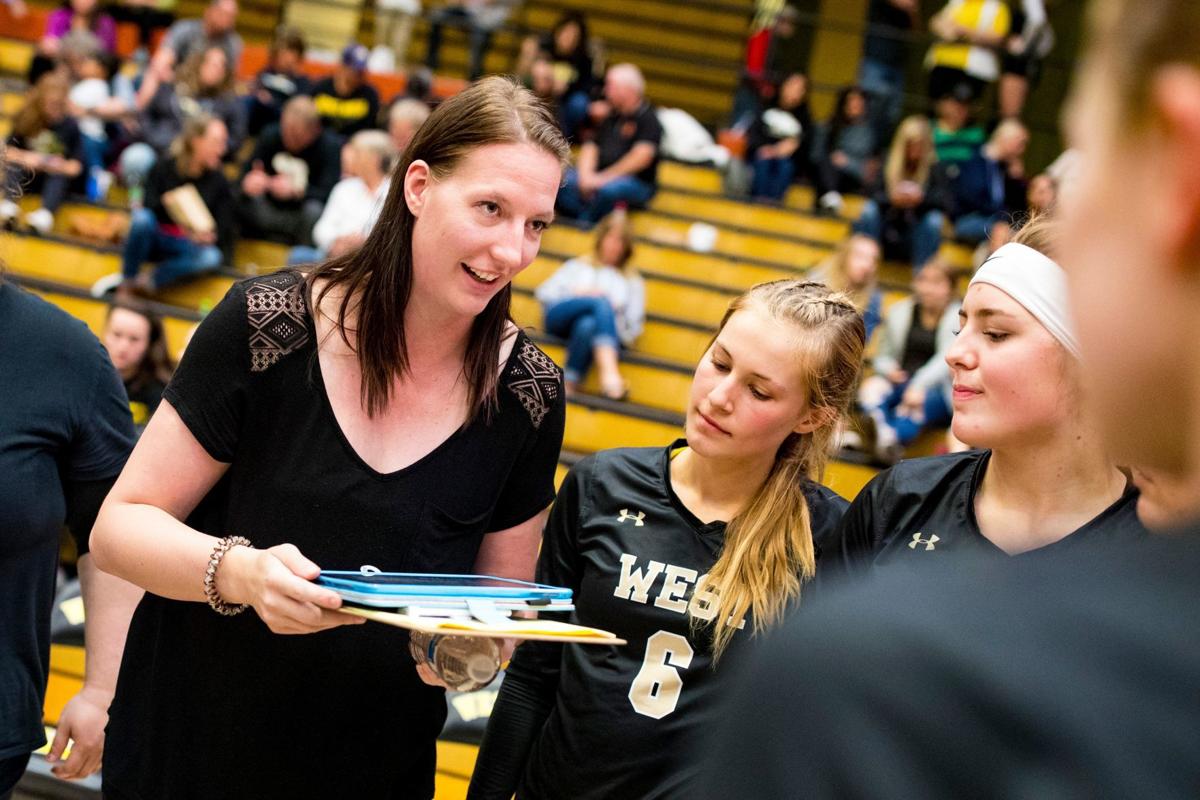 Grimsrud will be offered to stay in her position as the Golden Bears' coach, according to Billings Public Schools activities director Mark Wahl.
"(West) Principal Kelly Hornby and myself have supported the renewal of her coaching contract," Wahl told 406mtsports.com on Thursday. "As far as we are concerned, she is still the head coach at West High School."
With the loss of her teaching job, Grimsrud has had a lot to consider in a short amount of time. Grimsrud, a non-tenured teacher, said she was in the third year of teaching kindergarten at McKinley Elementary.
When reached by phone on Thursday, she told 406mtsports.com she would like to remain the Bears' coach.
"I can't say for 100% certainty at this time, but I'd like to stay coaching," she said, adding she would have to find another job to stay.
"I just love the atmosphere and the girls. My players are the biggest thing over there. I love my girls a lot and the relationships that develop with them; it would be something hard to give up."
Grimsrud declined to comment on the loss of her teaching job. 
Grimsrud became West's interim coach in 2017, when Kelly Deming resigned late in the season as head coach of the Bears, who were 16-10 at the time. Grimsrud, who graduated from Helena High, guided West to a 4-2 record during her six matches as coach that season. The Bears were 1-2 at the State AA tourney and won their first state tourney match since 2012.
The following year, the Bears finished 20-12 and placed third at state. This past season, West went 23-9, including a 1-2 mark at the state tourney.
All Billings Public Schools coaching contracts are on a year-to-year basis, said Wahl. It is the goal for the school system to have the head coach as a member of the district teaching staff, and ideally they would be a teacher at the school they coach, but that is not always the case.
An example of a coach who is not a teacher would be West girls soccer coach Rob Zimmerman, who is not a Billings Public Schools teacher, said Wahl, noting that sometimes the best person for the head coaching position is not a district employee.
"We go through an evaluation process every year and determine whether we will renew or not and in Monica's case, we chose to renew," Wahl said.
"It is the general goal of our department to always get better, and for all of our coaches and administrators to get better at what we do for kids," Wahl said. "That is the purpose of the evaluation."
Wahl said ultimately the decision if she returns to coach the Bears will be Grimsrud's.
"We are hoping she'll stay. If not, we'll have to do something different," he said. 
Grimsrud said she has received support in the process from those involved in the West High program and from the administration. Grimsrud played basketball and volleyball at Montana State Billings. Prior to becoming the coach at West, she was in her second season as JV coach for the Golden Bears.
"I love my players and coaching staff there and my parents I have," she said as she was cleaning out her classroom at McKinley. "I love everything about the West High volleyball program.
"The administration and parents have been very supportive. I talked to the athletic directors and they both assured me that this (teaching) contract was separate from volleyball and that I'd still have this (coaching) contract and that they'd like me to stay. That was definitely reassuring."
Get in the game with our Prep Sports Newsletter
Sent weekly directly to your inbox!