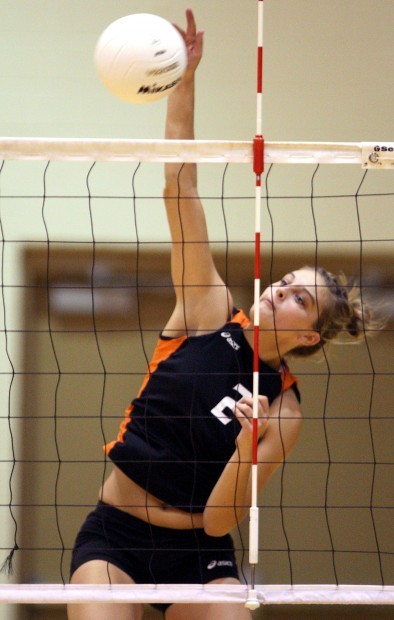 The Helena High Bengals put an end to the longest winning streak in Class AA volleyball history by beating the Billings Senior Broncs in a five-game match Saturday evening at the Senior Gym.
The four-time defending AA champion Broncs had won 66 matches in a row, including one earlier in the day over Helena Capital, but couldn't hang on after taking the first two games from the Bengals. Helena won 23-25, 18-25, 25-20, 25-17, 15-12.
The last time the four-time defending state AA champions lost was at the 2006 state tourney to Kalispell Flathead.
"It's not disappointing to lose to a team as good as they are. It is disappointing the way we lost," Senior coach Jeff Carroll said. "I don't feel they had to play their best to beat us. Game 3 was critical; we had them on the run. We had an emotional and systems breakdown there and let some balls fall that shouldn't have. Every error they made us pay for."
Carroll said the Broncs (1-1) did have an 11-10 lead late in Game 5.
"Helena made a couple critical plays down the stretch," Carroll said."We just didn't seal the deal when we had the opportunity. Helena is a very, very talented athletic team. If we are going to beat those types of teams we can't afford those emotional fades. … but more credit to Helena than to us."
The Bengals improved to 2-0 on the young season.
The way the Broncs started their season early in the afternoon with 25-16 loss to Capital, the question had to be asked: Who was that team?
Even though Senior was relying on several new players this season, the first-game loss looked out of character for the traditionally strong Broncs. But they rebounded from that setback and took the next three games, 25-10, 25-11, 25-17.
"Oh, my gosh, I have no idea what happened," Bronc senior Dani Ostwalt said about the first game that was full of Senior errors and a general lack of intensity. "I think we just needed to get the first game out of the way. We're not used to the varsity (level). We haven't really played much of it."
Ostwalt got three consecutive kills to start the second game, and it seemed a switch had been flipped. They won going away, and they broke away from a 9-9 tie in the third game to score 16 of the last 18 points. Senior did the same in the third game, leading just 13-12 before five straight serving points, two on aces, by Allison Kottke got the Broncs rolling again.
"It was scary at the beginning, but after that second game I kind of calmed down a little bit," said Ostwalt, who finished with a team-high 11 kills. "It was easy for us to play after we got the lead and got back into it."
Senior had 41 kills, with Kari Sparrow adding nine. The Broncs finished with 14 aces after getting none in the first game, and they were led by Kottke's four. Chazlyn Miller had 10 digs and Noel Eaton seven blocks.
"After that first game, like I told the kids, it was kind of like we needed to reset our starting blocks and once we did that we were fine," said Carroll, whose team graduated five seniors from last year's 31-0 team. "We're still kind of searching for that right combination that's going to give us the best chance to win game in and game out."
Senior plays at the Gillette, Wyo., tourney next Friday and Saturday.
Senior def. Helena Capital
16-25, 25-10, 25-11, 25-17
Capital (0-1) - Stats not available.
Senior (1-0) - Kills: 41 (Dani Ostwalt 11, Kari Sparrow 9). Assists: 38 (Allison Kottke 34). Digs: 49 (Chazlyn Miller 10, Victoria Bliss 8). Blocks: 7 (Noel Eaton 4). Aces: 14 (Kottke 4, Jessica Kennedy 3, Chelsey Walter 3).
Helena def. Senior
23-25, 18-25, 25-20, 25-17, 15-12
Helena (2-0) - Kills: 50 (Monica Grimsrud 27, Kelsey Williams 18). Assists: 42 (Kyndal Williams 40). Aces: 8 (Williams 4). Digs: 54 (Williams 13). Blocks: 8 (Grimsrud 5).
Billings Senior (1-1) - Kills: 53 (Dani Ostwalt 16, Noel Eaton 15, Chelsey Walter 9). Assists: 51 (Allison Kottke 51). Aces: 12 (Walter 5, Ostwalt 4). Digs: 64 (Jessica Kennedy 17, Kari Sparrow 17). Blocks: 12 (Walter 7, Elayna Rice 4).
Skyview splits 2
The Billings Skyview Falcons split matches against both Helena schools, dropping their first match to Helena High in three games before sweeping Helena Capital Saturday afternoon at the Skyview gym.
In the first match, Helena High, which was led by Kelsie Williams' 11 kills and eight aces, started strong by taking game one 25-11 and then went on to win 25-14 and 25-12.
"Helena High is a really good and experienced team," Skyview coach Vicki Carle said. "We did some good things in that match, but made some mistakes that we can't make against as good of team as them."
Behind senior setter Andrea Molen, the Falcons turned it around in their second match against Capital.
Molen led Skyview in kills (8), assists (20), digs (14) and aces (5).
"We were behind in both the second and third games of that match and we found a way to win," Carle said. "But I will say, what Andrea did tonight in the second match was amazing. It just shows how good of volleyball player she is."
Capital was led by Sami Bignell's seven kills and six aces.
Skyview travels to Butte on Friday.
Helena def. Skyview
Skyview (0-1) - Kills: 18 (Meghan Ballock 7). Blocks: 2 (Andrea Molen, Keenan Kruger). Assists: 11 (Molen 11). Digs: 31 (Kassie Kemmis 7, Molen 7); Aces: 3 (three with one).
Helena (1-0) - Kills: 27 (Kelsey Williams 11). Blocks: 6 (Monica Grimsrud 3, Hilary Thompson 3). Assists: 23 (Kyndal Williams 21). Digs: 39 (Katie Hanson 11). Aces: 11 (Williams 8).
Skyview def. Helena Capital
Helena Capital (0-2) - Kills: 23 (Sami Bignell 7). Blocks: 0. Assists: 19 (Emily Burke 17). Digs: 48 (Bes Schauman 18). Aces: 8 (Sami Bignell 6).
Skyview (1-1) - Kills: 32 (Andrea Molen 8, Meghan Ballock 8). Blocks: 9 (Keenan Kruger 5). Assists: 28 (Molen 20). Digs: 54 (Molen 14). Aces: 12 (Molen 5).
West tops Central
Kylie Nielsen had 15 kills, 11 digs and five aces Saturday night as Billings West opened its volleyball season with a 3-1 win over Billings Central.
The Lady Bears won by scores of 25-20, 25-16, 21-25 and 25-18. The match was the season opener for both teams.
Jennifer Stone had 13 kills and four blocks for West, which also got 34 assists from Kacie Hutton and 13 digs from Mikensi Romersa.
"Overall, I was pleased with the way our girls played, especially with this being our first game of the year," said West coach Beth Tocci. "All the girls were striking the ball well. It was pretty fun to watch.
"Central fought hard and didn't give up tonight."
Kelsie Ray had 13 kills and 24 digs for Central. The Rams also got nine kills from Catie Hanser and 28 assists from Katie Cummings.
West def. Central
25-20, 25-16, 21-25, 25-18
Billings Central (0-1) - Aces: 5 (Trenna Thelen 3). Blocks: 8 (Lindsey Sebastian 6). Assists: 33 (Katie Cummins 28). Digs: 62 (Kelsie Ray 24, Jessie Robinson 12). Kills: 38 (Ray 13, Catie Hanser 9).
Billings West - Aces: 17 (Kylie Nielsen 5). Blocks: 14 (Jennifer Stone 4). Assists: 40 (Kacie Hutton 34). Digs: 58 (Romersa 13, Nielsen 11). Kills: 53 (Nielsen 15, Stone 13).