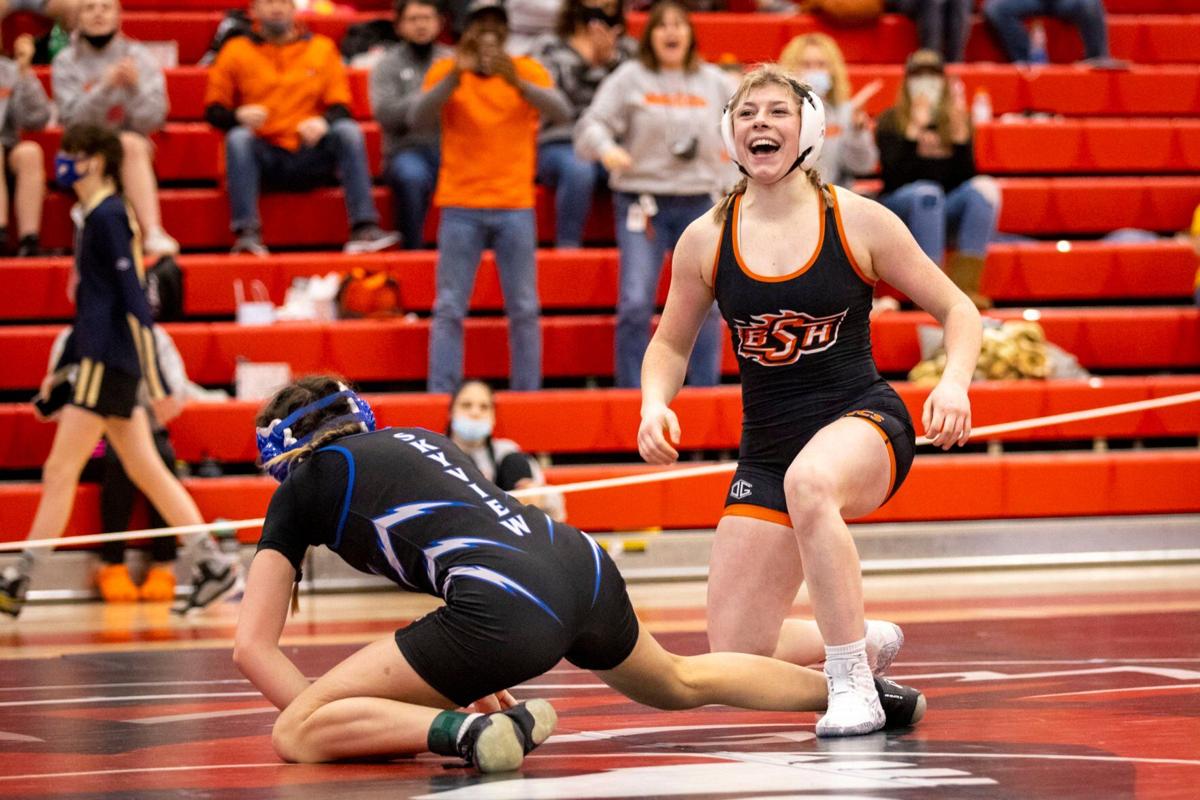 BILLINGS — Cheyenne Daigneau's wrestling journey will continue.
And the Billings Senior Bronc is looking forward to the challenge of her senior season and wrestling at NAIA Waldorf University in Forest City, Iowa.
"It feels great," Daigneau, who placed fifth at 126 pounds at the inaugural girls state wrestling tournament last season, said. "I am very excited. It makes me feel like all my hard work really did pay off."
Broncs coach Mickey Mahlmeister said he's proud of Daigneau and noted the significance of the signing.
"This is awesome for Lady Bronc wrestling. It is our first girl to sign a letter of intent to a university," he said. "She had a very busy offseason and spent a lot of time on the mat and competed in multiple tournaments. I feel she is a very talented young lady, who has not reached her potential. I hope this decision helps motivate her to be a great leader for her teammates and finish higher on the podium at state this season."
Daigneau is very passionate about wrestling.
Before wrestling for the Broncs beginning last year in the first season girls wrestling was offered by the Montana High School Association, Daigneau was a wrestling team manager for two years. Previously, she's also served as a pairing official and worked at the scoring table at many youth tournaments.
Daigneau's older brother, Gabe, also wrestled, and her uncle, Michael Hader, competed for the University of Providence when the school was known as the University of Great Falls.
At Senior, Daigneau was on the cross country team her sophomore, junior and senior years and played softball as a freshman and sophomore. Daigneau said she decided to not play softball last year so she could focus on wrestling.
"I've always been around it and always wanted to do it and the fact that they offered it, I was like I can finally go do it," said Daigneau of wrestling for the Broncs. "I've always loved it, but now I have a different kind of love for it."
Instead of cheering on other wrestlers, or charting statistics, Diagneau is the one on the mat, keeping scorers busy and entertaining fans.
"I feel like my love for it now is I get to do it so I love the practices and tournaments in a different way," she said. "Now I am the one in them and not just watching someone wrestle. It's a different feel for stuff."
Daigneau said possibly she can serve as a motivation to other girl wrestlers who aspire to take that next step, or other females who are debating about whether to wrestle or not.
"It is crazy. I can't believe I am the first," she said in reference to becoming the first Bronc girls wrestler to sign collegiately. "That is a big step. It is exciting. Maybe it will make other girls know they can do it, too."
Dedicating extra time to the sport and wrestling in the offseason has been beneficial for Daigneau.
This past summer, she attended a camp in Sidney and then wrestled at the Disney Duals in Florida. After that, she said she went to another camp in Miles City and then tested her skills in Fargo, North Dakota. From Fargo, she traveled to South Dakota for competition, followed by another camp in Glasgow.
"I think what makes her so successful is she puts in the time on the mat and wrestles in open mats and wrestles at different clubs in town to get mat time and did summer tournaments," Mahlmeister said. "She's a competitor who wants to compete and have success in the sport."
Daigneau said she will once again compete at 126 pounds this year. Practice will begin on Nov. 29 and the Broncs' first competition for the girls team is set for the Kalispell Flathead Invitational Dec. 11. Another date that is circled on the calendar is Jan. 15, when the Billings Public Schools will host an all-girls mixer at West High.
"Yes, I am very excited," Daigneau said about the upcoming season. "I am ready to show I can take state, because I put a lot of work in for it. I want to prove it to myself.
"I think it will be a good first tournament for the season to start off with. I am excited to see how other girls have improved and how I have improved."
Daigneau, who plans on studying biology in college with the goal of eventually becoming a surgeon, said the Broncs are capable of contending for the title this year "as long as everyone puts in the work for it."
For Daigneau, the journey of the season starts in a few short weeks and the journey of a collegiate career awaits.