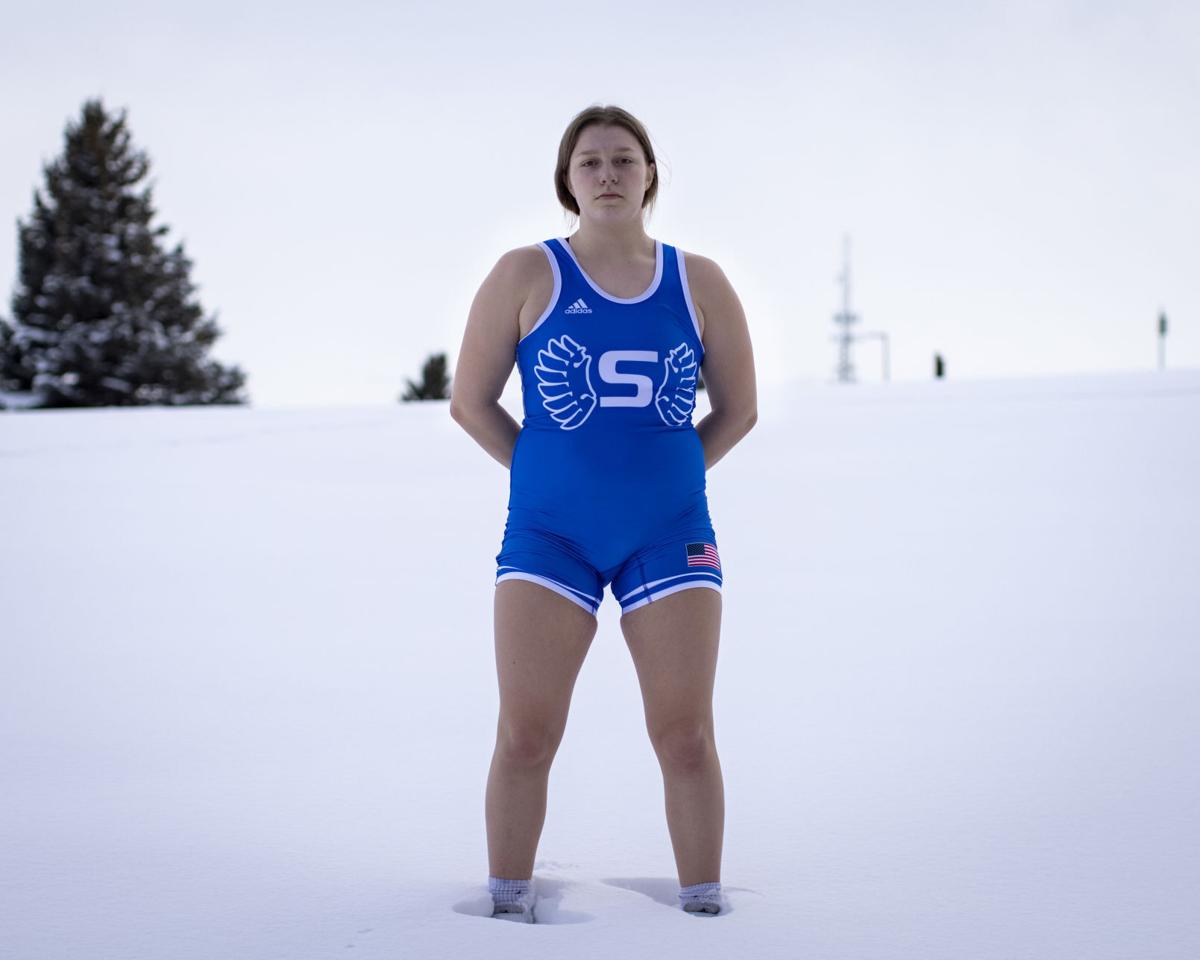 BILLINGS — For Kassidee Savaria, every time she steps on the wrestling mat an opportunity awaits.
The Billings Skyview sophomore was top-ranked in the final Montana all-class girls wrestling rankings at 205 pounds and is the No. 1 seed at that weight for this weekend's inaugural girls wrestling state championships at Lockwood High School.
Savaria has a 10-0 record with every victory by pin in girls competition for Skyview. She has also become the Falcons' varsity starter at 205, has wrestled in six times against boys and is 2-4 in those matches with every win or loss also by fall.
With a goal of wrestling at the college level in the future, Savaria is all business on the mat.
"When I go out, it's all physical," said Savaria. "I go out there hoping to get a good match in even if I lose."
The state tourney begins at 9 a.m. on Friday morning with the first session and round one for weight classes 103 through 126 pounds.
The second session begins at 2 p.m. with the first round for weight classes 132 through 205 pounds. All heavyweight matches will be contested on Saturday.
On Saturday, the semifinals are at 9 a.m. and the championship round begins at 3:30 p.m.
When the tournament begins, Skyview coach Ben Sulser said the limited fans in attendance due to the ongoing coronavirus pandemic will see just how aggressive Savaria can be on the mat.
"She has a wrestler's mindset," said Sulser. "When she steps on the mat, she steps on the mat to dominate her opponent, period.
"She's extremely dominant. It's clear her mentality is to dominate what's in her path. It's very physical. You won't find a more physical high school girls wrestler at the state tournament."
With this being the first year the sport of girls wrestling was sanctioned by the Montana High School Association, some of the competitors are at the novice level. However, girls have been able to compete in the sport before this year but wrestled mainly boys during the regular and postseason.
Some of the girls competing this year have wrestled in youth programs and Savaria is among that group. She has an extensive wrestling background, having wrestled for eight years at the club level where she has won girls championships. Savaria was also a member of Skyview's team last season.
She welcomes the opportunity to compete in the all-girls state championship.
"There's an equal chance to win or lose. There is no disadvantage for them being stronger," she said of only wrestling girls at state. "I never saw that as a disadvantage, but it's nice to get in some of the college scouts' scopes."
Savaria will be chasing history this weekend and hopes to end the tournament with one of the 11 individual championships.
It's a goal that Sulser thinks is very attainable. The key will be to take each match as they come, said Sulser.
"At the state tournament, the next match is the most important match or your life," he said. "For her, it's the next match and who you need to get past to make your dreams and goals a reality. For her, she looks at it as the next girl who she wrestles is trying to take my dream from me."
Savaria said participating in the inaugural year of girls wrestling has been rewarding, but another reason the year has been special is she has been able to share it with her family.
Her brother, senior Cameron Savaria, is ranked second in the Class AA poll at 160 pounds with a 10-0 record. Like his younger sister, all of Cameron's wins have come by fall. Kassidee explained that her brother has been inspirational to her career.
The siblings' father, David — a former Skyview wrestler — has also been very supportive of his children and has served as one of their club coaches.
"I'm going in there to make my dad proud," Kassidee said. "He's been my biggest supporter since I was six. I'll go in there and do my best.
"One of my main goals was to just go into this year and have a good year with my brother because this is his last year wrestling. One of my main goals was to get on the varsity."
Cameron Savaria he'll be rooting his sister on this weekend.
"She has a really good shot at winning a state championship," he said.
This season has also been rewarding for Cameron.
"It's kind of different than all the other years," he said. "I've grown up with her wrestling with me, but this year she has a chance to win a state championship and it's really cool to see."
As Kassidee is a sophomore, there will be other opportunities for her on the mat in his school after this season. However, while she wants to enjoy the moment and experience, she's going to make sure she capitalizes on this chance.
"I think there will be a lot of excitement and it will be a really good atmosphere, and a place to wrestle," she said of the state tourney. "A lot of girls will want to win being it's the first state tournament.
"When I go out on the mat, all I'm thinking about is winning and doing the best I can."