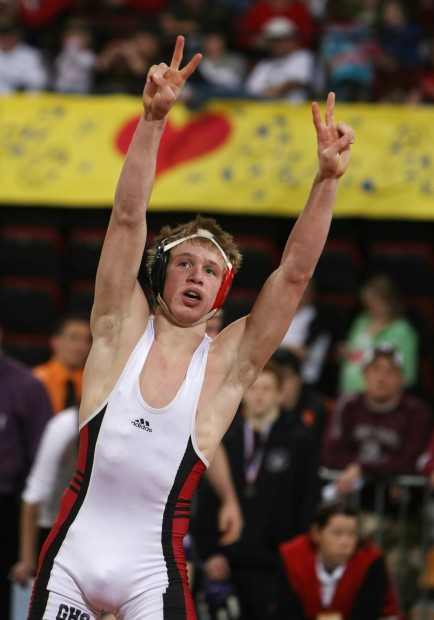 Glasgow's drive for a fifth consecutive Class B-C state wrestling championship will culminate this weekend on the mats at Dale Berry Court in Hamilton.
Whether or not the Scotties find themselves clutching the title trophy Saturday night could come down to a slim margin between a group of well-seasoned teams.
"I think we've had a great season," Glasgow coach Brady Flaten said earlier in the week. "We started out as a really young squad, but we've gotten a lot of veteran leadership, too. We're peaking toward the end.
"We've got a confident bunch of kids right now. It's an exciting time. We've been in some great team races the last couple weeks, and it will probably be the same again this weekend."
Individually, Townsend's Jade Rauser will be the talk of the tournament. At 119 pounds, Rauser is seeking his fourth consecutive championship. If he can get it, Rauser will join an elite group that numbered just 17 entering the weekend.
The Montana High School Association relocated the B-C tournament — normally held in Billings under an all-class umbrella — to Hamilton after Rimrock Auto Arena at MetraPark sustained significant damage during a June tornado.
It will mark the first time since the 1987-88 school year that the tournament will not be held under one roof.
Flaten said his team isn't concerned about being away from familiar territory. It just wants to wrestle a strong tournament.
"We're trying to focus on the positive," Flaten said. "We're traveling to a state tournament this weekend and we're excited about the opportunity to do that. Hopefully we'll go to Hamilton and make that our new Metra."
To win, the Scotties must overcome a diverse field of teams that include several contenders, among them Forsyth, Choteau, Cascade-Simms and Townsend.
Glasgow is led by 135-pouder Luke Zeiger. Zeiger is a two-time defending champion, and had a slew of big victories this season, including a win over Billings Senior's Tanner Sprenkle at the Cowboy Invitational in Miles City.
The Scotties also boast experienced wrestlers in Jacob Bethea (112 pounds), Braden Hallock (119), Tucker Holstein (160) and heavyweight Chaz Hopstad.
Glasgow edged Forsyth by 6 ½ points in last weekend's Eastern B-C divisional, and the two teams have been in a tug-of-war all year. Forsyth has been ranked No. 1 for much of the season, led by 140-pound junior Dallen Brauer, a two-time champion with a 40-0 record.
"To be competitive with the four-time state champs, it's been a blast," Forsyth coach Scott Weber said. "Every time we wrestle (Glasgow) we look forward to it. It brings out the best in us."
The Dogies had six individual champions last weekend, including Brauer, 112-pounder Chris Nile, 125-pounder Taylor French and 130-pounder Brandon Weber.
Choteau and Cascade-Simms are expected to be in the team race, as each qualified 13 for the state tournament.
Elsewhere, Chinook 189-pounder Ben Stroh is chasing his third individual crown, as is Conrad 112-pounder Luke Schlosser. Rauser's twin brother Val, at 130 pounds, is also in search of his third title.
Like Glasgow, Havre is in search of its fifth consecutive Class A championship.
The Blue Ponies look primed to compete for first-place hardware again after knocking off No. 1-ranked Belgrade at last weekend's Central division tournament by a 16 ½-point margin.
The Class A tournament begins Friday at the Civic Center in Butte.
Duell Stadel (119 pounds) is Havre's only returning state champion, but the Blue Ponies boast big numbers, including seven division titlists.
Belgrade was in the running to win the team title last season, but succumbed to Havre by 19 points. The Panthers' Bryce Weatherston is a returning state champion. Weatherston is looking for redemption after falling to Stadel in the finals at divisionals.
Meanwhile, Laurel is coming off its first Eastern A title since 2002. The Locomotives had six wrestlers win division championships, including 125-pounder Kolter Kukes and 160-pounder Dylan Kramer, who each took home third-place medals from last year's state tournament.
Miles City's Shane Cooley looks to become a four-time finalist and a two-time champion. Cooley, a 152-pounder, won the crown at 145 last year after placing second the previous two seasons.
Glendive's Tyler Kinn, at 112 pounds, is also seeking a second championship.
Get in the game with our Prep Sports Newsletter
Sent weekly directly to your inbox!