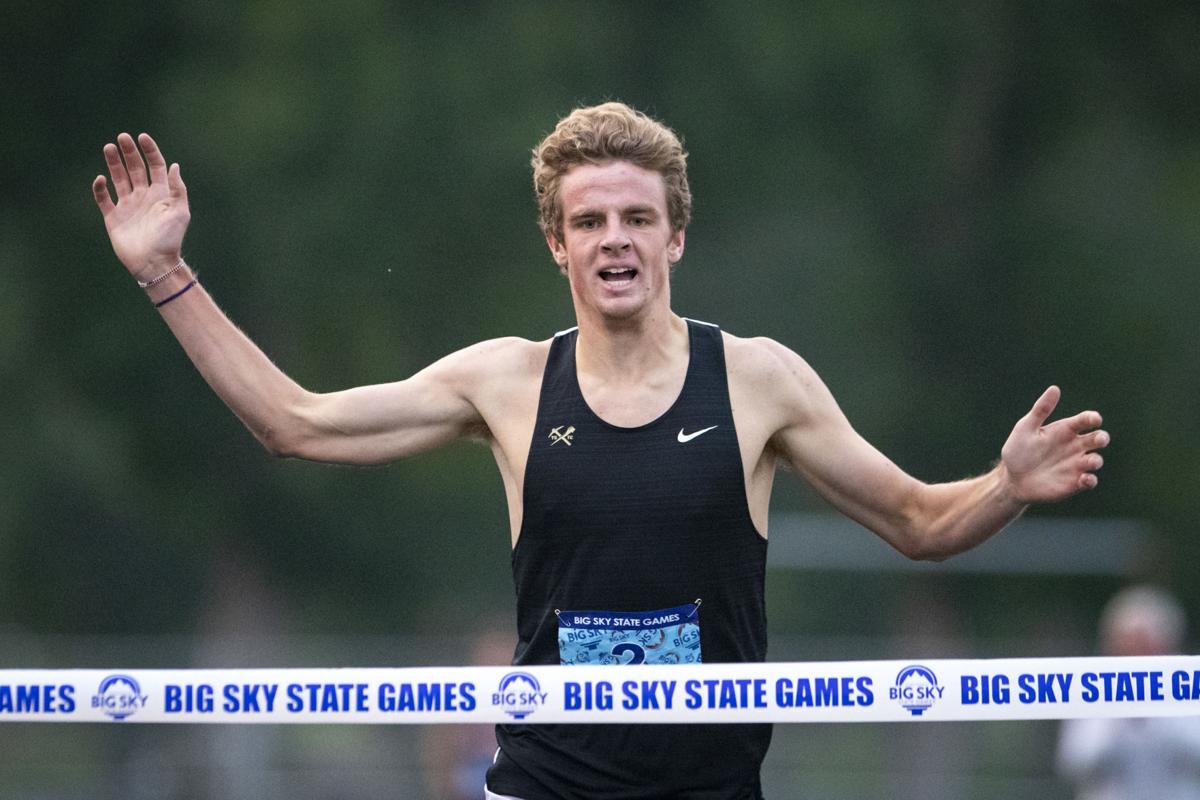 BILLINGS — Growing up in Bozeman, Duncan Hamilton admired Montana State distance runner Patrick Casey, and still keeps Casey's collegiate and professional accolades among his goals for the future. Hamilton even once sought out Casey for an autograph.
Turns out Hamilton is no slouch either.
Now himself a decorated runner with the Bobcats, Hamilton bolted into Casey's direct company with a record-breaking effort at the Montana Mile during opening ceremonies of the Big Sky State Games on Friday at Daylis Stadium.
Hamilton won the men's race with a time of 4:06.23, which broke the mark of 4:07.9 that Casey set in 2010. Hamilton and MSU teammate Levi Taylor broke away early and were neck and neck at the outset of the final lap. But Hamilton won by more than eight seconds.
Montana Tech runner Becca Richtman, meanwhile, won the women's race with a 5:01.61, outpacing runner up Tiahna Vladic by more than four seconds.
Hamilton's year just keeps getting better. In February, he ran a sub-4:00 mile — altitude adjusted — to join Casey on a list of just four MSU runners to ever do it. He then became a first-team All-American in the 3,000-meter steeplechase and competed at the U.S. Olympic Trials in that event last month.
During Friday's race, Hamilton had an inkling he and Taylor — who, like Casey, ran for Laurel High School — would be the pace-setters. It wasn't until later that he knew he had a shot at the all-time event record.
"Levi's been training for a little bit longer than I have, and he was really looking at Pat's record," Hamilton said after his victory, a Montana state flag draped around his shoulders. "I knew he was going to take it out. My plan was to stick on him and see how it felt at the end."
"Coming into the last 400 I saw the clock," he said. "I knew if I could finish in about 60 (seconds), the record was doable. It's super exciting. Pat was registered (for the Montana Mile) for a little bit here and I was looking forward to racing him. Maybe I'll get to race him sometime. Being from the state of Montana, I've been looking at all of Pat's records and accolades. I've definitely been looking up to him throughout my career."
Taylor finished in second place with a time of 4:14.94, and Montana State Billings' Ase Ackerman placed third in 4:21.71.
It was the second time Hamilton competed in the Montana Mile. He finished in the middle of the pack in his first try the summer after graduating from Bozeman High School in 2018.
"It's definitely been a breakout year for me," Hamilton said. "I think a huge help was the COVID year. It gave me a huge, solid training block where I got a bunch of miles in and a bunch of fitness, and I've been able to capitalize on that fitness. It's made me rethink my goals and make my goals bigger and look toward the future."
Richtman runs away
It had been two years since Richtman ran a competitive mile. She's had other things to accomplish — like winning an NAIA national championship in the women's 3,000-meter steeplechase in Alabama in May.
Not knowing what to expect Friday night, Richtman put herself in winning position and didn't let go of the opportunity.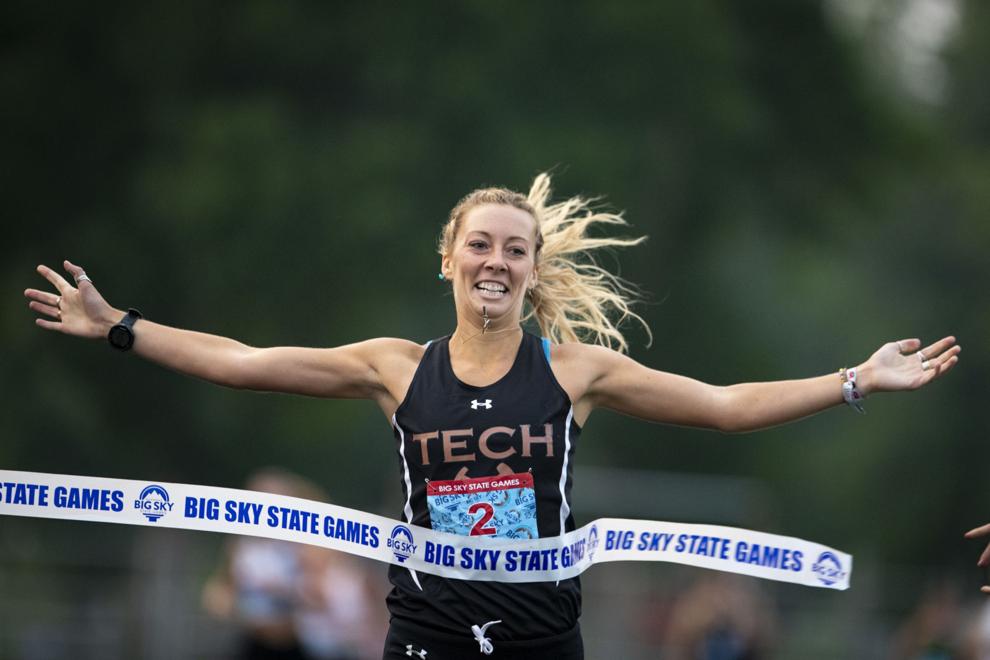 Jostling in front with Boise State's Vladic and Rocky Mountain College's Sydney Little Light for the majority of the race, Richtman eased ahead in the final 200 meters and cruised to victory in her first Montana Mile appearance.
Vladic placed second with a time of 5:06.29 while Little Light crossed in third place in 5:08.9.
"You step up to the line hoping you win or walk away with a PR," a smiling Richtman said after her victory. "Today wasn't necessarily about my time, I was definitely going for position and placement, so I had to race smart. I was hoping to win when I came here, but there's plenty of good competition."
"I was ready for it to go out fast and then slow down, but it started a little bit slow, which I was stoked about. And then Sydney took it with a lap to go, which I was ready for. I just knew I had to wait, and then when I felt good, go."
Richtman, originally from Illinois, came to Montana Tech prior to the 2020-21 academic year from NCAA Division II Winona State in Minnesota. She followed former Winona State coach Zach Kughn when he was hired to take over the Orediggers program.
(Kughn, incidentally, won the men's Montana Mile last year.)
The victory was the latest in what has been a celebratory couple months for Richtman. When you win a national title, you learn a few lessons along the way.
"No one cares what you are with one lap to go, people care about how you finish. So you really have to trust your fitness."
Results
Men: Duncan Hamilton 4:06.23, Levi Taylor 4:14.94, Ase Ackerman 4:21.71, Owen Smith 4:22.51, Ignatius Fitzgerald 4:24.12, Wyatt Morrison 4:24.18, Robert Peterson 4:28.72, Tanner Klumph 4:30.26, Samuel Smith 4:30.52, Logan Straus 4:30.66, Daniel Colmenero 4:31.35, Carson Jessop 4:33.76, Colter Kirkland 4:36.14, Carson Steckelberg 4:50.43.
Women: Becca Richtman 5:01.61, Tiahna Vladic 5:06.29, Sydney Little Light 5:08.9, Mary Felig 5:17.63, Lindsey Paulson 5:19.87, Amanda Peterson 5:21.28, Emma Nelson 5:21.61, Kailee Stoppel 5:23.59, Odessa Zentz 5:23.69, Carly Ryan 5:24.55, Emma Stolte 5:29.62, Grace Timm 5:33.11, Mei-Li Stevens 5:38.49.