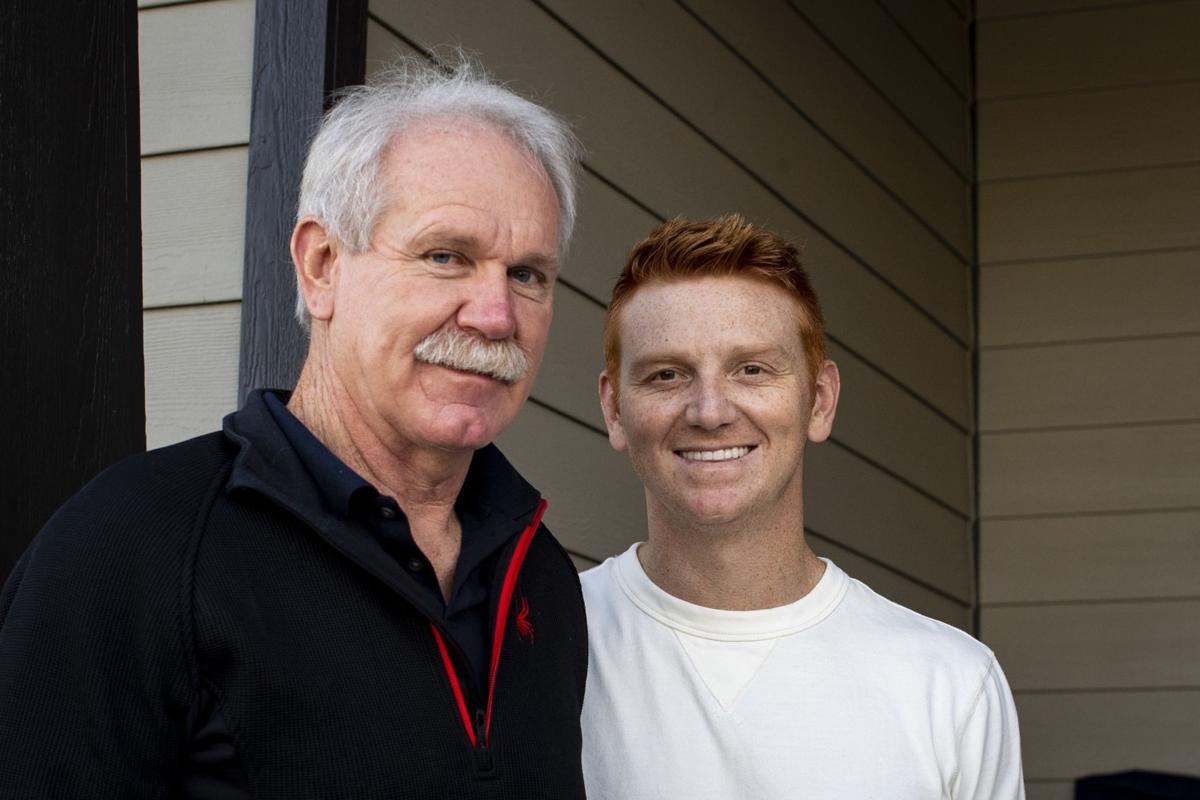 BILLINGS — Their bond was already airtight when Paul Klaboe made the decision — an easy one, he affirmed — to step in and save the life of his son, Paul Jr.
But the two men are now joined by much more than the familial connections that tie a father to his children.
As the younger Klaboe said, he will quite literally always carry a piece of his dad with him.
On Sept. 27 at Porter Adventist Hospital in Denver, Paul Sr., a respected ex-coach and admired former Billings educator, donated a desperately needed kidney to his 33-year-old son. To those who know the elder Klaboe, this was not a surprise.
Klaboe, a member of the Montana Coaches Association Hall of Fame, dedicated his professional life to positively affect adolescent lives.
Important as that was, it pales in comparison to this latest and most personal sacrifice.
Granted, it was much more consequential for the Butte-tough Klaboe than weighing whether to go for it on fourth down. But he never hesitated.
"When we found out I was the best match it was a pretty easy decision," Klaboe, 65, told The Billings Gazette and 406mtsports.com 11 days after the transplant was completed. "It's your kid, and you do whatever you can to keep him going."
It's a familiar story on a local scale: In October, former Carroll College and Rocky Mountain College athletic director Bruce Parker underwent a kidney transplant after spending three years on the waiting list.
But the Klaboes didn't have to wait. They didn't want to wait. Especially not Paul Sr., who was described as eager to go under the knife immediately after tests showed he was a match.
Paul Jr., colloquially known to family and friends as Pauly, had been suffering from kidney disease since 2011, which was when he first noticed the onset of symptoms such as chronic fatigue and unexplained swelling in his ankles.
He was eventually diagnosed in February 2014 with IgA — Immunoglobulin A nephropathy — an autoimmune disease that was leading him straight down the road to renal failure.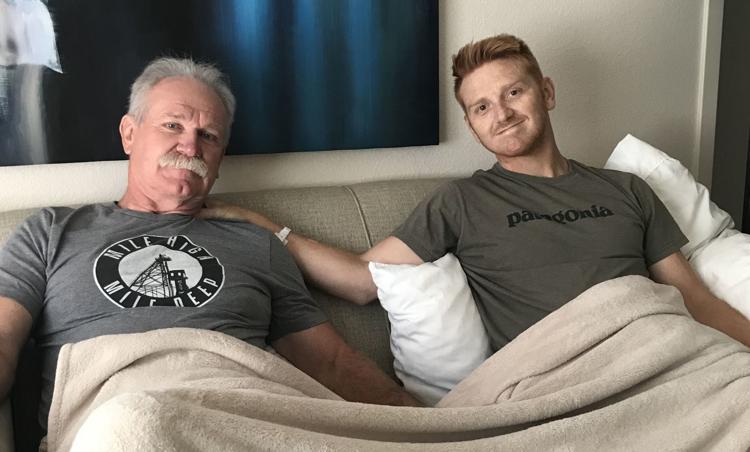 For several years, Pauly was able to stave off trouble due to a particular saving grace: He kept himself in excellent physical shape. And that's not a revelation.
Growing up, all he ever wanted to be was a West High football player and to be coached by his dad, and he did so in spades thanks to a tremendous work ethic.
Pauly was the Class AA co-defensive MVP as a menacing defensive end in 2005, the year West went undefeated and won the State AA championship with a cast of standouts that included Andrew Selle, Michael Rider, Chris Carlson, Chris Wells and others.
He went on to earn All-Frontier Conference accolades during a standout career at Montana Tech from 2007-11 as an outside linebacker playing for longtime coach Bob Green.
Still, despite his athletic background and excellent football pedigree, it eventually became clear in the years after college that Pauly needed a transplant as his kidney function plunged to roughly 4%.
Both the elder Klaboe and his wife, Maureen, ultimately proved to be matches to provide their son the organ he needed.
Maureen would have donated in a heartbeat, also. But dad was just a bit better match, and he wanted to be the one to provide it.
"I always felt like eventually the day would come where I would need a kidney," Pauly said during an interview after returning to Billings post-surgery. "But he was the one pushing me. 'Let's go do it. Let's get this done.' He was in my ear weekly.
"Anybody that played for him or knows him really well knows that he's one of the most selfless people in the world. Him stepping up and coming forward, he and my mom, it didn't surprise me in the slightest.
"He's lived his whole life in the service of other people, but this just might be the biggest thing that he's ever done for somebody else and it happened to save my life."
Vital signs
Pauly is a patient of Dr. Michael Ganz, a nephrologist at St. Vincent Healthcare in Billings, and was later admitted to the Centura Transplant Program at Porter Adventist under the care of Drs. Alex Wiseman, James Lim and Giridhar Vedula, among a litany of healthcare professionals that Pauly likened to an endless scroll of credits at the end of a movie.
Pauly said the Centura program is the "gold standard" for kidney transplants.
And the surgeries, by all accounts, went well.
The Klaboes spent an extended stay at a rented condo in Denver in preparation for surgery, and when the time came one of Paul's fresh, healthy kidneys was removed and transplanted into Pauly without incident.
Right away, Pauly showed signs of improvement as his body responded to its added spare part.
"You're around people catching a ball and throwing a ball practically your whole life, and they're some really skilled people," Paul said. "But for these doctors, they have to be perfect. They're as skilled as anybody in any job there is. They're amazing people."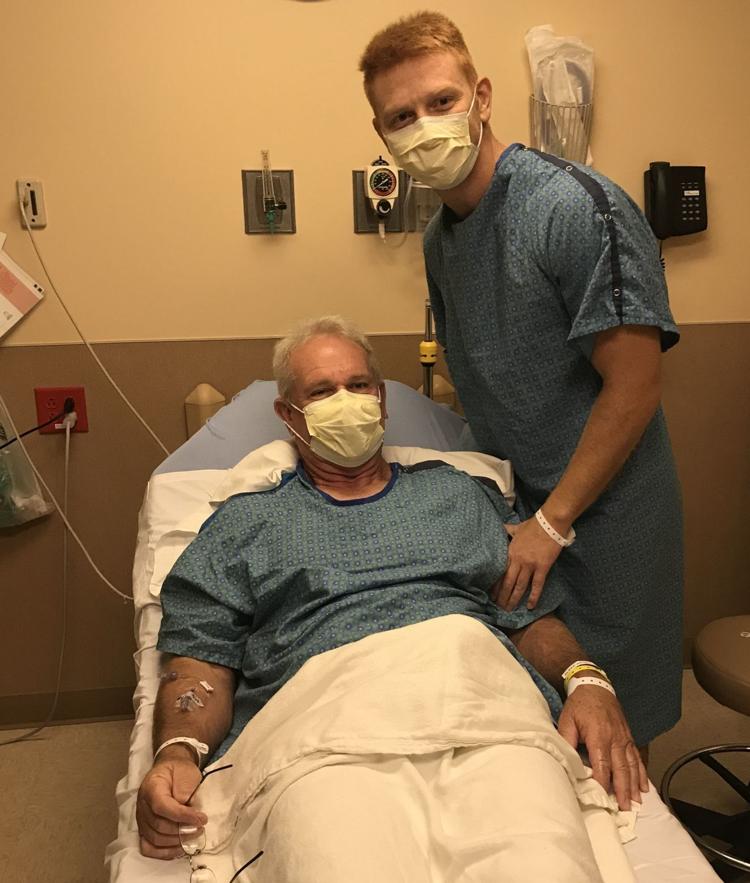 Paul's rehabilitation has been smooth, aside from having to keep tabs on his blood pressure and manage some lingering pain. His remaining kidney is picking up the slack just fine.
Maureen referred to her husband as being "tough as an old boot." Pauly said his dad is "made of rawhide."
By the same token, Pauly's prognosis is good — his kidney function level has reached as high as 53%, he said — but he remains under much more watchful eyes because the chance for organ rejection still exists.
Also, his required cocktail of immunosuppressant medications and anti-rejection drugs must be specifically fine-tuned.
Just last weekend there was some fear that Pauly would need to be hospitalized again due to some concerning lab results, but his medications were re-calibrated and it was deemed a false alarm.
Pauly's come a long way, and his resilience can't be overstated, either.
"Really, over the last year and a half to two years his kidney function really declined. He became pretty anemic. His blood counts became very low, he had fatigue, loss of appetite, but he was still running two miles a day," Ganz said with a sense of amazement.
"Most people, when they are in Stage 5 kidney disease, they can't even get off the couch. But I would say by March of this year he started saying, 'I'm beginning to feel it.' His kidney function was rapidly declining. In all honestly, if he didn't have a transplant he would be on dialysis already."
Pauly was able to avoid pre-op dialysis, which, Ganz said, can shave years off the lifespan of a transplant recipient.
For the Klaboes, this is an important point.
"It's always the thought of your son not being healthy that hangs over your head," said Maureen Klaboe, who was in the proverbial bullpen in Denver ready to donate one of her kidneys if anything went awry.
"When you have two of your people on the (operating) table at the same time … it was horrible. But at the same time you want it to happen because you know he won't live without it. Even the best laid plans don't always turn out the way you want, but thank God they both went through surgery well."
An unshakable bond
An institution within School District 2, Paul was hired to teach at West in 1980 and was the head football coach there for 29 years (1986-2014). He forged a 210-103 record (.671), and his win total ranks in a tie for 12th-most in Montana high school history.
But of all his accomplishments, his kids remain his pride and joy. The Klaboes have three other sons: John, 36, Kevin, 34, and Casey, 24.
Pauly was just as worried about his dad through this process as he was about his own outcomes.
"My biggest concern was I didn't want his quality of life to change one iota," Pauly said. "I just really wanted to make sure that he would be fine and he would recover and he didn't have any lasting trouble for doing something so selfless.
"It was hard for me to accept that I was going to be taking his kidney. I finally came to the realization that he wouldn't have it any other way. There's nothing he wouldn't do to make sure I'm good and healthy and can get married and have a family of my own. That made me realize that this is what he wanted to do as bad as I wanted to be healthy."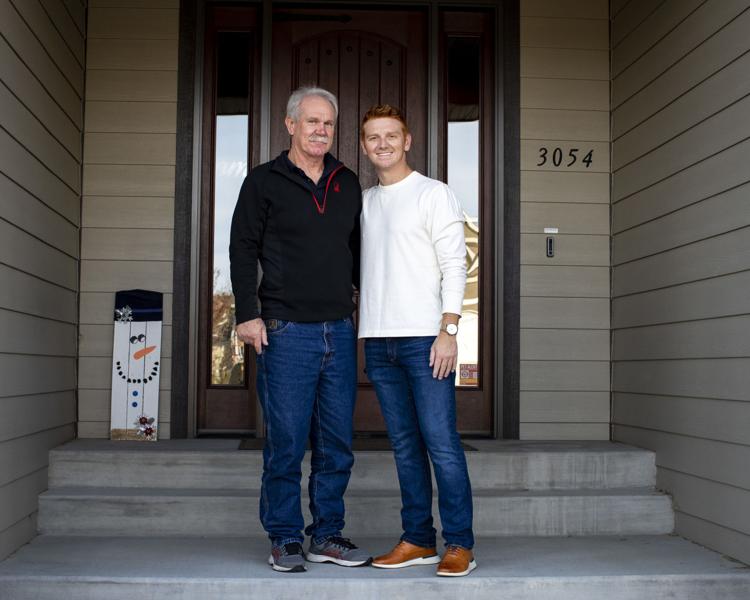 Now the family's focus is squarely on Pauly's improved (and improving) health. Maureen said a kidney transplant isn't truly celebrated until a year after surgery due to the lingering chance for rejection, but it's so far, so good.
Pauly has since begun to work remotely again — he is a regional sales manager for Stryker Corporation, a medical technologies company that provides hospital and emergency room supplies. 
And although his wedding to his fiancée Kelsey had to be postponed due to the transplant and the ongoing COVID-19 pandemic, the couple has set a new date for their nuptials — July 16 of next year.
In the meantime Pauly will continue to monitor his health based on the advice of Dr. Ganz and the team of physicians at Porter Adventist, and he will take extra precautions to steer clear of coronavirus considering the immunosuppressive drugs he is taking, which can compound his underlying health issues.
"We pretty much hole up at our house," said Pauly, noting his preexisting condition. "We definitely have to take it very seriously."
As for Paul, he's simply happy knowing Pauly now has a much greater chance at longevity. It's all the Klaboes could have hoped for.
"With the new kidney, it's already done well for him. It's really moved along. It's crazy," Paul said. "There are a lot of people in need, and donation is a gift of life for somebody else.
"It was easy for me because it was my son. There will be some changes, but he will really have a chance to have a normal life again, and that's all you really care about for your kid."
Inseparable before, the two men are now joined together by more than familial bonds.
Said Pauly: "I'll always have a piece of him in me. We're as close as we can ever be."
Be the first to know
Get local news delivered to your inbox!