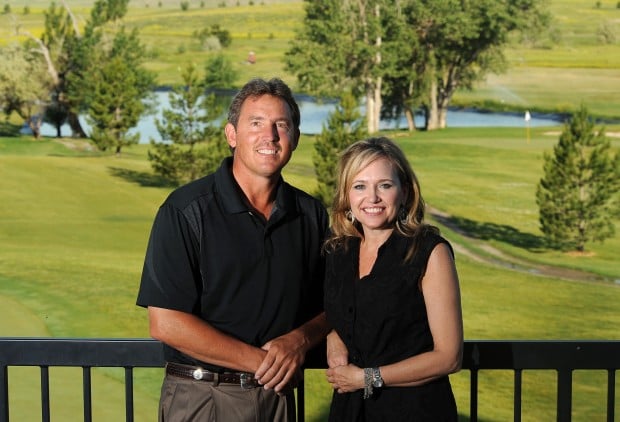 When Lenita Martinson was putting up a sign on Highway 312 to help direct golfers to her family's new Eaglerock Golf Course in northeast Billings, she said a "scary" thought crossed her mind.
"I thought 'oh my gosh, now we have to provide something for the public,'" she recalled thinking. "It's not just in our minds anymore."
That was nine years ago this summer, and the family-owned 18-hole golf course, planted on 280 acres of picturesque farm land off Larimer Lane, has evolved steadily despite facing a multitude of challenges.
"It's been our dream," said Matt Martinson, Lenita's husband, who first envisioned building the course, along with his late father, Vernon, in the late 1980s. "It's getting better every year. We're maturing. We're growing up."
However, as the area's youngest golf course has indeed developed its own character and been well received, it has also experienced more than its share of growing pains, especially with the recent double whammy of a long winter and soggy spring shortening the season.
"I don't think the community or anybody that hasn't owned a golf course or this type of outdoor recreation business realizes how hard it really is," said Matt, whose family initially put $3 million into getting the course up and running.
"It's been a tough thing," said Lenita. "It's tough emotionally. It's tough financially, but at the same time you have so much fight in you because you see what you're doing, you see what you're creating and you see what you're providing for the community."
To this day, "It hasn't been a money-maker," Matt said. "It's basically a labor of love still."
Because of May's record-setting rain, he said the number of rounds played this season is flat after showing increases every year since opening. Matt is encouraged, however, after having "one of the best Junes we've ever had."
A change of fortune is certainly due for the Martinsons, whose perseverance and stress levels have been tested as their course has taken root.
Vernon, who worked on both the design and construction, died of cancer at age 73 in 2002 as the grass was beginning to sprout on the fairways.
"That was probably the most challenging (to overcome) ... and still is," Matt said.
They've also dealt with hurdles such as the road construction on Highway 312 during the early years, followed by a persistent downturn in the economy.
Matt remains devoted, though, saying he has no regrets about pursuing his dream on land once reserved for wheat, barley and hay.
"Again, it's your passion. People do strange things for their passion," he said. "Some may be hugely financially rewarding, but others are just rewarding."
A spacious, two-story clubhouse offers a panoramic view of the course, which sits adjacent to Rattlesnake Reservoir and Rattlesnake Butte about a mile off of Highway 312, heading toward Shepherd.
The rolling layout, which plays from 5,114 yards to 7,152 and appeals to golfers of all levels, features long fairways, large greens, many risk-reward holes and plenty of well-positioned bunkers and ponds.
"We're young yet, and we're going to make it one of the top-notch golf courses," said Doris Martinson, Matt's mother. "Give us time."
Since opening, the Martinsons have made some of the course's ponds bigger, added landscaping and additional sand bunkers. They've also widened fairways, constructed multiple tees and expanded the gravel cart paths that wind throughout the course.
The family said they relish the camaraderie they have with their golfers and the compliments they get about their smooth-rolling greens.
"It's been a fun adventure," Doris said.
Eaglerock operates with a "lean" staff, with just two of the Martinsons' 15 employees — club pro and general manager Mark Wehrman and course superintendent Kevin Bonk — on fulltime.
Matt praised Wehrman, a PGA golf professional, for bringing "a professionalism that every course should have" since arriving in 2008. He added that the recently-hired Bonk, who spent many years at Lake Hills and is a certified superintendent, has Eaglerock looking the best he has ever seen.
Still, the family all pitches in.
On a recent morning, Matt was up before sunrise, mowing fairways, spraying for mosquitoes and servicing the portable toilets. Lenita and Doris take care of the bar and restaurant area of the clubhouse.
"It's more than just collecting greens fees," Matt said. "There are so many more hats to be worn."
Sons Lukas, 19, and Dane, 16, have also played a big part in the course's development since the beginning, working in the pro shop or on the grounds crew.
"I think they've seen hard work and perseverance," Lenita said. "That's something you can never take away. It's better than a college education."
Eaglerock's location, tucked away on the outskirts of Billings, has made the Martinsons also rely on much more than word of mouth to build their business.
The course runs newspaper and television advertisements to promote its facility and attract new faces. The general greens fees range from $31 (walking) to $43 (cart) for 18 holes, but some special twilight packages and other promotions are also offered.
"Just because you build it doesn't mean, of course, people are going to come," Lenita said.
Besides its regulars, who favor its open terrain and relaxed pace of play, Eaglerock hosts league play on most week nights and is the site for numerous corporate outings or group tournaments on the weekends.
As Billings expands, the Martinsons said they envision the real estate adjacent to the Eaglerock course will include a residential housing development, which will add more golfers.
"It would be great to see Billings grow toward the Eaglerock side," Matt said. "I think there's a huge possibility that it can."
Until then, the Martinsons said they will rely on their can-do attitude to move forward.
"Whether we succeed or fail, it was worth the journey," Lenita said.