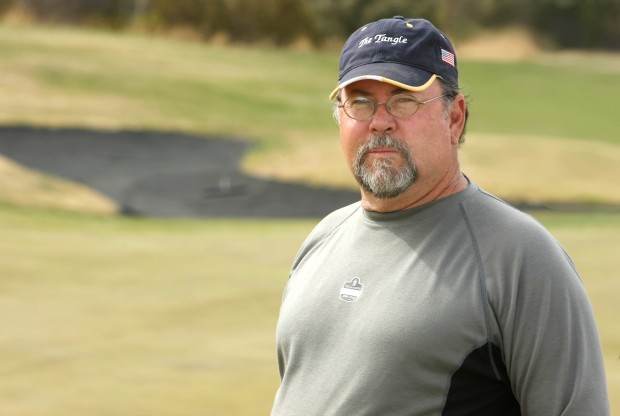 Sean Sullivan will be going from the black bunkers of The Briarwood to the infamous pot bunkers of England this summer.
The 54-year-old golf course superintendent at the Billings country club will be inside the ropes as part of a support team assisting the home greenskeepers at the 141st British Open.
It's one of professional golf's most recognizable events — and it's set for July 19-22 at Royal Lytham & St. Annes Golf Club.
Sullivan will help with the final preparation of the 6,905-yard course, and will also have a hand in making sure the historic layout's minefield of pot bunkers — around 200 in all — are properly raked and maintained in a professional manner each day on what is one of the premier links courses in the world.
"I'm very excited, of course," he said. "Now July can't get here quick enough."
Sullivan, who has been in charge of grooming The Briarwood's fairways, bunkers and greens since 2002, said he will be the lone American on the nearly 60-member support team, which will be comprised primarily of greenskeepers from courses in Wales, Scotland and England.
He will have to pay his own airfare to England, but the British and International Golf Greenskeeper Association (BIGGA) — with funding from The Royal and Ancient Golf Club — will provide housing, meals, a uniform and some brief training.
Sullivan said several Briarwood members have already contributed money toward his plane ticket.
"I've got a lot of people volunteering to be my helper," Sullivan said with a laugh.
He will be leaving for northwestern England on July 13 and returning to Billings on July 23.
"It's exciting to go and it's exciting to work it and be a part of the whole process," Sullivan said. "But there's also that anticipation that maybe something historic will happen, and I'm in the right place at the right time to see it happen."
Members of the BIGGA team will be divided up each day and assigned to accompany a group of golfers. They will spring into action with their rakes if any of the golfers have to hit from out of the sand in the deep pot bunkers sprinkled throughout the fairways and around the greens.
"If you get assigned to a really skilled golfer that's having a great round — and missing all the bunkers — then you get to watch more golf than work," Sullivan said. "If you get assigned to a guy that's struggling — and he's hitting quite a few bunkers — then we'll be repairing the bunkers quickly before the groups behind us get to them."
There's a good chance it will be no day at the beach for Sullivan.
He will likely be raking up a storm over the four days, with 15 of the "pits of hell" located on the final hole alone.
"Almost assuredly we're going to be in the bunker," said Sullivan, whose thrill may come with a backache.
A member of BIGGA since 2007, Sullivan applied for a spot on the support team earlier this year and was chosen, in part, for the strong relationship he has cultivated over the years with his counterparts in the golf industry overseas.
"They have some basic qualifications, like participation within the association and attending the annual exhibition that they have in Harrogate, England," Sullivan said of the selection process.
He traveled to Harrogate in 2008 and 2010, giving a talk on Briarwood's unique coal slag bunkers the first year.
On his second trip, Sullivan said he went on a 14-course tour across the United Kingdom "from St. Andrews down to Royal Liverpool and everything in between, visiting with the course managers, looking at their operations and seeing what I could use back here at Briarwood."
He even helped construct a pot bunker while on a two-day stop at Hesketh.
"The bunker face on the one we built was about eight feet tall ... nearly vertical," he said. "It can be brutal if you get in there."
Sullivan, who has been involved in golf course maintenance for 22 years, said he is looking forward to continuing his education in July by "having breakfast and dinner with 60 qualified greenskeepers with a combined hundreds of years of experience" each day during the British Open.
During his last two trips to England, Sullivan said he gained valuable knowledge in the areas of turf management and maintenance solutions, which has led to the conserving of water, electricity and fertilizer at The Briarwood.
While he doesn't personally know all of the people chosen to the support team, Sullivan said he has probably had a professional relationship with 75 percent of them over the Internet during the past few years or at the exhibitions.
He said he first became interested in UK's golf industry because many of the courses there have a 100-year head start on U.S. courses such as The Briarwood.
The hallowed Royal Lytham & St. Annes Golf Club was founded in 1886 — and the present course was constructed in 1897.
"That's part of the excitement, just seeing a course like that," Sullivan said.
Considered one of the most challenging of the Open venues, this will be the course's 11th British Open since 1926. David Duval won there in 2001.
"In 1988 that was the last major tournament that Seve Ballesteros won," Sullivan noted. "He passed away last year."
A native of Butte, Sullivan lived mostly in the Texas, Louisiana and Georgia before returning to Montana. He came to The Briarwood from Lane Creek Golf Course in Bishop, Ga.
He is a certified golf course superintendent and is currently working toward his master greenskeeper designation. He is also past president of the Peaks & Prairies GCSA, which is made up of the region's golf course superintendents. 
Now, Sullivan can't wait to go to work — and take in the scenes — at the British Open, where the crowd could reach 40,000.
He's excited to see the game's biggest players — and the course's mowing pattern.
"I think that it's the beginning of the opportunity of a lifetime, because in their qualifications you're allowed to work three Opens in a row," Sullivan said. "If I do well, there's a possibility that I could catch the next two Opens (through 2014)."
NOTES: Sullivan will miss the 95th Montana State Golf Association State Amateur, which is scheduled for The Briarwood July 18-21. "But we'll have the golf course bullet-proof before then," he said. "I won't miss the set-up for it, I'll just miss the actual days they will be playing." ... Sullivan said longtime equipment manager Brian Hoban will be in charge of a capable crew, that also includes Sullivan's sons Ian, 22, and Kelby, 19, during his absence.