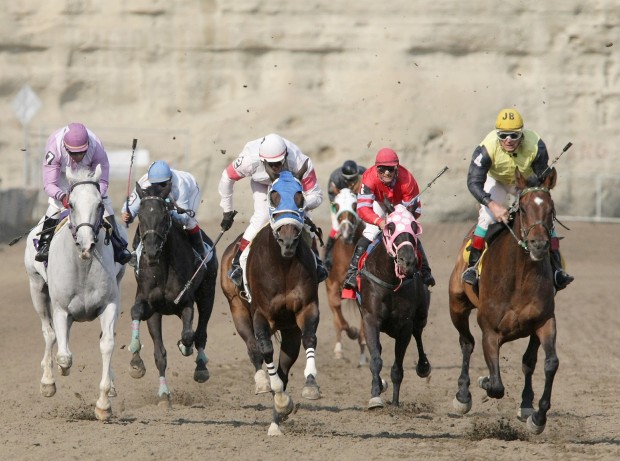 There will not be any horse racing at MetraPark's Yellowstone Downs this August and September.
Jim Espy, president of the sponsoring Yellowstone Horse Racing Alliance, said Friday that the four-weekend Billings meet has been canceled after it became apparent that the Montana Board of Horse Racing wouldn't be able to provide its usual financial assistance to the track this summer.
"We sent a letter to MetraPark on Thursday saying we wouldn't be able to sign a contract for 2012," Espy said. "But we also said that we'd like to reserve dates for spring training and race dates in 2013, depending on finances. It's all about money."
The Board of Horse Racing, which is overseen by the Department of Livestock, has been saying since December that it is facing a budget deficit of around $600,000. The board suspended its simulcast operation in late December -- and simulcast racing just recently resumed at a few off-track betting sites across the state.
The funds generated by simulcasting in the past have helped support live racing across the state, but those funds this year will likely be used by the Board of Horse Racing to help pay down that debt, Espy said.
The deficit reportedly stemmed from overspending on the state's live racing in 2011, administrative expenses and from the costs of assuming control of the state's simulcast network from Montana Entertainment of California in late 2010.
State funding from simulcasting, advance deposit wagering and fantasy sports betting usually helps supplement purses, cover the cost of jockey insurance and pay for state-mandated track personnel during the live meets.
"This (canceling the meet) is something that we've been contemplating since the state shut down simulcasting in December," Espy said.
Racing at Yellowstone Downs was scheduled to start on Aug. 25. The track was planning to have eight race days over four weekends, ending on Sept. 16.
"We weighed the possibility of having a very short meet (this summer), but all that would do is take away money we would need to have a real good meet next year," said Espy.
The alliance, which is a private group of local investors and horse racing enthusiasts, has been putting on the races at the Billings track since 1997. The MetraPark board of directors decided to quit sponsoring the races after the 1996 season.
Horse racing in Billings dates to at least 1916.
Espy said he is proud of the alliance's accomplishments.
"We built a huge fan base as far as spectators go," he said. "We were just talking about how it could have been over in 1996. If we have to skip a year, maybe we can figure it out. I'm pretty confident we can, but we've got some work to do."
The Billings meet — the state's largest — was a rousing success in 2011 — with daily averages of 3,957 for attendance and $87,034 for betting handle.
"It's like having a kid leaving home," Espy said of having to cancel the 2012 season. "There's like a little hole there."