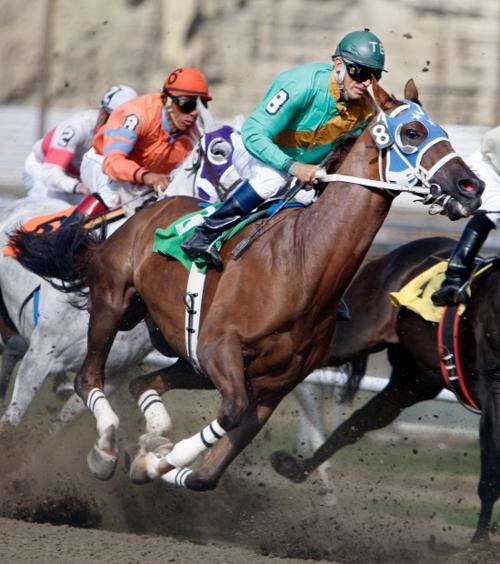 Jockey Jeff Jones and four weekends of live horse racing at MetraPark's Yellowstone Downs finished on a high note Sunday afternoon.
The 50-year-old Jones, who won the meet's leading-rider title for the third consecutive year, punctuated his day by urging This Chicks a Queen to a resounding victory in the track's $14,050 Quarter Horse Derby.
The eight-day meet also closed with a flourish, with encouraging numbers for attendance and betting handle after a crowd of 5,318 wagered $108,678 on the 10-race card.
"It just doesn't get any better than this," race director Ben Carlson said. "We've had great crowds and a lot of local support."
Jones, who has been living in Billings for the past three years, won 18 races over the four weekends to win handily in the jockey standings.
He had one first — with This Chicks a Queen covering 300 yards in 15.16 seconds to win by a length — and five seconds to highlight his Sunday.
"A lot of old friends that I used to ride with back in the '80s were here," Jones said of the experienced jockey colony at the track. "People have popped up out of the past. It's also neat to know that I can still compete with the youngbloods."
Those "youngbloods" included 28-year-old Casey Greene of Preston, Idaho, who was aboard four winners on the final day.
One of Greene's triumphs came on quarter horse Gifter, which won his eighth consecutive race for owner C.A. "Al" Carruthers, who is also the chairman for the Montana Board of Horse Racing.
"This horse is a runner. He's just a natural," said the 80-year-old Carruthers, who is from Butte. "I've had a lot of fun with him."
Gifter, an 8-year-old brown gelding, won with authority, as usual, dashing 660 yards in a mixed allowance race in a time of 34.22 seconds to win by 2 1/2 lengths over First Man Down and keep the Zenyatta-like streak going.
"I've been in Seattle to see some doctors (for kidney problems) and I flew in to see him run," Carruthers said.
Gifter has now won 23 races during its career — in 37 starts.
"I may start him a few times next year," Carruthers said. "I've got to see how he does in the wintertime."
In addition to the riding title claimed by Jones, Mike Taylor of Rigby, Idaho, was the leading trainer and Jim Christianson of Williston, N.D., was the top owner.
"I'm very appreciative of Doug Johnson (of Sidney), Mike Taylor and This Chicks a Queen's connections," Jones said of the trainers he rode for. "I'm appreciative of them all. I love racing. I have a heartfelt feeling for the industry. It's therapy. It's not just a financial gain."
Greene, who finished a distant second to Jones with 12 victories overall, won with Sheza Quick Chick in the Quarter Horse Futurity Consolation and also prevailed on thoroughbreds Empire Red and We Love Ya Too.
Billings jockey Kym Espy won with thoroughbred Running Charlie in the fifth race, but the win was taken down after stewards ruled that her horse interfered with Rachele R's Queen on the first turn of the 5 1/4-furlong claiming race.
Espy bounced back to win convincingly with thoroughbred Gimme S'mor in the day's eighth race, which was for horses owned by Native Americans.
Gimme S'mor is owned by Wendell Matt, a former rider in Billings.
"He told me the horse was a live one," Espy said. "He wasn't telling me a tall tale. It was absolutely true."
This year's race meet, which was put on for the 15th consecutive year by the Yellowstone Horse Racing Alliance, averaged $87,034 a day in betting handle and 3,957 in attendance.
Last year's averages were $75,515 and 3,897.
With a lack of track operators, live racing has become a rarity in the state. But Carlson said the horses will be back next summer.
"We're just getting warmed up," he said.
NOTES: With Running Charlie disqualified in the fifth race, and RR Gold elevated to first, the 5-2-1 trifecta paid a hefty $4,888.40. ... She's a Go Go Girl, ridden by Richard Vasquez, paid $21.60, $8.00, $5.00 in the ninth race. ... Derby One Thirty, with Bill Christian aboard, paid $18.00, $7.20, $3.00 in the third race. ... Carruthers and trainer Randy Blasdel also won with We Love Ya Too in the 10th race.