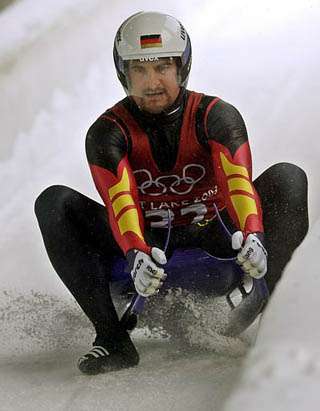 SALT LAKE CITY (AP) – Don't be fooled by Georg Hackl, the easygoing Bavarian who wears lederhosen for a boot-slapping dance and then finishes it off with a tall glass of cool wheat beer.
When he's not kicking up his heels, he's intently focused on making Olympic history. Another gold medal in luge would make him the first winter Olympian to win four consecutive titles in one event.
Only three athletes have done that in the Summer Games – Carl Lewis (long jump), Al Oerter (discus) and Paul Elvstrom (sailing).
When it comes to the Olympics, Hackl leaves nothing to chance. The 35-year-old German even turned down the offer to carry Germany's flag at the opening ceremony because he didn't want to diminish his concentration so close to the competition.
With three world championship titles and a silver medal from his Olympic debut in 1988, Hackl already is the most successful luge pilot ever.
Hackl often tinkers with equipment and is known to get up in the middle of the night to fix something or other on his luge.
He helped design his new luge and is keeping it a secret. The luge was produced at the Porsche factory that makes sports cars synonymous with German expertise. Hackl personally carries the sled in a green wrap to and from competitions, protecting it from prying eyes.
At the Nagano Games four years ago, Hackl showed up with a new self-designed sled and aerodynamically advanced yellow boots. The U.S. and Canadian teams protested the boots but were denied.
Hackl not only won the gold medal but became the first luger to win all four heats at the games.
Before those Olympics, Hackl lost all six previous World Cup races – apparently on purpose, to deflect attention.
Heading into these Olympics, Hackl did not go winless, but he has had a lackluster season by his standards. He even crashed during a World Cup meet in Sigulda, Latvia.
But when he needed to make sure he would be in the first group of 12 starters at the Salt Lake City Olympics, Hackl promptly produced a first-place finish in Winterberg, Germany. Those who start early enjoy a relatively undamaged track.
One of Hackl's closest rivals is expected to be American Tony Benshoof. The luger from White Bear Lake, Minn., enjoyed his first top-three finish in a World Cup race on Jan. 27, winning a silver medal in Winterberg. This is his first trip to the Olympics.
Hackl enters the games mourning the death of his father, who died of a heart attack in December.
Hackl has been his usual relaxed self at the Park City luge course, often described as the world's fastest. He easily won one of the practice runs, then began playing mind games with his rivals.
"The ice in the decisive curve No. 2 has been configured differently," Hackl said. "This has made the curve less sharp and I am sure the Americans did it on purpose."
Previously, the curve demanded great steering skill and any mistakes would result in a bumpy, time-losing ride.
Hackl thinks he could have another edge over his rivals. The German team is living in a rented house within easy walking distance of the starting hut.
"We sit around early in the day in the sunshine, sipping coffee and watching other teams lining up in their cars for security checks," Hackl said.
There are also unexpected guests. On the day of the first practice run, Hackl woke up to find a couple of visitors – two elk staring into his bedroom.
Copyright 2002 Associated Press. All rights reserved. This material may not be published, broadcast, rewritten, or redistributed.