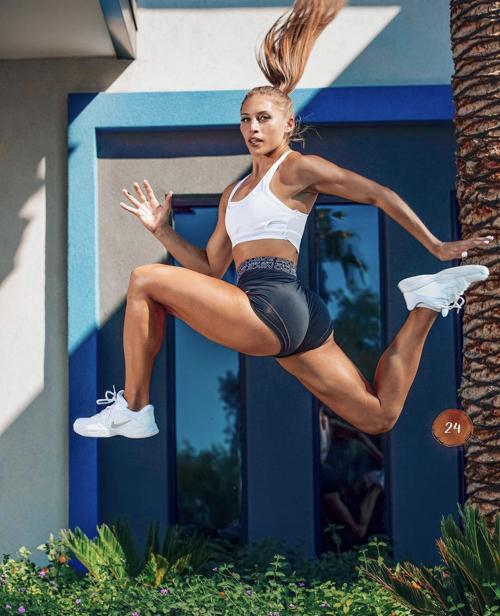 BILLINGS – Sammy Evans had to find out until this week before she knew she would be competing Friday at the U.S. Olympic Team Trials for track and field.
"You think you're in, but you need to know," Evans said this week after arriving in Eugene, Oregon.
She will get her chance to compete in the women's triple jump Friday starting at 7:15 p.m. (MDT). If she advances to the final, she will compete again Sunday. A top three finish plus an Olympic qualifying mark are required to make Team USA for the Tokyo Olympics.
"I don't have the best marks going in, but I think this meet is going to be a really good one because I finally got my rhythm so I think this is going to be where it shows," Evans said.
Athletes need a qualifying mark of 13.5 meters in order to automatically be invited to compete, but when the full field of 24 was left unfilled, USATF was able to select other athletes off the performance lists to compete like Evans (who comes in with a 13.12 meter season best).
"The knowing last minute was just stressful because you think you're in, but you just need to know and so that part is stressful," Evans said." But I had already booked all my travel plans so once I did find out it made it a little less stressful."
Evans hopes her journey from Havre to the University of Montana — where she still holds the indoor long jump and both indoor and outdoor triple jump school records — ultimately leads to Tokyo, but even getting to this point has required navigating a number of obstacles.
"Somehow I keep going for it and I think quitting would for sure have been easier at this point, but it's just not in my personality," Evans said.
When she was first beginning her track career, Evans was originally a distance runner. However, at the urging of a friend she tried triple jump the day before a meet.
"I've loved it since I was in middle school. … I liked it because it was weird," Evans said. "For some reason the rhythm of it I got and because of that I felt like 'oh this must be the event for you' and I stuck with it."
But training for track and field in Montana and in a place like Havre comes with its own set of challenges.
"Coming from Montana, obviously triple jump is not an event people know about really well and so you don't have a lot of coaching in high school for it," Evans said. "Especially too because Havre is a very small, cold windy town, so track's not big there."
It's part of why she now runs a online fitness business (Drip by Sam) to help youth athletes with workouts and why she wants to eventually return.
"One of my goals, though, is I want to eventually come back and teach coaches camps, like teach coaches how to coach athletes, and then also do athlete stuff because I think you just don't know what you don't know. Coaches can only teach you what they know," Evans said.
Initially recruited as a multi-event athlete to Montana, Evans was given a choice during her sophomore year between jumping and the multi-events. She chose jumping where she went on to earn four Big Sky Conference championships between long jump and triple jump.
"I realized I didn't know nearly as much as the other jumpers and I was still competing with them so my thought was just if I can keep my body healthy and stick with it, once I get it figured out, they're in trouble," Evans said.
Before she graduated, she did an internship in the Phoenix area and began making plans to move there after because it would allow her to pursue jumping with an ability to train year-round.
"I moved to Arizona originally just because I knew the weather and I thought I had a coach out there and then everything got turned on its head, but that's kind of been the story of my life the last four years," Evans said.
She eventually connected with Larry Todd who agreed to coach her, but then she was sick for complications stemming back to a bout with mono.
"I was sick for two years and then I came back and the world got sick," Evans said.
Training was limited in 2020 and even when meets began again, opportunities to compete and get an Olympic qualifying mark were limited due to collegiate meets that would normally allow professional athletes to compete being limited to collegians to prevent exposure.
"Qualifying for the Trials was never supposed to be difficult for me. So the fact that I hadn't hit that mark yet and that this outdoor season was so wild and chaotic, that part was a little frustrating and a little scary because I had always thought I would have hit that mark by now," Evans said.
During what would normally have been the indoor season this year, both she and her coach had bouts with COVID-19 further limiting her opportunities to compete, but Evans says she finally feels ready.
"An event like triple jump there's so much timing to it and it takes awhile to get that timing and that rhythm back and when you are out a year and then you don't have meets really indoor and then outdoor, it's not the easiest thing to just pick up and roll with," Evans said. "But everyone is making it happen."
This week, the competitors are all coming in having faced challenges training and competing over the past year and a half.
"I think this Trials is going to be interesting because I think you're going to see a lot of people who didn't necessarily have the best marks going in hit some really really big jumps right out the gate in the prelims, in the first three, because everyone's gunning for it because they have to and they have to also hit an Olympic standard," Evans said. "I think you're going to see a lot of really good jumps because everyone's rhythm has finally come together."
As an unsponsored athlete, Evans is responsible for all her training and competition costs further increasing the pressure to make the most of the opportunities she has. She's optimistic the best is yet to come.
"Go out, go hard, execute like you know you should and then get to finals. Get to finals would be successful," Evans said. "And then once you're there amp it up to a whole other level, try to get in those top three spots."
NOTES: Toyota is sponsoring Good Luck Boulevard that athletes see in the staging areas before they compete. Fans can send good luck messages to athletes competing in the Olympic Trials at toyotagoodluckblvd.com ... The television broadcast is scheduled to run on NBCSN from 5-8 p.m. (MDT) and on 8-9 p.m. on NBC.