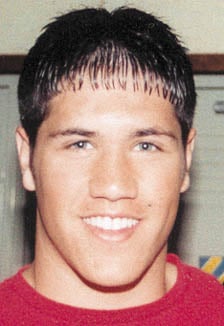 The Custer Cougars played their first game ever under their own lights last Friday, making the Cougars the only 6-man program in the state with lights. The lights were the product of donated poles (REA), donated work, and plenty of donated money
(approximately $10,000). The Cougars defeated Meeteetse, Wyo., 66-6, but that may not have been the most exciting part, according to Custer senior Tyler Stookey, a two-time all-state player, who ran for two touchdowns and kicked six extra points for the Cougars.
Q: What did the players first think about the possibility of playing under the lights?
A: It was just cool because playing night games … it was like a big community boost for the players, fans and everybody.
Q: So was it as you expected?
A: There was a huge crowd. Everyone was excited. You could just tell the emotion from the crowd.
You have free articles remaining.
Q: Could you tell a difference in the atmosphere between a Friday night game and Saturday afternoon game?
A: Oh, yeah. Totally, because there were more fans that came out at night because it was cooler and they weren't standing out in the heat.
Q: Plus, now you get your Saturdays off.
A: Oh, some Saturdays. The away games are still going to be played in the afternoons, but all our home games will be at night.
Q: You guys have had great regular seasons the past few years, but when you run into the Northern 6-man teams in the playoffs, it's been a different story. Do you think you guys are finally catching up to the Northern teams?
A: I think we are. This year might be a good year for us. The North is still strong, but I think we might have a good shot to compete against them this year, though.