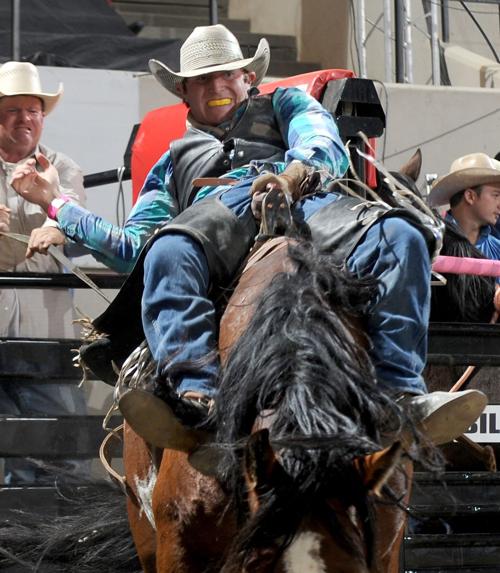 BILLINGS — It's been a long wait.
And come Friday, bareback rider Trenten Montero will have his chance once again to compete at the Cave Creek Rodeo Days in Arizona as PRCA action resumes from a forced break due to the coronavirus pandemic.
Though spectators will not be allowed, Montero is happy to have a chance to climb aboard a bucking horse.
"I'm really excited. I can't wait. I'll be riding bareback Friday night in Cave Creek," Montero, who now resides in Billings, told 406mtsports.com.
Montero is 35th in the world bareback standings with $7,276.64 won.
The approximately two-month break was unusual for Montero, who joined the PRCA in 2011 and made his first appearance at the National Finals Rodeo in Las Vegas last year.
"It's definitely frustrating, but it's frustrating for everybody, I think," he said. "We are used to being on the road all the time and traveling and being able to make our own schedule and not really be told what to do.
"It is frustrating to be told we can't go rodeo and everything. It is definitely making us appreciate the sport a little more; not that we didn't but it is making sure we are not taking it for granted. Everyone is pretty excited for the season to start up this weekend and it will make us really count our blessings in the future."
Montero and his wife, Maria, moved to Billings in May 2019 from Las Cruces, New Mexico, so Maria could study occupational therapy at Rocky Mountain College. The couple moved shortly after their wedding and recently celebrated their first anniversary.
So, how did the couple find the small, private liberal arts school in Billings, Montana?
"When she was applying for graduate school, she applied to a lot of different schools and she knew how competitive it could be," Montero said. "I was ready to get out of the Southwest and go somewhere a little cooler, and I told her that she should do that one."
The move has been good, said Montero, 28, a native of Winnemucca, Nevada.
The couple has had plenty of reasons to celebrate. Their anniversary was May 10, Montero's birthday is May 14, and Maria's brother's birthday is May 16.
"And he (Maria's brother) is actually living in Glendive now, so it was a busy week," Montero said.
Cowboy Christmas was also a special time last year for Montero as he was able to stay relatively close to home. He competed at Red Lodge, Livingston, Cody (Wyoming), Killdeer (North Dakota) and Mandan (North Dakota), with stops at the "end of the run" in Utah and Oregon.
Montero said it was his first time at Red Lodge, but he'd ridden in Cody and Livingston.
"Most years before last year, I'd go on the road and hardly see my wife at all in July," he said. "But, last year most of the Fourth of July rodeos were right around Billings. I got to see her all the time. That made it nice being more in the mix in the summer."
According to prorodeo.com, Red Lodge, Livingston, Cody, Killdeer and Mandan are still currently scheduled.
"There will be a few smaller ones in the middle part of the country in June and we'll see in July," Montero said. "Some of the bigger ones in Cody, Livingston and Red Lodge are still scheduled. Hopefully that happens so you can get a good Fourth of July run. We won't be doing as much traveling as everything in Canada and Oregon is canceled. You get to stay closer to home."
Montero also enjoys the fly fishing opportunities in the area, particularly the Stillwater River, Rock Creek and high mountain lakes. He's also fished at Fort Peck Reservoir.
"There are a lot more places to go, definitely," he said. "Nevada doesn't have a whole lot of water. When you go fishing in a creek in Nevada, I don't know if it would qualify as a stream in Montana."
He enjoys fly fishing because "it is just challenging. When you hook a big fish on a fly rod, they feel really big. They bend your rod over and it's a lot of fun."
While the rodeo season was on hold, Montero was looking for opportunities to help "pay the bills." So, he became an Uber driver.
"I actually started about four years ago, the same time my bull riding career ended," he said. "I had surgery on my back for a herniated disk and was out nine months without being able to ride. I needed something to do to pay bills. Normally, I do ranch work but I was too crippled up to do anything on the ranch. I started doing Uber Eats in Boise. "
Montero explained that after the first stint as an Uber driver, he has turned to the ride service at other times to earn extra money.
Not many people realize Montero is a professional rodeo cowboy when he picks them up in his Toyota Prius.
"I've had a few people mention it," he said, noting it can be fun to be an Uber driver. "I have the PRCA stickers on the side and they ask about that. I had a couple people recognize me, but not too much. I had a couple of guys and I told them I ride and they are like, 'Ok, sure son.'"
Montero has career earnings of $338,689 on the PRCA circuit, and a little more than half of that was won in 2019.
Last year, Montero finished 10th in the world standings and earned $170,296. He was seventh in the average at the NFR and won the second round with a 90.5-point effort for $26,231.
While it will be a long, hard road to once again qualify for the finals, Montero can't wait to get the process started again once rodeo resumes at Cave Creek.
"Definitely I want to be back there again," he said of the NFR. "I was really motivated by my success last year and am motivated to do even better this year. I want to get back there and do even better and finish higher in the standings. I'd really like to take a run at the gold buckle."
Be the first to know
Get local news delivered to your inbox!