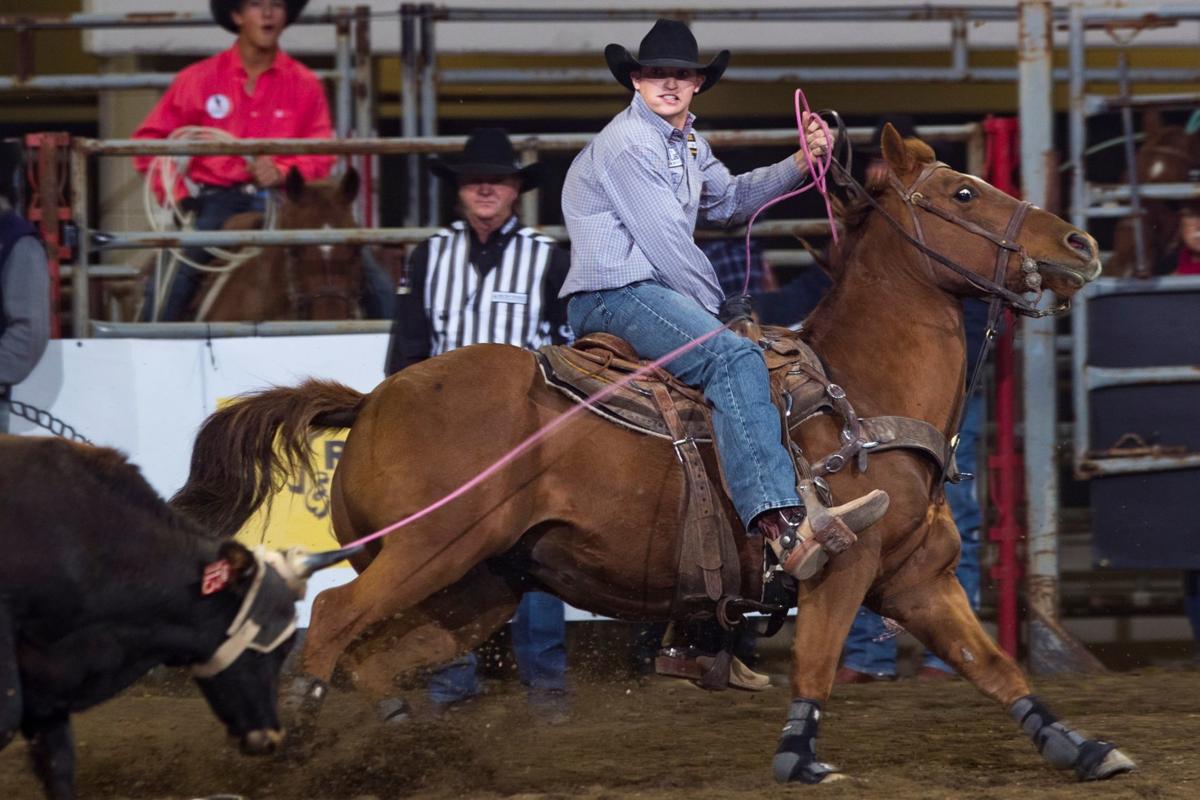 BILLINGS – Kal Fuller is like a shark in the rodeo arena.
He pursues a goal, devours it and keeps moving.
"I always try to keep moving forward," said the 19-year-old team roper from Bozeman. "I don't think I'm ever satisfied. I always feel I can do better. When you get satisfied is when you get beat."
Fuller, coming off a break-through 2019, is starting his 2020 PRCA season the same way.
He and partner Kasper Roy posted a time of 4.4 seconds to share the early lead with Ty Blasingame and Levi Tyan during Thursday night's performance of the NILE Rodeo at First Interstate Arena at MetraPark.
The 4.4-second runs were just two-tenths of a second off the NILE record.
The rodeo, one of the early high-paying rodeos of the new season, continues with 7 p.m. performances on Friday and Saturday. Friday is "Tough Enough to Wear Pink" night.
Thursday's highlights included a NILE record-setting saddle bronc ride by Chase Brooks of Butte in saddle bronc riding.
Brooks, who will be competing in his second consecutive National Finals Rodeo this December, was 89 points on Powder River Rodeo's Bob Cat in a stellar saddle bronc field. The previous record was 88 points shared by four riders, including Brooks last year.
Fuller continues to climb the rodeo ladder. He was the national junior all-around champion in 2014 and the Northern Rodeo Association all-around winner in 2017.
"Every one is a bigger stage,'' Fuller said of his progression.
This year, Fuller earned Resistol Rookie of the Year honors for team roping headers. He won $41,762 his first full PRCA season and also qualified for the upcoming Canadian Finals Rodeo.
"The goal was to win rookie of the year and try to learn as much as I could," said Fuller. "I knew there would be a big learning curve. I paid attention to everything."
Fuller compared his 2019 to a roller-coaster. "A good start, rough middle and good ending," Fuller said with a grin.
He pocketed $8,000 at Fort Worth, Texas, early in the season, "Then we didn't win a check for a long time," Fuller added.
Part of the learning process included leaving the bad runs in the arena.
"A big part of it was the mental stage," Fuller said of roping against the world's best. "If something went wrong, I would worry about it and it would affect my mental state. We were going to three rodeos a day and one bad run would affect the rest of the day.
"I was able to let myself do my job and be a positive person."
Fuller's arrival in the team roping big leagues came in Bremerton, Washington, in August. With a time of 4.2 second holding the last paying spot, he and Roy needed something fast to make some money.
"I told Kasper I was going to throw as fast as I can," Fuller recalled.
The two posted winning time of 3.4 seconds for almost $4,900.
"I knew I could rope at this level. I just had to sharpen some things up," said Fuller. "After Bremerton, I was on top of the world. I had never been 3 in my life."
With the rookie award and CFR qualification accomplished, Fuller is already focusing on his 2020 rodeo season.
"I love the lifestyle," he said. "I've always wanted to do it and now I am and having fun with my buddies.
"Next year I want both. I want to qualify for the Canadian Finals Rodeo and the National Finals Rodeo.
Other leaders are: Stetson Wright, 83.5, bull riding; Cole Reiner, 84, bareback; Tristan Martin, 3.7 steer wrestling; Riley Pruitt, 7.9, tie-down roping; Melissa Thiessen, 14.44, barrel racing.
Wright, the 2019 all-around standings leader, was one of only two bull riders to post scores. The other was Valier's Tristan O'Neal with a 76.
Be the first to know
Get local news delivered to your inbox!