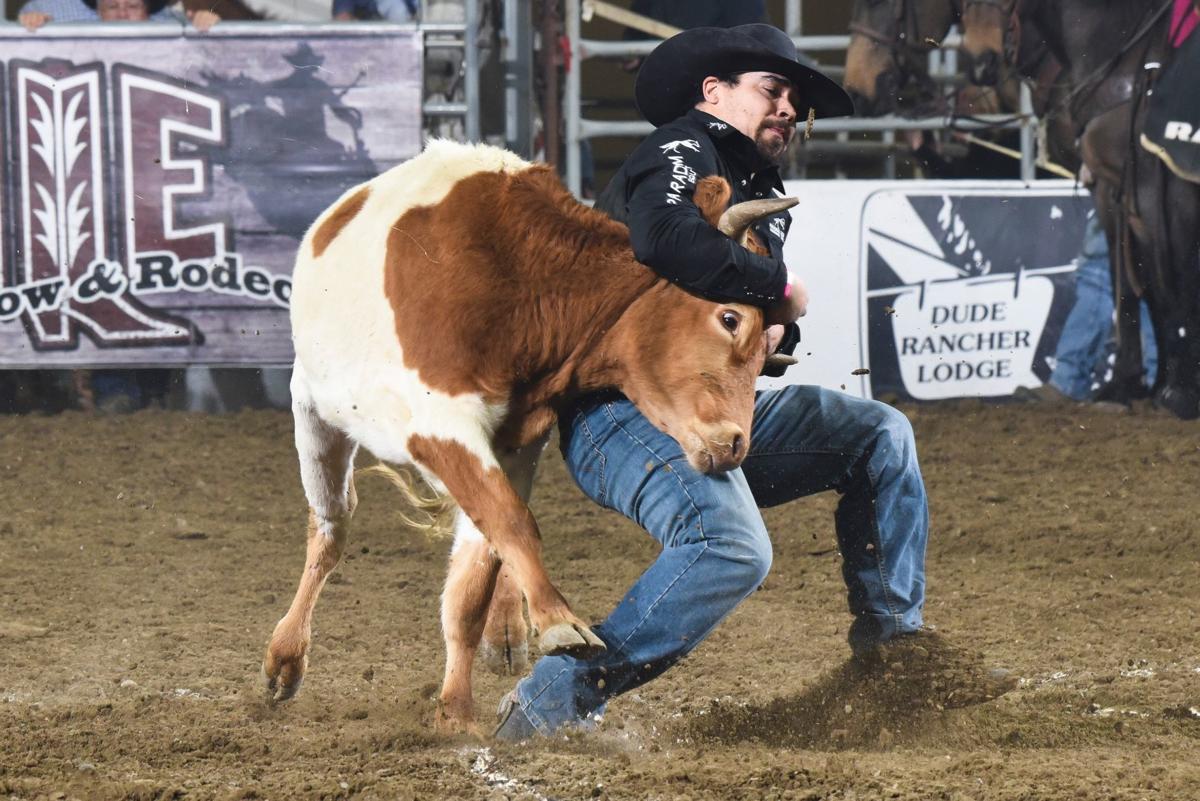 BILLINGS — With nothing on his schedule, Brady Tryan found himself at Rimrock Auto Arena at MetraPark on Wednesday night, watching the slack performance of the timed events.
Tryan watched the continuous line of steer wrestlers, team ropers, tie-down ropers and barrel racers compete in the first part of the PRCA NILE Rodeo.
Tryan was comfortable watching the rodeo. It's the event where his passion for team roping was ignited and where Tryan has experienced some of his greatest success.
"I grew up around this rodeo," said the 29-year-old Huntley cowboy.
While Wednesday was on his own time, he returned Friday night for business. 
Tryan is a four-time PRCA NILE team roping winner, his most recent in 2017. 
"I could use a fifth time," he said with a soft laugh.
Tryan won't get NILE win No. 5, taking a no time with partner John Robertson of Polson.
The rodeo, one of the first high-paying events of the 2019 season, finishes Saturday with a 7 p.m. performance. Saturday's theme is "Wrangler Patriot Night."
One of Tryan's most vivid rodeo memories has PRCA NILE roots.
"I was around 13," he said. "It was almost midnight. I watched my dad win a round during slack with Blaine Linaweaver. They had a time of 4.7 seconds. My dad was roping with a guy who had been to the National Finals Rodeo.
"I was just learning about rodeo at the time and how cool that was."
Since then, Tryan has created his own rodeo moments.
A two-time NFR qualifier (2010-11), he's earned almost $600,000 during his PRCA career. He first team roped at the PRCA NILE in 2007.
This year, Tryan stayed mostly north, roping with Kasper Roy in Montana and Canada. The two have qualified for both the Canadian Finals Rodeo at the end of the month and the Montana Pro Rodeo Circuit this coming January in Great Falls. Roy, of Mossleigh, Alberta, won the NILE team roping in 2018 with Travis Gallais.
"It was a goal of mine to make the Canadian Finals Rodeo and be near the top of the circuit standings," said Tryan, who along with Roy is in third place for the MPRC standings for team roping headers and team roping heelers.
Tryan missed qualifying for the CFR last year by less than $200. This year, he and Roy won team roping titles in Mercedes, Texas, along with Benalto and Airdrie in Alberta, Canada.
"It's a cool experience roping in Canada, there were a lot of new things for me," Tryan said. "You can still qualify for their finals and go to less rodeos."
Tryan also got his 2019 off to a good start, earning more than $4,500 at the recent All-American Finals in Waco, Texas.
"I'm kind of undecided for 2019," he said.
And in 2018, he learned something else.
"The (Canadian) border might look close, but it's not," said Tryan. "I probably made 15 trips to Canada. We went back and forth a lot. It's still five and half hours from home to the border."
There were lead changes in bareback, saddle bronc and bull riding. 
Former National Finals Rodeo qualifier Clayton Savage put himself in position to earn a hefty paycheck. He posted the only bull ride through two rounds with a 79-point ride. There have been 27 buck-offs in two performances.
Blake Smith, of Zap, North Dakota, became the new bareback leader with an 85-point ride on Joker, while former world champion Zeke Thurston used 86 points aboard Morning Tea to earn a share of first place in saddle bronc riding. Thurston, the 2016 world champion, won the MPRC title in 2014.
Sidney's Victoria Netzer moved into second place for barrel racing with a time of 14.43 seconds, while Jason Vohs, of Dickinson, North Dakota, put himself third in tie-down roping with a time of 10.0 seconds. Delon Parker of Worden and Ryan Zurche, of Powell, Wyoming, were 6.0 second in team roping to share fourth place. Wyoming's Joe Buffington's time of 4.9 seconds was the best among Friday's steer wrestlers, but not fast enough to get into the top four.
Be the first to know
Get local news delivered to your inbox!