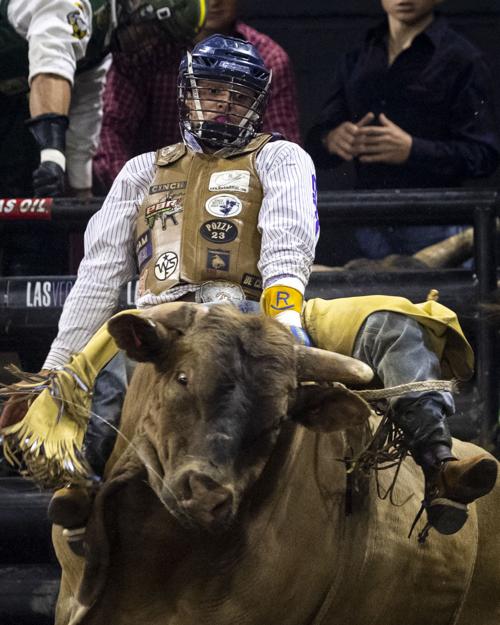 LAS VEGAS — Chase Dougherty, who rode bulls at Montana State, tied for third with four other cowboys in the second round of the Professional Bull Riders World Finals Thursday at T-Mobile Arena.
Dougherty scored an 89.25-point ride while matched with Midnight Rider on Thursday. 
The 23-year-old who resides in Decatur, Texas, netted $8,500 for the night. 
Dougherty has earned 74 points in the world standings through the first two rounds and is ranked 10th. 
With his performance over the first two rounds, Dougherty is within 17.5 points of Junior Patrik Souza of Brazil in the Rookie of the Year race. 
After scoring 84.75 points in the opening round, Souza did not record a score on Thursday and is 16th in the event standings. Souza is No. 9 in the world standings. 
Teel scored an 85.50 Wednesday and a 91.75 on Thursday. Taylor, who the PBR reported is riding "with his jaw wired shut," started with an 89.5 and scored an 87.75 in round two.
World standings leader and defending world champion Jose Vitor Leme, who has won the Billings elite tour stop the past two years, is fourth with rides of 86.75 and 88 points. Leme, who returned to action at the World Finals after missing five events with a groin injury, has an aggregate of 174.75 after covering Montana Moon on Thursday. 
Leme is aiming to become the PBR's second back-to-back world champion the circuit reported in a press release. 
Second-ranked Kaique Pacheco did not have a qualified ride on Thursday and is in eighth place after his 90.5 in the opening round. The No. 3 bull rider in the world, Cooper Davis, was also thrown in the second round and is in seventh place with his 90.75-point score from Wednesday.
Leme leads Pacheco by 597 points and he is in front of Davis by 752 points. 
Eli Vastbinder, who won the opening round with a 91, was bucked off in 2.89 seconds on Thursday and sits in sixth place. 
Alvaro Aguilar Alvarez, who didn't have a qualified ride on Wednesday, scored a 92 Thursday and is in fifth. The 92 was the high-marked ride of the night. 
The World Finals continue nightly through Sunday.