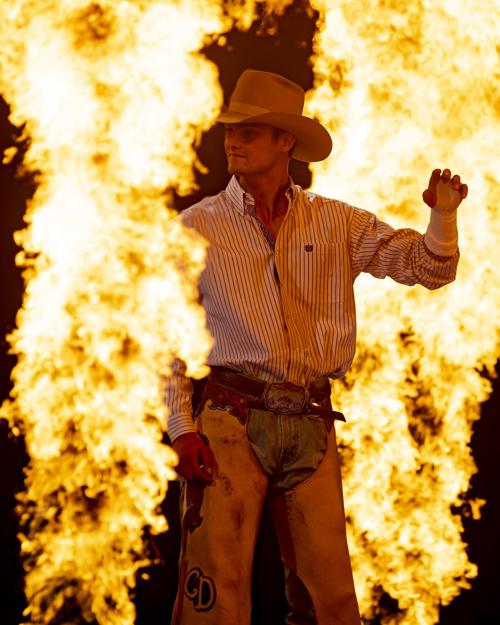 LAS VEGAS — Former Montana State bull rider Chase Dougherty was in fifth place after the first round of the Professional Bull Riders World Finals on Wednesday at T-Mobile Arena.
Dougherty, 23, of Decatur, Texas, earned 36 world standings points with a score of 88 aboard Cuttin Torch. He is now 11th in the world standings.
Dougherty, a native of Canby, Oregon, is second in the Rookie of the Year chase, 55.5 points behind Junior Patrik Souza, according to a PBR news release. Souza scored an 84.75-point ride to earn 20 points and finish ninth in the round. Overall, there were 11 qualified rides in the round out of 40 contestants. 
The 90.5-point score was also special for Dougherty because his mom — Lori (Van Cleave) Dougherty — grew up in Billings.
"I have my uncle Walt, aunt Jody and my grandpa Ray and mom and dad (here)," Dougherty said after his ride at Metra. "This isn't my hometown, but it's kind of my hometown rodeo. I've been to the NILE three times and haven't broke three jumps. This is my breakthrough moment in this building."
Dougherty had also told The Gazette and 406mtsports.com that he had visited Billings "every couple years when I was little" to see relatives and elk hunt near White Sulphur Springs with his uncle Walt.
Eli Vastbinder won the first round with a score of 91 aboard Manaba to earn 89 points in the standings. In his World Finals debut, the North Carolina cowboy had his first 90-point ride of his career on the UTB tour. Vastbinder moved up six spots in the world standings from No. 19 to No. 13.
Second-ranked Kaique Pacheco and third-ranked Cooper Davis finished third and second in the round, respectively, to gain ground on Leme. Davis scored 90.75 points to finish second for 49 points and Pacheco had a 90.5-point ride to take third and earn 45 points. Pacheco trails Leme by 577 points and Davis is 732 points behind the defending world champion.
Pacheco was the 2018 world champion and Davis won the title in 2016.
Should Leme, Pacheco or Davis be crowned the 2021 world champion, they would become just the seventh multi-world titlist in PBR history, according to a news release from the circuit.
Montana cowboys Dakota Louis and Matt Triplett, who also compete on the PBR circuit, didn't qualify for the World Finals. 
Round two is Thursday and the event concludes Sunday.