BILLINGS — During his meteoric professional rodeo career, Larry Peabody rode a lot of great bucking horses.
He won countless rodeos, set records on a few and qualified for the National Finals Rodeo five consecutive years, winning the PRCA world bareback title in 1984.
But nothing has jangled his nerves more than the upcoming assignment he has drawn.
On Saturday afternoon in Colorado Springs, the normally reticent cowboy will step up to the podium and give his acceptance speech as one of the newest members of the ProRodeo Hall of Fame.
"I'm really struggling with that right now. I've got to say something in front of all those folks," said Peabody. "I'll have a lot of family there and they know how I am.
"I'll probably just say, 'Thank you.' "
His wife Mary even offered some advice when Peabody received the induction news in April.
"My wife said I had to start doing sit-ups," the respected rider said with a laugh. "I'd rather get on a horse again instead of getting in front of everybody."
Peabody, who currently lives on a 1,100-acre place between Columbus and Absarokee, is part of a 12-member class that will be inducted.
The 2019 hall of fame group includes four-time world champion team roper Allen Bach, two-time world champion steer wrestler Dean Gorsuch, world champion bull rider Doug Brown, stock contractors Elra Beutler and his son Jiggs, notables Jerome Robinson and Florence Youree, barrel racers Jimmie Munroe and Sammy Thurman Brackenberry, contract personnel Tommy Lucia, the Cody (Wyoming) Stampede Rodeo and bareback horse Commotion.
"I'm going in with a great class," said Peabody, who will be 62 this September. "I'm very grateful."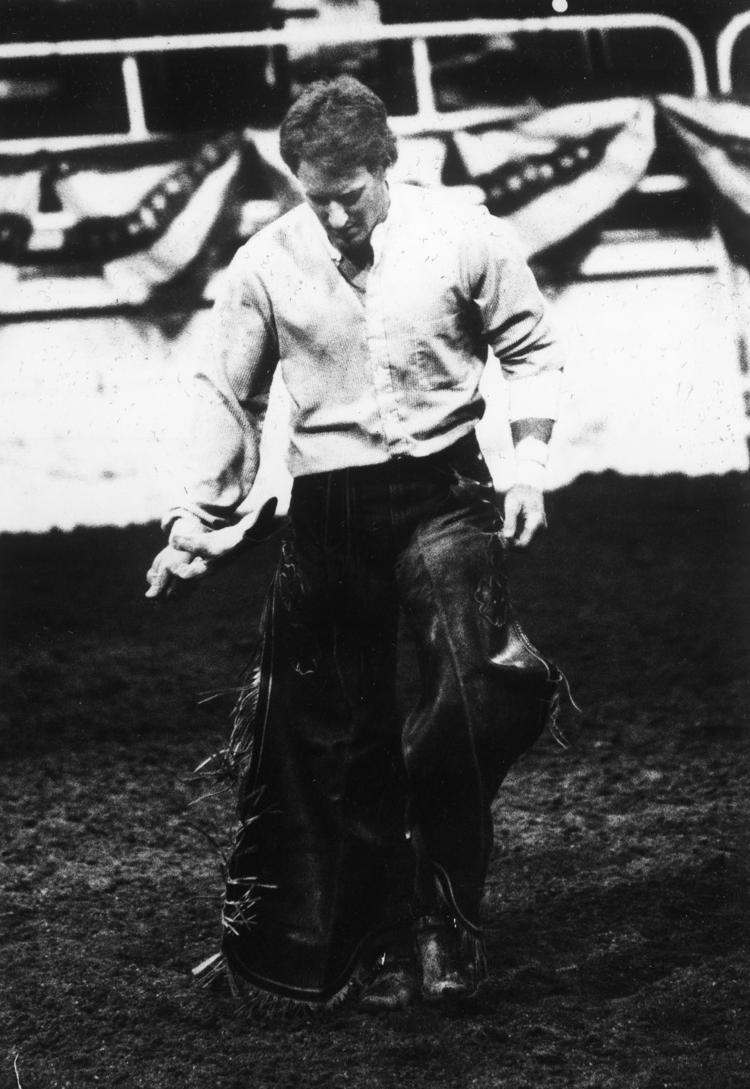 His 1984 world title came during his run of NFR qualifications (1981-85). He also tied for the NFR average in 1983 and rode Dreamboat Annie for an NFR-record 89 points in 1981.
He won most of the major rodeos during his career, including Cheyenne Frontier Days, RodeoHouston, the Calgary Stampede, Fort Worth and Denver.
He was also a four-time Montana Pro Rodeo Circuit bareback champion (1980-82, 84) and the circuit all-around champion in 1982 after adding team roping.
Peabody is one of four bareback riders from Montana to win a world title, joining Bill Linderman, Bud Linderman and Deb Greenough. All three also are in the ProRodeo Hall of Fame.
This will be Peabody's second hall of fame induction this year. He was part of the inaugural hall of fame class for Dawson Community College. Peabody won the national intercollegiate bareback title in 1981 and was part of the DCC men's team that won the national championship.
"People come up to you and say you should be in there (ProRodeo Hall of Fame) or you should have been in there a long time ago … you just don't know," said Peabody. "You think of all the support you've gotten from everybody.
"You remember the horses and the end of the year. The other stuff is just a blur. You were just trying to get everywhere. You remember the end, that's part of the trail."
Peabody was born in Hardin and graduated from Bozeman High School in 1976. He began riding bareback horses in high school. Peabody would sneak into the spring rodeo and the College National Finals Rodeo when it was at Montana State University, wondering, "Could I ride as good as those guys someday?" he remembered.
Peabody was near broke in 1980 when a $1,000 refund check from the IRS allowed him to go to a few more rodeos. He won Sidney aboard Jeopardy with a few thinking he was a little lucky.
"I was a long-haired kid. I had a little bit of mane then," said Peabody.
He followed with a win at Sentinel Butte, North Dakota, aboard the same horse with a higher score. Peabody then won the short round at Colorado Springs with 86 points — then his best ride ever — and finished with a win in the long round.
"It's just funny how things turned around," he said. "God, he gave me the patience that it would come, it would happen."
Peabody qualified for his first NFR in 1981, finishing ninth in the world standings and highlighted by his record ride aboard Dreamboat Annie.
"It was a pretty good horse," he said. "When they announced the score, I had no idea, I could ride that good. The horse did its part."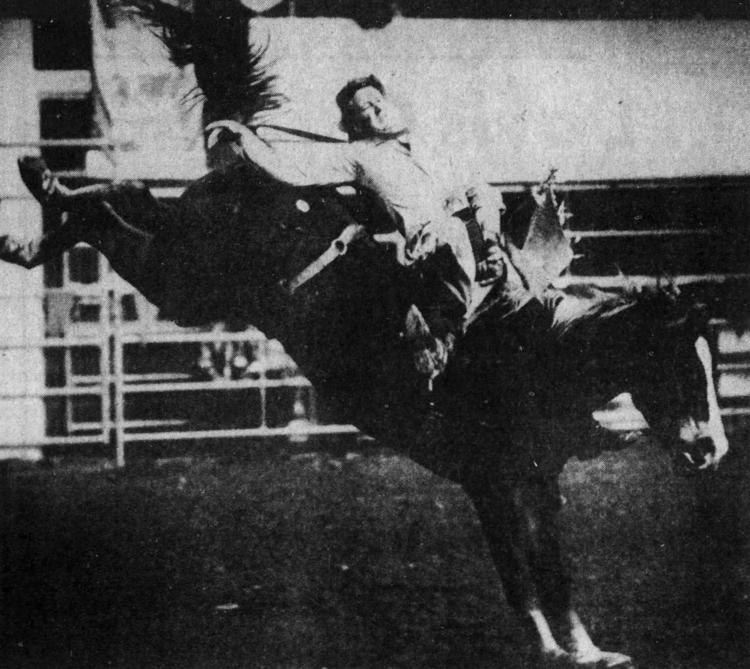 Peabody was fourth in 1982 and third in 1983 after sharing the average title with Danny Brady.
"I had the momentum going into next year," said Peabody. "You always set your goals farther ahead."
But his 1984 got off to a slow start, having to miss Denver after suffering a broken foot while riding his sister's horse. He return to competition in February at Fort Worth.
"I had a good winter," said Peabody.
He trailed Brady in the world standings going into the 1984 NFR in Oklahoma City. But Brady had broken his arm at the Wilderness Circuit Finals three weeks earlier.
Peabody didn't help himself early in the NFR.
"I had a pretty sorry first half of the Finals," he said.
He rebounded by placing in four of the last six, including winning rounds six and 10. His 10th-round win on Mesquite Rodeo's Bojangles put him second in the average and gave him the world title by $2,054 over Lewis Feild.
Peabody, who was living in Three Forks, returned to the NFR in 1985 and was ninth in the world standings.
He and Mary married in early in 1985 with his wife bringing two children — Tiffany and Nathan — into the marriage. They would be joined by Charcie and Brandley. The Peabodys now have four grandchildren.
Peabody also gradually pulled off the rodeo road.
"After I won, I didn't have that drive, that desire to do it again," he said. "I didn't want to get back on the road like that."
With a stronger passion to run cattle, the family moved to Livingston before moving to Billings. The family found a 400-acre place in Pompeys Pillar where they lived for 29 years. The Peabodys sold it two years ago.
Peabody rodeoed off and on until 1990.
"I loved getting on great horses," he said. "But I didn't have the desire to beat up and down the road again."
Traveling with Greenough and Jay Kirkland, the final decision to put away his rigging came in Red Bluff, California, after the 1984 world champion got dumped by his horse.
"I flat fell off my horse. I just fell off," said Peabody.
Greenough, never at a loss for words, offered some advice to his traveling partner.
"If you're going to fall off a horse a 4-H kid could ride, you better quit," the 1993 world champion told Peabody.
Peabody entered a few more rodeos before returning home for good to raise cattle, silage and corn.
"You always want to push more," he said. "You get to thinking, 'I can do that again.' Like a football player who wants one more play, wants to get back in there for the money. But I wasn't putting it a priority like I did when I was younger."
Peabody did some rodeo judging for a while and still attends rodeos around the state. He was at the Livingston Round-Up during the Fourth of July run for pro rodeo.
"You see a good horse, it still gets your adrenaline going," said the new Hall of Famer.
He also served on the Huntley Project school board for 12 years.
Ironically, Peabody was one of the last to know of his biggest honor.
He was out on his horse, checking cattle in an area with no cellphone service.
"What a beautiful setting," Peabody said. "To be able to look back at the Beartooth Mountains."
As he regained cell service, his phone began to fill with congratulatory texts. There was also a message from the PRCA office for him to call them back.
A neighbor showed him the PRCA website with the announcement as his wife, son and mother Ann raced to tell him the news.
"It was pretty emotional," Peabody said.