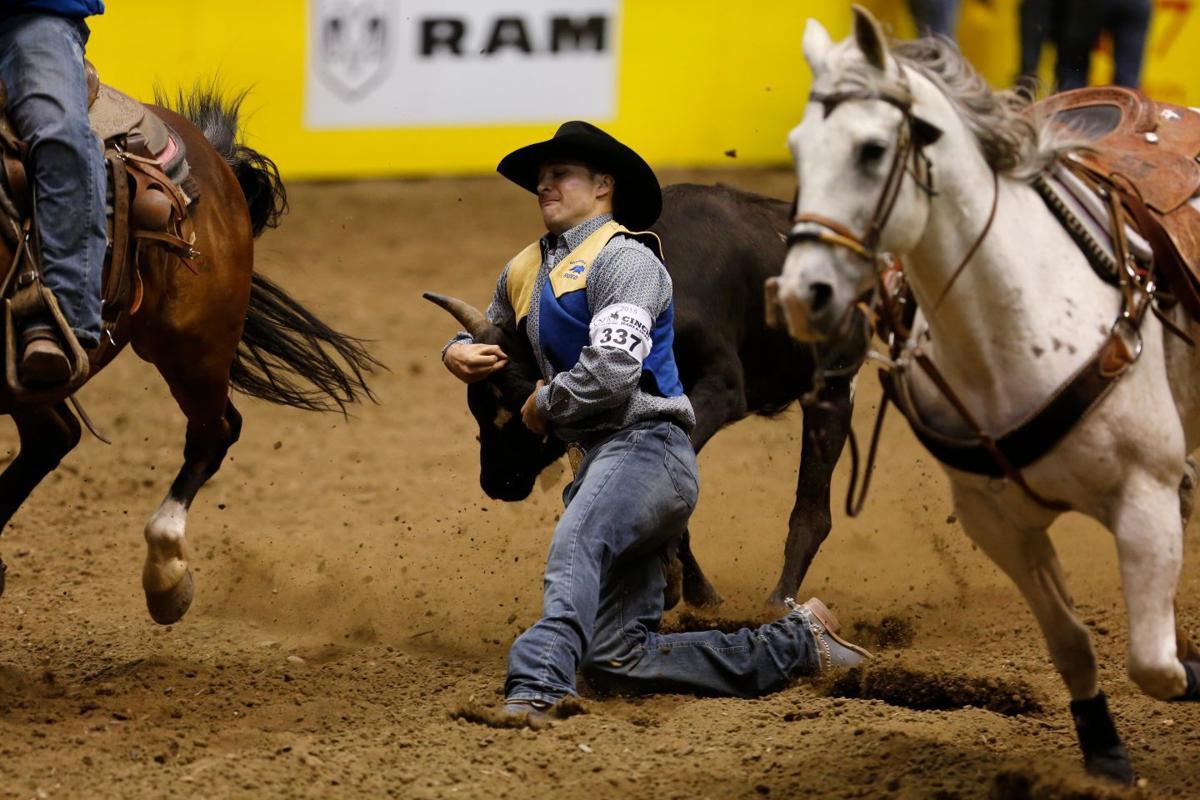 LAS VEGAS – Rodeo was always around Jesse Brown.
His father rode saddle bronc horses while mother Vicki and sister Allison competed in barrel racing.
Rodeo just wasn't for him at the time.
"I was kind of the black sheep in my family," said the likable Brown with a laugh.
Rodeo fits him just fine now.
Brown, a recent graduate of Montana State, was one of the PRCA rookies of the year honored during Tuesday's performance of the National Finals Rodeo.
"Yeah, for sure," the 25-year-old Brown said of his circuitous route to rodeo. "My path is a lot different than most."
The Baker City, Oregon cowboy was the top money winner among the rookie steer wrestlers for 2017.
"That was pretty exciting," Brown said. "It gives me a lot of confidence for this coming year."
Brown is the second MSU cowboy to recently win the award. Ty Erickson of Helena earned the same honor in 2011.
Growing up on the family ranch, Brown was too busy to find his way to the rodeo arena. A three-sport athlete, the 6-foot-1, 205-pound Brown -- "I'm trying to get to 210," he joked -- excelled in football, basketball and baseball in high school. A quarterback, he guided Baker City to the 4A state title, the school's first in football.
After graduation, Brown opted to test himself at the highest level, walking on at Washington State for football.
He never got on the field, never took a snap.
Brown decided to leave the football program and the school in the spring of 2013.
"When I decided to quit football, I didn't have a plan exactly," said Brown. "I didn't really know what I was going to do.
"It was weird after I quit. College football, especially at that level, is so time consuming. I had so much time on my hands."
And a competitive itch that still needed to be scratched. Brown decided to pursue rodeo. "It was in my blood," he said. "I ran with it.
"I wanted to do something and compete again."
Brown contemplated between attending the University of Montana and MSU. Trevor Knowles and Blake Knowles, both NFR-caliber steer wrestlers from Oregon, nudged him toward Bozeman.
A drawing card for the Bobcats was Beau Clark, who was one of the MSU rodeo coaches. Clark was a former Bobcat defensive lineman who qualified for the NFR in 2012.
Brown contacted then MSU head coach Mike True about joining the program. There was one slight problem.
"They asked for some film," Brown remembered. "And I didn't have any. They asked me for any kind of stuff for rodeo. And I didn't have any."
Brown also went through his mental checklist of events before selecting steer wrestling. "Steer wrestling seemed like an adrenaline rush," he added.
Brown admits the early practice sessions were not pretty. There were more wrecks than success.
"I was way out of my element when I started," he said. "My first run, I think I blacked out. I didn't remember a thing. It was about the third run, I started to remember what happened."
His competitive drive would not let him walk away.
"If I'm going to do something, I'm all in," Brown said. "I hate to be bad at something."
Under Clark's tutelage, Brown qualified for the College National Finals Rodeo in 2015. He was hampered by a shoulder injury last year and struggled through his final season at MSU.
But along the way, he learned. "Beau, he was like going to school," said Brown, who won the PRCA Permit Challenge in 2016. "He taught me so much about technique and horsemanship."
He graduated this past spring with a degree in business management.
Brown earned $15,501 this year on his rookie card. He reached the championship round of the Days of '47 Rodeo in Salt Lake City for $2,400 and was 10th in the Columbia River Circuit standings for the regular season. Brown placed fourth in the third round of the CRC Finals last month in Yakima, Washington.
"My goal was to win the rookie of the year and qualify for the Columbia River Circuit Finals," said Brown of achieving both.
He competed all season on borrowed horsepower.
"I had to lease them from people at rodeos," Brown said. "I really didn't know that many guys (steer wrestlers) until I got into it. Bulldoggers are just solid people. I think of all the events, they try to help each other the most."
Following the NFR, Brown plans to go to Arizona and begin preparing for his 2018 rodeo season.
"I've been realistic with my goals," he said. "Eventually, I'll set some goals for next year."