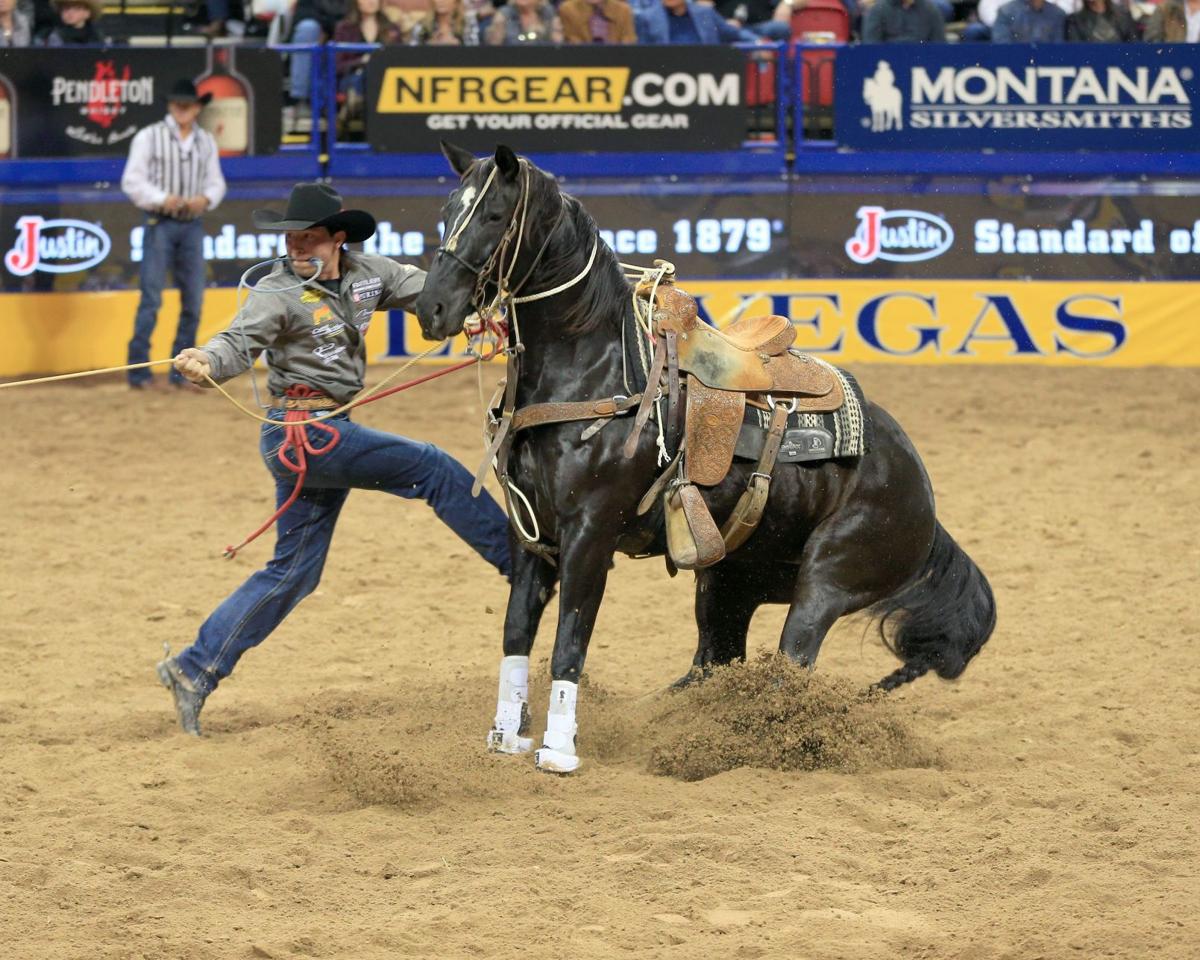 LAS VEGAS — Helena heeler Chase Tryan and header Brenten Hall of Stephenville, Texas, tied for first place in team roping Thursday in Round 8 of the National Finals Rodeo.
Tryan and Hall fashioned a time of 4.3 at the Thomas & Mack Center. The duo earned $23,480.77 in prize money, and Tryan moved to fifth in the average standings as well as in the world standings with two rounds remaining Friday and Saturday.
Also Thursday, Haven Meged of Miles City was ninth in tie-down roping with a time of 9.10 but held on to first place in the average standings, 0.70 ahead of Tuf Cooper of Decatur, Texas. Meged is fifth in the world standings.
In steer wrestling, Ty Erickson of Helena and Tyler Waguespack of Gonzales, Louisiana, both finished out of the money, and Erickson fell to No. 2 in the world rankings again, this time behind J.D. Struxness of Appleton, Minnesota. Struxness took third with a 4.40 time and a check for $15,653.85. 
Waguespack had a time of 4.90 and Erickson was at 5.10. Waguespack remains No. 1 in average and Erickson is sixth.
In saddle bronc riding, Deer Lodge's Chase Brooks was second with a score of 89, a half-point behind Jake Watson of Hudson's Hope, British Columbia. Brooks made $20,730.77 and is seventh in average and fifth in the world standings.
Barrel racer Hailey Kinsel Lockwood — who recently married Professional Bull Riders world champion Jess Lockwood of Volborg — took first for the second straight night with a time of 13.60, earning another $26,230.77 and strengthening her grip on No. 1 in the world rankings. She is now fifth in average standings for the week.
In other events involving Montanans at the NFR on Thursday:
• Caleb Bennett of Corvallis tied for sixth in bareback riding with an 86 and pocketed $2,115. He is 10th in average and sixth in the world rankings.
• Richmond Champion of Stevensville tied for eighth in bareback riding and was out of the money. He remains third in average and fifth in the world standings.
• Bridger Chambers of Butte also was out of the money, finishing 11th with a 5.70 and leaving him fifth in average and seventh in the world standings.
• Billings' Clay Tryan and partner Jake Long were ninth in team roping with a time of 9.00 seconds. Tryan is 13th in average and eighth in the world among headers. 
• Lisa Lockhart, a native of Vida, was eighth and out of the money in barrel racing with a time of 14.04. Lockhart is ninth in average and fifth in the world.
Be the first to know
Get local news delivered to your inbox!