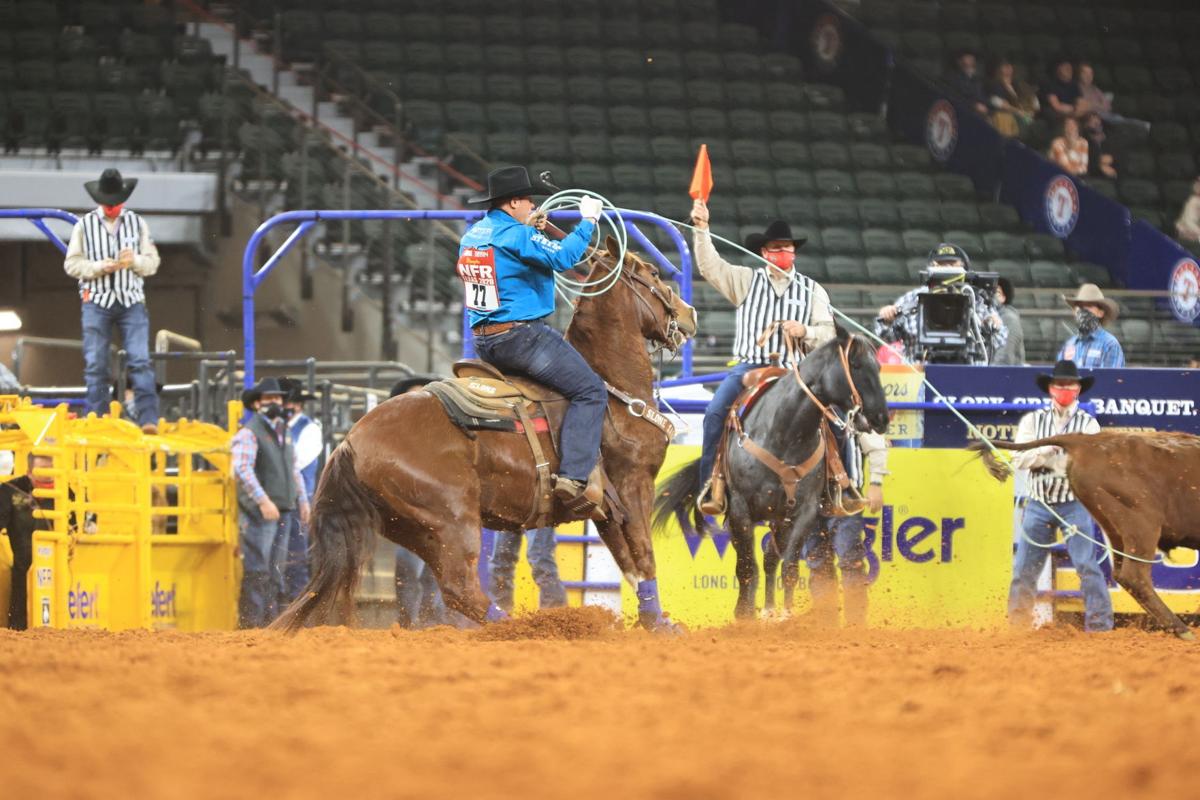 ARLINGTON, Texas — Chase Tryan was part of a big turnaround Sunday at the Wrangler National Finals Rodeo.
Helena's Tryan, along with partner Brenten Hall, won the team roping competition during the fourth day of the NFR at Globe Life Field.
Tryan and Hall, who hails from Jay, Oklahoma, finished their Sunday run in 4.2 seconds to prevail over Clay Tryan of Billings — Chase's cousin — and partner Jake Long, who combined to finish in 4.8 seconds. Clay Tryan and Long ended in a three-way second-place tie with the duos of Nelson Wyatt and Levi Lord and Luke Brown and Joseph Harrison.
It was a much better night for Chase Tryan and Hall after consecutive rounds of no times.
"It's a lot better after tonight," Tryan told the PRCA.
Hall was quick to compliment his partner for the improved fourth-round performance.
"(Tryan) does everything to finish the run for us," Hall told the PRCA. "If it wasn't for him, I wouldn't be where I'm at. He took a chance a couple of years ago by pulling me out of the woods and taking me rodeoing with him and I'll be forever grateful for that. He's the best partner a guy could ask for."
Chase Tryan, a heeler, and Hall, a header, earned $26,231 apiece for their winning run. Tryan is 11th in the average heeler standings with a 9.40 score.
Clay Tryan, a three-time world champion, is 12th in average for headers at 10.10.
In bareback riding, Stevensville's Richmond Champion placed in a tie for fifth place in Sunday's go-round with Cole Reiner of Kaycee, Wyoming, and Jesse Pope of Waverly, Kansas. Champion, Reiner and Pope each finished the round with a score of 85, and each pocketed $3,667.
Champion, still in search of a world title, rode Wayne Vold Rodeo's True Grit and it paid off again on Sunday.
"That is a great little horse out of one of my father-in-law's studs back in the day," Champion told Ted Harbin of TwisTedRodeo.com. "He raised her, then another guy bought her, then ended up owning her and selling her to Wayne.
"I won Stathmore (Alberta) on her twice. I've been on her one other time in Canada, and it went really well. I was looking forward to it all day."
World bareback leader Tim O'Connell won the go-round with a score of 90.5 points on Fettig Pro Rodeo's Pop A Top.
Reiner, an alum of Buffalo High School in Wyoming, is making his NFR debut.
Jacob Talley was the fourth go-round steer wrestling winner, finishing his run in 3.4 seconds.
Brown finished in a first-place tie after the first go on Thursday.
Deer Lodge's Chase Brooks had a score of 84 on Sunday in the fourth go-round of the saddle bronc competition, good for fourth place. Brooks, who placed third on both Thursday and Friday, earned $11,000 for the Sunday's ride atop Rafter G Rodeo's Three Belles.
With a score of 89.5, Ryder Wright of Milford, Utah, won the saddle bronc go-round and moved into first place in the world standings.
Brooks is in second place in average with a score of 342.0.
Haven Meged of Miles City scored an 8.4-second run in the fourth go-round of the tie-down roping event to finish Sunday's competition in a tie for fifth place. Meged tied Ryan Jarrett of Comanche, Oklahoma, in fifth.
Meged and Jarrett each pocketed $5,500. Adam Gray of Seymour, Texas, won the go-round with a time of 7.8 seconds to claim $26,231. Meged finds himself in ninth place in average (47.00).
Meged is a returning world champion, having won during his rookie season last year in Las Vegas.
After winning the third go in barrel racing on Saturday, Vida's Lisa Lockhart placed seventh on Sunday with a time of 17.33 seconds. Lockhart earned a paycheck of $4,231.
In average, Lockhart is in 13th place in the barrel racing standings at 73.87. Lockhart is a Circle High School alum and ranches in Oelrichs, South Dakota.
Ty Wallace of Colbran, Colorado, captured the fourth round win in bull riding with a score of 89.5 atop Hi Lo ProRodeo's Lipps.
Bull rider Stetson Wright, who is looking to be the first cowboy to win consecutive all-around world titles since Trevor Brazile in 2014 and 2015, did not have a qualified ride in the fourth round. Wright, of Milford, Utah, won the first and second go-rounds.
The 10-day NFR continues Monday and concludes Dec. 12. The event was moved to Globe Life Field, the home of Major League Baseball's Texas Rangers, from its typical home in Las Vegas this year due to COVID-19 restrictions.