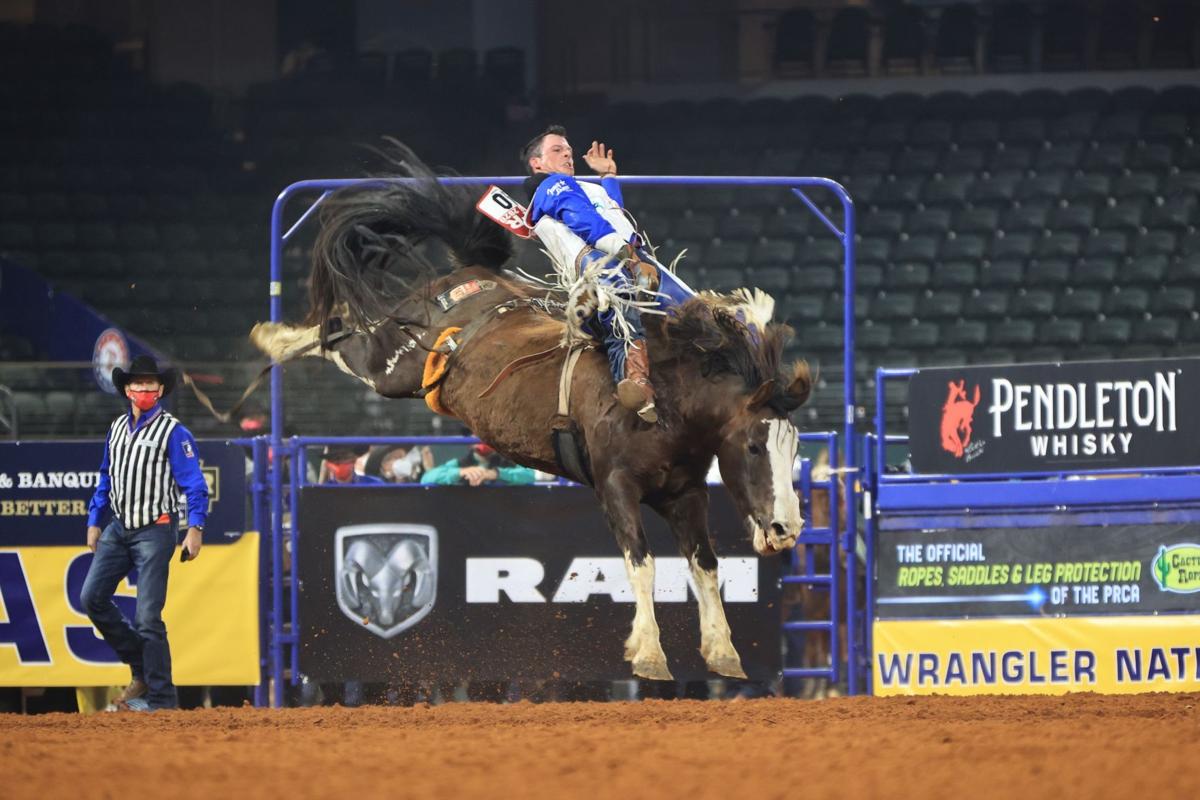 ARLINGTON, Texas — Stevensville transplant Richmond Champion scored an 87.5 aboard Blessed Assurance to win the bareback riding competition Thursday on the first night of the Wrangler National Finals Rodeo at Globe Life Field. 
Champion, 28, who has now won seven go-rounds in his career at the NFR and also won on opening night a year ago, edged Mason Clements of Draper, Utah, and Jess Pope of Waverly, Kansas, by a half-point to earn a $26,231 payout. Champion entered the NFR seventh in the world standings with $64,149 in earnings; he moved into third with $100,379, nearly $33,000 behind leader Tim O'Connell of Zwingle, Iowa.
"Nothing's sweeter than starting off with a 'W'," Champion told Ted Harbin of TwisTedRodeo.com. "I was stoked when I saw that I had that horse. She's been a great horse for a long time. She's been here a bunch of times, and they've won a bunch of rounds on her."
Champion wasn't the only cowboy with Montana ties who earned a big win.
Montana State graduate Jesse Brown, a steer wrestler from Baker City, Oregon, shared the top spot with Dakota Eldridge of Elko, Nevada, and Blake Knowles of Heppner, Oregon, with a time of 3.9 to earn $20,872 apiece.
Brown, also a former quarterback at Washington State, was thrilled to be atop the leaderboard in his NFR debut.
"I couldn't ask for anything more than that right there," he said.
Champion finished fourth in the world a year ago after placing third in Las Vegas. He graduated high school in The Woodlands, Texas, and attended Tarleton State University in nearby Stephenville, where he lived for several years before moving to Montana in 2019.
"It's pretty cool, and I'll have something I can look back on," he said. "Putting these memories down, especially in the year we've had, is something nice."
Team roper Chase Tryan of Helena and partner Brenten Hall of Jay, Oklahoma, were fifth in their opening go-round with a time of 5.2 seconds to earn $6,769; Tryan is 11th in the world standings among heelers. Billings' Clay Tryan and partner Jake Long of Coffeyville, Kansas, failed to earn a time in the same event; Tryan is eighth in the world standings for headers. 
In other action Thursday involving Montanans, defending tie-down roping champion Haven Meged of Miles City had a time of 10.9 and finished out of the money on his first night. Meged's neighbor in Stephenville, Texas, Marty Yates, won the event in 7.1 seconds to win $26,231.
Chase Brooks of Deer Lodge scored an 84.5 aboard Son of Sadie to tie Brody Cress of Hillsdale, Wyoming, for fifth in the saddle bronc competition. Rusty Wright of Milford, Utah, and Lefty Holman of Visalia, California, tied for first in the go-round with an 86 to bag $23,481 apiece. 
Barrel racer Lisa Lockhart, a Vida native who attended high school in Circle and now lives in Oelrichs, South Dakota, had a time of 22.11 and was out of the money. Hailey Kinsel of Cotulla, Texas, took first in 17.18 seconds.
Cole Reiner of Kaycee, Wyoming, was fourth in bareback riding with an 85 score and pocketed $8,885. 
Stetson Wright of Milford, Utah, won the bull riding with a score of 90.5 on Silver Lining.
The 10-day rodeo concludes Dec. 12. The NFR was moved from Las Vegas this year due to the COVID-19 pandemic.