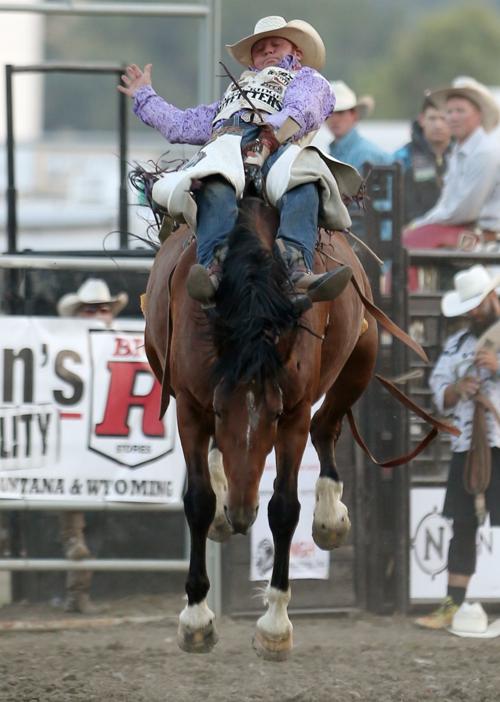 COLORADO SPRINGS, Colo. — This fall will mark two years since PRCA bareback rider J.R. Vezain suffered a broken back after riding Frontier Rodeo Company's Brazos Bash, Sept. 22, 2018, at the Pasadena (Texas) Livestock Show & Rodeo.
The injury required surgery and left Vezain with mobility issues from the waist down.
In February, Vezain traveled to Panama City, Panama, for stem cell treatment, receiving intrinsic injections in his spinal column and intravenous injections in his arm for localized healing.
"Everything went pretty smoothly," said Vezain, 28, in a PRCA press release. "I've noticed I have a little bit more control and consistent movement, but other than that it's still just a slow process of healing."
Although the Melstone cowboy isn't walking yet, he continues to set goals to get there and said he is on the up.
"I know God has a plan and his time is perfect, so I just keep trying to do something every day to get better and better myself," he said.
Vezain, a six-time qualifier for the National Finals Rodeo (2012-14, 2016-18), spent six months at a rehabilitation facility in Sandy, Utah, after the accident. He's continued rehab exercises at his home gym, with his next goal being able to stand on his own.
"My core is really strong," said Vezain, who previously resided in Cowley, Wyoming. "I've been working on balance, sitting on a balance ball and using discs. We have a walking machine where (with assistance) I walk and stretch. If I can stand, I can start to move my legs. I have enough control, like to crawl, and my hip flexor muscles are working. I have some leg movement, but I've got to be able to stand first."
Vezain has also kept busy on the ranch, doing yard work, branding and gelding colts.
"I've also been busy doing leatherwork, I have a bunch of orders I'm trying to catch up on, and just staying busy around the place," he said.
This year, Vezain began judging at bull riding events (not sanctioned by the PRCA).
"As a rodeo cowboy, the last thing you ever think you're going to be is a rodeo judge, so that was something I had to get over," he said. "But it keeps me connected and still involved in the sport. It's been fun being on the other side, really diving into rules and regulations, and knowing why a judge makes the calls they do. It's allowed me to get my mind off everything at the ranch and stay involved in rodeo."
Vezain said he keeps in touch periodically with his ProRodeo buddies. His brother-in-law Sage Newman of Melstone competes in saddle bronc riding.
"The last rodeo I attended was in December (2019) to watch him compete," he said.
Vezain has done some motivational speaking at local high schools and churches. He also writes a monthly column for Rodeo News magazine.
"Public speaking isn't really my forte, but every opportunity that has come up I've been willing to share my story to hopefully provide some encouragement along the way," he said. "I believe that every time I'm asked to speak it's for a reason and that somebody needs to hear the message."
Sharing his story also keeps Vezain motivated and grounded on achieving his goals.
"My long-term goal would be to walk around and ride horses normally," he said. "I've always had dreams and aspirations to be able to train working cow horses. I want to be able to train horses again, play tackle football with my boy and work my ranch normally again."
On May 17, Vezain's son, Ryatt, turned 1 year old.
"Keeping up with him has also been a goal now that he's running amok."
Since the accident, Vezain said family and friends have helped in numerous ways, including assistance with remodeling his home and ranching needs.
"We've had a tremendous amount of help financially, physically, spiritually and emotionally from great people who are willing to reach out," he said. "After the wreck, I put it all in God's hands and said, 'I'll do my best to use the tools you've given me and the opportunity you've given me to spread your word.' I've always been willing to share my story and testimony to spark inspiration in others."
Be the first to know
Get local news delivered to your inbox!