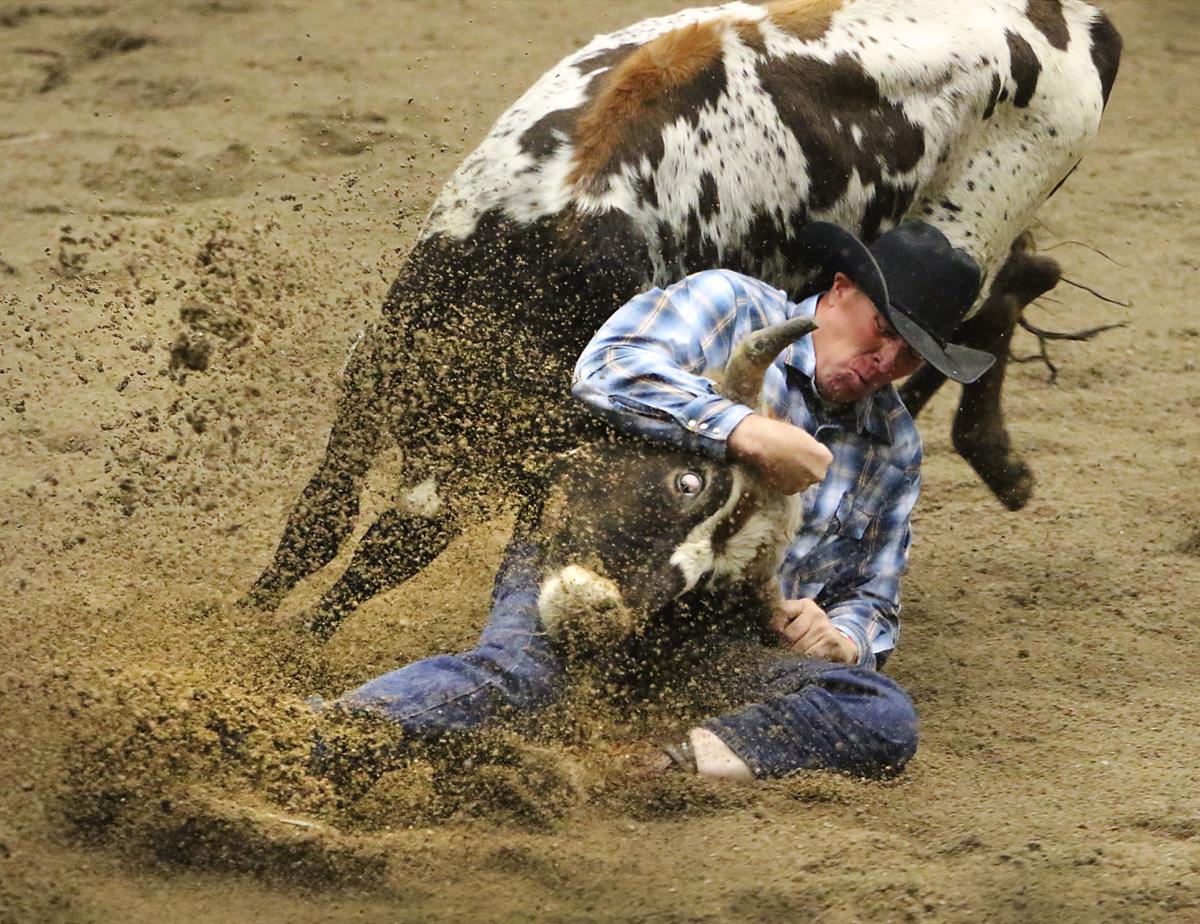 BILLINGS — While major PRCA rodeos have been canceled because of the novel coronavirus in Billings, Red Lodge and Livingston, the Northern Rodeo Association still has 18 remaining rodeos on its schedule this season.
The Poplar Wild West Days June 13-14 started the circuit's season schedule. Next up will be a rodeo in Big Timber June 26-27. Opheim was also added to the schedule this year for June 28.
NRA executive secretary Theresa Sorlie said all of the scheduled rodeos are listed on the organization's website at www.northernrodeo.com.
"With all that is going on, there could be changes, but all the rodeos that are currently listed on there are moving forward with having their rodeo," she said. "If we have any postponements or cancellations, we will take them off of the website."
Last week it was announced the Northern International Livestock Exposition rodeo at First Interstate Arena at MetraPark slated to take place this fall would be canceled. It was also announced last week in an email from MetraPark that the MontanaFair rodeo would be canceled.
Sorlie said each NRA rodeo currently scheduled has a committee that has been doing work behind the scenes to make the rodeos possible. She also said spectators will be allowed at every rodeo on the schedule.
"All the committees have worked with, or are working with their local health departments, to do the appropriate measures to keep everyone safe" she said.
"The committees are working extra hard to have rodeos, from getting sponsors, to working with the health departments to keep everyone safe. It is fun how everyone is coming together so we can do this."
A one-size-fits-all approach never works when scheduling a rodeo, which is especially true in the year of the coronavirus.
"Each rodeo is individual. Our rodeo grounds are each very unique. Some of them, like Poplar for example, they don't have a grandstand. Everyone drives their cars up to the rodeo and they have a hillside for everyone to park.
"The hillside (at Poplar) is layered so the cars can park and watch from their vehicles. That happens every year."
Harlowton is usually a two-day rodeo, but this year will have three performances from July 2-4.
"Halowton added another performance so they could do a little more social distancing," Sorlie said. "People will have three difference chances to go to the rodeo."
Sorlie said she expects solid participation numbers, despite the circumstances. She said the entries for Poplar were "probably a little up," and overall "we had a good rodeo in Poplar."
Entries are up by nearly 100 contestants for Big Timber.
"Our entries are up. We have seen really good numbers," Sorlie said. "People are excited to get out and be able to compete and do something.
"People are ready to rodeo. This year it has even been more evident, from our committees to fans to the contestants. Rodeo is a real staple in Montana and it has been kind of fun and reassuring to know how much it means to people."
The year-end NRA Finals are scheduled for Oct. 22-24 in Kalispell at the Majestic Valley Arena. The top 10 money earners in each event qualify for the Finals. In junior barrel racing and junior breakaway, athletes have to earn a check at a rodeo to qualify.
The following are the remaining rodeos on the NRA schedule:
Big Timber, June 26-27; Opheim, June 28; Harlowton, July 2-4; Ennis, July 3-4; Malta, July 11; Scobey, July 16; Eureka, July 24-25; Gardiner, July 24-25; Butte, July 31-Aug. 1; Superior, July 31-Aug. 1; Townsend, Aug. 7-8; Deer Lodge, Aug. 21-22; Wibaux, Aug. 22; Three Forks, Aug. 28-29; Boulder, Aug. 29-30; Hamilton, Sept. 4-5; Helmville, Sept. 6-7; NRA Finals, Oct. 22-24, Kalispell.
Be the first to know
Get local news delivered to your inbox!