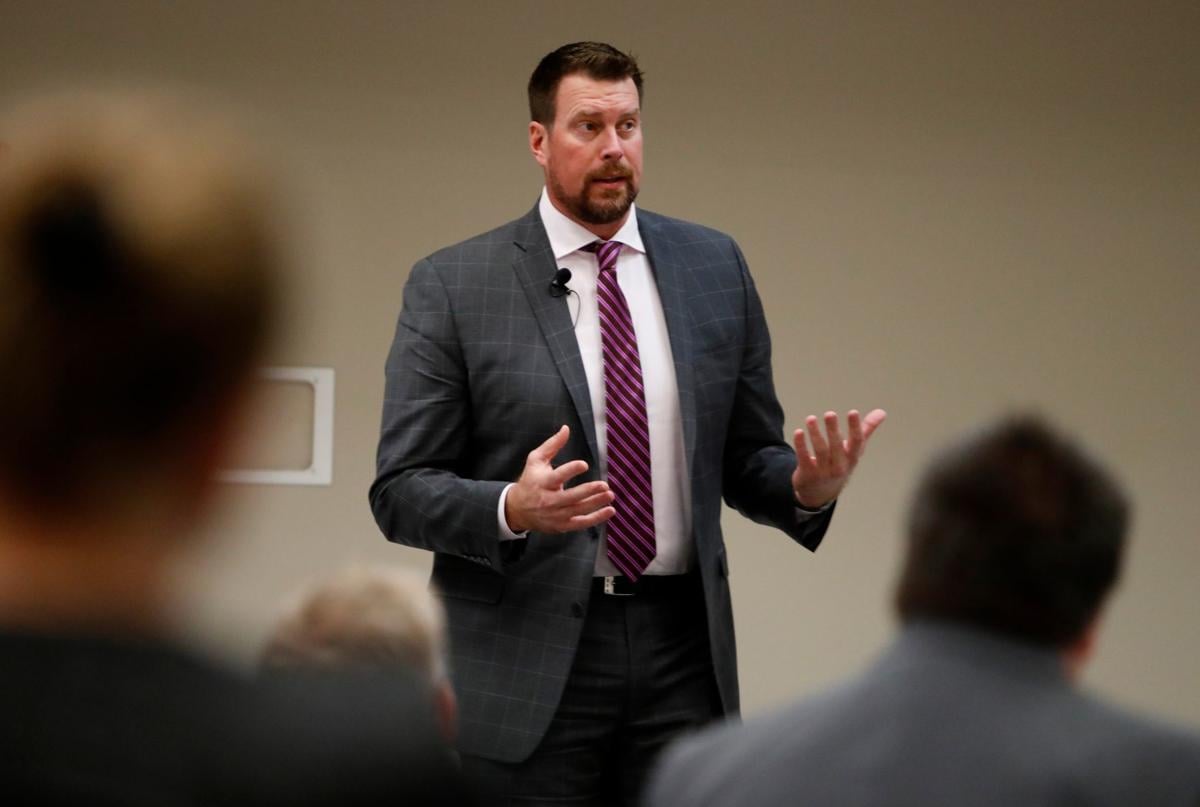 Everyone knows that Ryan Leaf was an NFL bust. Everyone knows about his criminal record. 
"Everyone knows I was a junkie," Leaf told a crowd in Billings on Monday. 
What everyone doesn't know is that, after spending years unable to look beyond his demons, Leaf feels like he's helping people. 
The Great Falls native and former NFL second-overall pick spoke at the Montana Opioid and Addictions Summit on Monday in Billings about his struggle with substance abuse and mental illness — and how the two went hand in hand.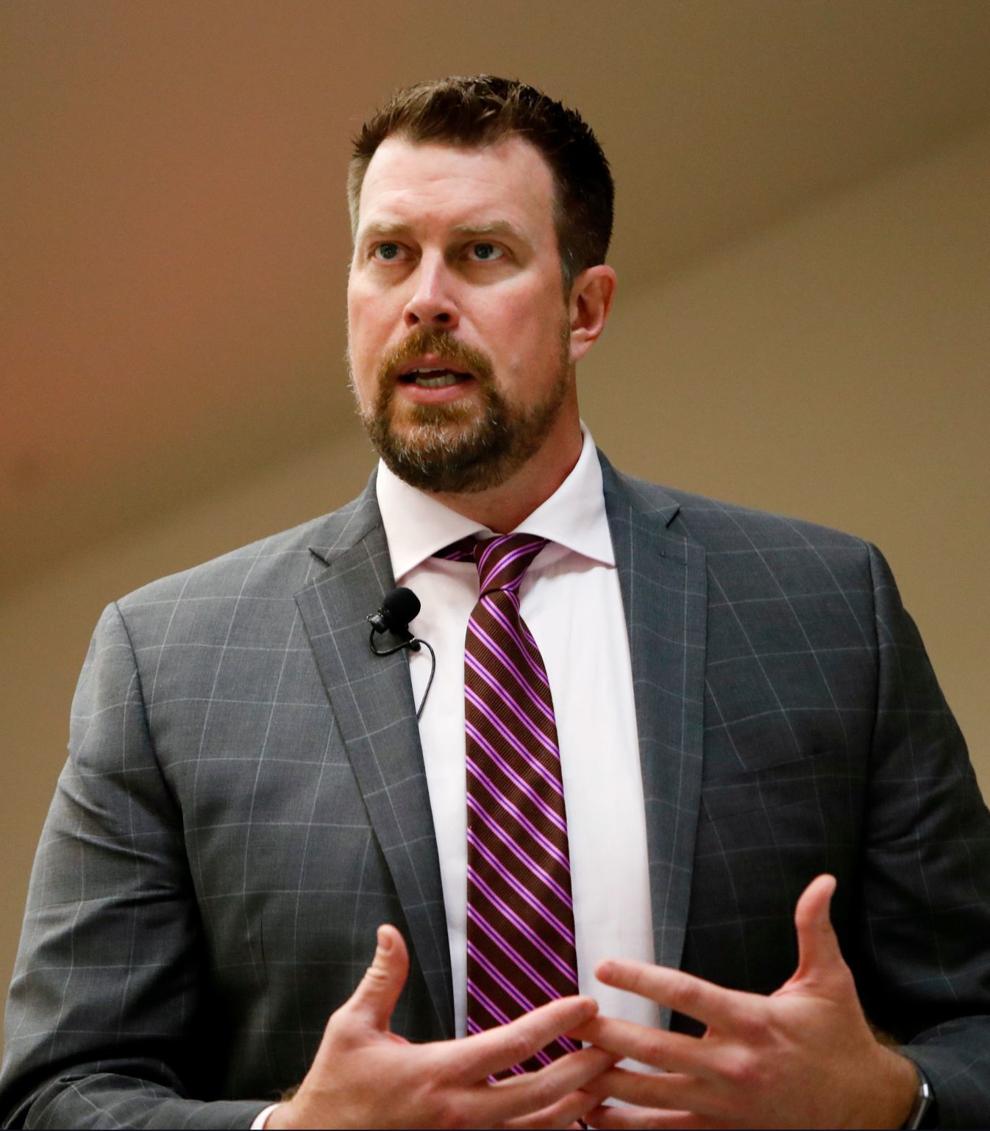 Leaf now works as a program ambassador for Transcend Recovery Communities, a drug rehabilitation company. 
Less than four years ago, he was in prison as the result of crimes fueled by an opioid addiction. But Leaf believes that his problems began much sooner. 
He describes growing up in a loving and supportive family. But he never learned to cope with criticism in high school, and the pedestal his athletic prowess hoisted him upon only compounded problems. 
"I am clinically depressed. I have a social anxiety disorder. I have a narcissistic personality," he said. "(And) consequences weren't necessarily the same for me."
His mental health problems would go on to fuel his drug use.
But while he had football, "competition was my first drug of choice." He looked down on those who used alcohol or drugs as "morally corrupt."
That began to change in college, when he used binge drinking at Washington State University to put himself at ease in social situations. He didn't develop an opioid addiction, but he did get introduced to Vicodin, a painkiller prescribed to him after surgeries. 
In 1998, he was drafted second overall by the San Diego Chargers. He won his first two games. It was downhill from there. 
Leaf's play on the field deteriorated, and under a national spotlight the worst of his personality came out. He continued to believe he didn't need help from anyone. 
"Anybody who tried to show me the mirror ... I would just push them out of my life," he told the Billings crowd. 
He was out of the league in four years — longer than the average career, but far from the promise of his high draft pick. 
Leaf still lived a lavish lifestyle, despite the fact that he was still depending on his NFL money, which was more than $31 million. He was determined to show everyone that despite showing up each April in NFL draft bust reels, he was doing fine. 
Leaf first took Vicodin "in an abusive manner" in 2002, he said Monday. He worked different jobs, going back to WSU to earn a degree, but he continued to use. 
"I just didn't want to feel anything," he said. "This little white pill did it."
He was first arrested on drug charges in Texas in 2009 and sentenced to probation. He ended up back in Great Falls, his fortune spent, his competitive fix long depleted. 
"Every morning the first thing I thought in my mind was, do I have pills? And if I don't, how do I get them?"
Leaf said he didn't use drug dealers. He would manipulate doctors, and a lengthy list of NFL-related health issues helped.
He went so far as to look up open houses, and browse as if he were interested in buying, only to raid bathroom cabinets for pills. 
He was in and out of rehab, including a stint at Rimrock in Billings, he said. 
Monday wasn't the first time he's spoken about addiction. In 2012, he was scheduled to speak in Billings, in part to promote a book he had written. He never appeared — he was arrested in Great Falls first. 
He immediately bonded out, and realized he didn't have any pills. 
"The only thing that an addict can think of at that time is, 'I have to be high,'" he said. 
With that out of reach, he tried to kill himself, slitting his wrists. It didn't work. He drove to his parents' house, expecting them to be gone, with plans to asphyxiate himself in their garage. They were home, and he bailed. 
He stole pills from a house that he knew had them; he ended up arrested again, four days after his first. 
"There's not a consequence out there that's not going to stop an addict from getting his drugs," Leaf said. "Prison is not a deterrent."
He was first sentenced to a drug treatment center, but he was sent to the state prison in Deer Lodge because of bad behavior. Leaf admits he wasn't ready for help. 
That started to change with a cellmate who persuaded him to help teach inmates to read. He called it the first time in his life he was "of service to another human being."
It started a journey where Leaf finally looked in the mirror. 
He got out of prison in 2014. After a delay, he entered a Transcend treatment center. He got a $15-per-hour job as a driver. 
"I had never felt more valued in my life," he said. 
Leaf didn't intend to be on a stage, holding a microphone, rehashing his actions — "especially in Montana."
"I wanted to just disappear and find this quiet life," he said. 
Instead, he travels the country speaking about mental health and addiction. He rails against stigma surrounding both topics and advocates for an approach that addresses both. 
He has a 1-year-old child. 
"It was something in my mind, that I never wanted to give a kid my last name," he said, knowing that they would endure taunts over Leaf's actions. "But it's also my dad's last name, and his father's last name."
He still attends AA meetings. He considers himself spiritual — "the understanding that there is a God, and I'm not it."
Certainly, more people know him as a football bust than as a mental health advocate. But at least to some people talk about him is shifting. 
Montana Department Health and Human Services director Sheila Hogan called him "a great role model for many young athletes in Montana."