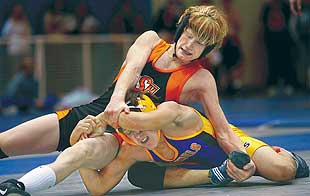 The warning sign should read: "Returning Champs Beware."
In each of the past two all-class state tournaments at MetraPark, Billings Senior's Trent Sprenkle has produced clutch performances that most wrestlers only dream of.
In 2004, Sprenkle defeated Brody Verrall of Butte, a state champion the year before at 98 pounds, 7-5 in double overtime in the 105-pound championship.
Sprenkle's encore last year was just as thrilling and possibly even more impressive, as he outlasted two-time state champion Kody Tolliver of Great Falls 7-6 in double overtime in the 119-pound title match.
Sprenkle had been 0-3 against Tolliver before the win, with all three matches coming his junior year.
Verrall had defeated Sprenkle the one time they met their ninth-graders. But Sprenkle was 3-0 against Verrall as a sophomore, including two-double overtime wins and a two-point victory in regulation. Sprenkle hasn't wrestled Verrall since as the Butte product is at 135 pounds this year and Sprenkle won the season-opening Billings Invite at 119 pounds last weekend.
"He just seems to rise to the occasion at state and has that drive in him that gets him over the top in those situations at the state tournament," said Senior coach Lonnie Robertson of his prized senior.
In the second overtime against Tolliver, Tolliver picked down and Sprenkle rode him for 30 seconds for the victory.
"I remember just all the work to get even close to beating him," said Sprenkle, reflecting on what stands out the most in his mind about the match with Tolliver. "At the beginning of the year I was four points away and that took a lot of work in the wrestling room. It was all mental and working with the coaches a lot. Tolliver is a real good kid."
Sprenkle began wrestling in the eighth grade at Lockwood Middle School. During the summer he also wrestles and has gone to Fargo, N.D., for the Cadet and Junior Nationals the last two years and has also gone to Florida the last three years for a national duals tourney at Disney World.
At a camp in Baker the last few years, he has had the opportunity to meet legendary Iowa coach Dan Gable and Olympic hero Rulon Gardner.
It's no secret then, that it was hard work and dedication that led to Sprenkle becoming a force in the Montana high school world.
"That Verrall kid beat him by 15 when he was a freshman, it was a pretty good turnaround freshman through sophomore year," said Robertson, adding that all the offseason wrestling is key. "Halfway through his freshman year he started coming on. At the Bozeman tournament he didn't place, but he beat a kid that beat him earlier and it kind of snowballed."
Sprenkle entered his senior season with an 84-18 record, which would place him 10th on the all-time win list at Senior. He is tied with two others for first in school history for wins in a season, going 38-2 as a sophomore. Also during his sophomore campaign, Sprenkle scored the third-most team points in school history for a season.
This year, Sprenkle started off with a bang, earning a hard-fought 8-5 win over Brandon Uffelman of Hardin, last year's Class A state champion at 112 pounds in the championship round of the Billings Invite at 119 pounds. Sprenkle said he had lost his only previous match against Uffelman.
"Uffelman is really good and we're really good friends and have been to camps together," said Sprenkle. "It was a fun match. It's like coach (Cody Turnquist) said, getting the monkey off my shoulders because I haven't beat him before."
The 5-foot-6 Sprenkle is known around the state by wrestlers, fans and coaches alike for always having a smile on his face and his shaggy strawberry blond hair.
"I'm having fun. If you're not having fun with it, then …," said Sprenkle. "You just always want to have fun with it and want to learn something new and just try to get better."
"I wouldn't say he's outgoing, but he's always got a smile and is generally an upbeat and real positive kid," said Robertson. "He's got a great work ethic and drive."
As for what the future may hold, Sprenkle would like to study medicine and become a pediatrician. He said he gets along with kids and has three younger siblings. He also is a good student with a 3.6 GPA.
But with his senior season just underway, Sprenkle also has his sights set on wrestling at the college level.
"He's one of those rare kids you get to coach that just has something inside him that keeps him going," said Robertson. "It's that never-say-die attitude."