Billings resident Bryce Allard has been into bicycling since he was a kid.
"He loves biking," said his mom, Elaine Allard. "That's his passion."
So it was no surprise that the veteran bicyclist signed up this summer for the inaugural Enduro bike race as part of the Big Sky State Games. BSSG described the race as one where riders are timed on the downhill stages, with neutral "transfer" stages in between.
The race took place July 22 at the Acton Recreational Area, north of Acton. It's a trail he's familiar with from past rides.
"He was on his third run at a place along the trail when he hit a bump," Elaine Allard said. "It was a freak thing."
He flew over the bike's handlebars, did a face plant, "and the momentum of his body hyper-extended his neck," seriously injuring his spinal cord, she said. Bryce Allard was taken by helicopter ambulance to Billings Clinic, where he underwent surgery several hours later.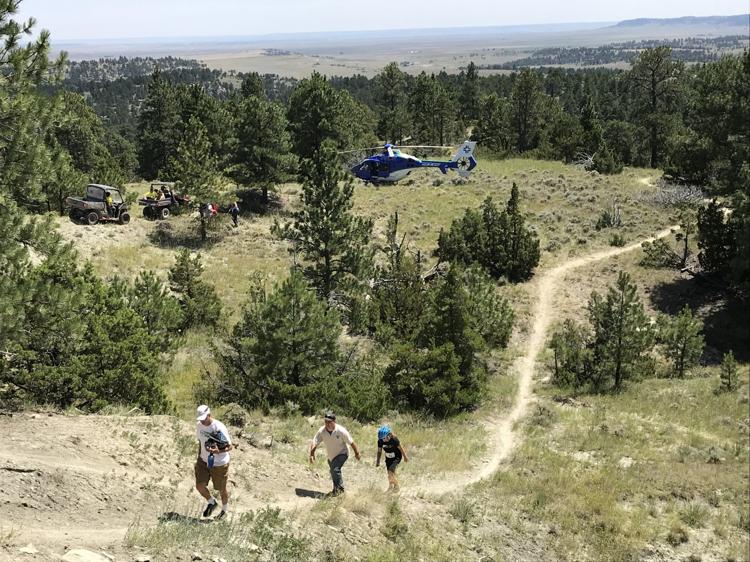 The injury to the C6 and C7 vertebrae in his cervical spine rendered Allard a quadriplegic. On Aug. 2 he was transferred to Craig Hospital in Englewood, Colorado, which specializes in rehabilitation for spinal cord and traumatic brain injuries.
He's been there ever since, undergoing intensive therapy to help him stabilize his body and regain his life. In Billings, family, friends and co-workers want to help him regain his life, as well.
They've organized a fundraiser, "All in for Allard Benefit Pint Night," Monday from 4 p.m. to 8 p.m., at Canyon Creek Brewing, 3060 Gabel Road. The public is encouraged to attend.
The evening will include a 50/50 cash raffle, silent auction, T-shirt sale, Spoke Shop bike auction, music by Castle Mountain Gang, food and drinks. Only cash or checks will be taken for the raffle and the silent auction.
Longtime friend Jason Ridgway is helping organize the event. He and Allard have been friends since they were in middle school.
"We both got into mountain biking together and explored the sport and advanced in the sport together," Ridgway said in a telephone interview from Boise, where he now lives.
The pair explored the Rims on their bikes before any formal trails existed.
You have free articles remaining.
"We'd pick out hills — one's called 'the problem' — that we'd try to clear together," Ridgway said. "We would explore just about everywhere together."
Whenever Ridgway would come back to Billings to visit family, the two would go for long bike rides, including the 24-mile ride to Molt. Allard was as conscious of staying fit and taking care of himself as he was competitive.
"He came down to my wedding a couple of years ago and we biked to Sun Valley," Ridgway said. "He went to Moab in the spring with a crew and would test out the latest bikes. He was on the forefront, wanting to know the latest and greatest of what was available."
Ridgeway admits it took him a couple of weeks to come to terms with Allard's accident. Then he decided he had to do something to help.
When he heard that Allard's employer, First Interstate Bank, and Big Sky State Games were each working on fundraisers, he got everyone together on the same page and the result was "All in for Allard." For his part, Ridgway will offer 120 stainless steel pint mugs that people can buy for $20 and then get a free pint of beer.
The willingness by so many to pitch in has been awesome, he said.
"At the drop of a hat, people were willing to do everything," Ridgway said. "Even people who don't know Bryce have stepped up."
When he first talked with Allard, Ridgway said his longtime friend initially wanted to give up. The he heard how so many people had come together on his behalf.
"It gave him gumption, the strength to pull through and really give 100 percent at what he was attempting to do, to learn his new way of life," Ridgway said. "That was very emotional for me to hear, and exactly what I would expect to hear from Bryce."
Elaine Allard said her son works long days in physical therapy, occupational therapy and other activities, all directed by "a wonderful staff." Each patient, she said, starts from where they are and learns to live their life as if nothing will improve, but also works toward the possibility of things getting better.
Bryce Allard has medical insurance through his job as a system 3 engineer at First Interstate Bank, Elaine Allard said. But his living quarters will have to be modified.
"And eventually he would like to have a wheelchair-accessible vehicle," she said.
Like Ridgway, Elaine Allard said her son's friends rallying around him has been a real source of encouragement.
"It's really motivating to him," she said. "His life has changed. But he's able to see the light, that there's lots of possibilities and things you can do, even if you can't walk."