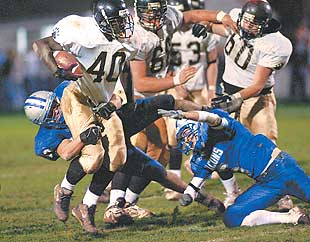 Billings West created a logjam at the top of the Class AA football standings with a pulsating 48-41 victory over Billings Skyview Friday night, but it wasn't enough to dislodge the Falcons from getting the No. 1 seed in the playoffs.
Skyview, West and Great Falls CMR all finish with 8-1 league records. Skyview, however, wins a three-way tie-breaker with a better point differential against common opponents.
Official pairings will be announced Monday, but it is believed CMR will be the No. 2 seed and West No. 3 due to the Rustlers' victory over the Bears. That means the unofficial pairings are Skyview vs. Butte, CMR vs. Helena Capital, West vs. Bozeman and Missoula Big Sky vs. Helena.
Regardless of the seedings, it was a gratifying win for the Golden Bears, who had lost to CMR 28-13 last week.
"We knew it was going to happen. We knew we had it in us," said West defensive end Colby Vancleeve.
West rolled up the most points anyone has scored on the Falcons since the 2001 season behind the passing of Andrew Selle and the running of D.J. Bergen. Selle completed 18 of 31 passes for 329 yards and two touchdowns and ran for two more. Bergen scored three touchdowns and rushed for 88 yards.
Michael Guelff caught seven passes for 199 yards, including an 87-yard touchdown reception.
The Bears ran up leads of 22-6 and 28-14 in the first half, but had to rally late in the third quarter after Skyview seized a 35-34 lead.
A blocked punt by Chris Wells set the Bears up at the Skyview 20. Selle threw a 13-yard scoring pass to Kevin Klaboe as West regained the lead with 1:01 remaining in the third quarter.
The Bears defense then made a big stand when the Falcons gambled on a fourth and two at their own 32. Derek Maciel took a pitchout, but was buried for a six-yard loss.
Aided by two pass interference penalties, the Bears finally scored on a six-yard run by Selle with 8:37 remaining.
"We knew we could move the ball on them," Guelff said. "Our line was fantastic."
Guelff said Selle was on target all night, noting, "He didn't miss many."
Selle threw a 42-yard pass to Andy Roberts on West's first play. That set up a 19-yard scoring run by Bergen, who then caught conversion pass from Selle for an 8-6 lead. West recovered a Shann Scott fumble to thwart a Skyview scoring threat. Three plays later, Guelff was wide open down the middle and out ran the Skyview secondary on an 87-yard play for a 14-6 advantage.
West stopped the Falcons again on a fourth-down play the Bears' 32 and promptly marched 68 yards to score. Selle scored on a six-yard run and Bergen's two-point conversion pushed the margin to 22-6.
West coach Paul Klaboe thought that was a significant sequence in the game.
"That was big key for us," Klaboe said. "If you can get the lead, you're in pretty good shape. They (Skyview) are still high school kids, even if they haven't lost."
West didn't shut down Skyview's vaunted running game, but did make enough big plays to snap the Falcons' 12-game winning streak dating back to last season. Skyview finished with 398 yards rushing with Maciel getting 155. The Bears also did a decent job on Scott, who had run for 316 against Senior. Scott had 83 yards before leaving the game in the fourth quarter with an injury in the left ankle area.
Sophomore Josh Morris replaced Scott at quarterback and fumbled the ball away to the Bears. Skyview held and Morris directed a 68-yard march. Maciel scored on a six-yard run with just two minutes left.
West's Joe Schreibeis recovered the onside kick and the Bears ran out the clock.
"We didn't play that well last week," Paul Klaboe said. "I'm proud of the way the came back."
West - 14 - 14 - 14 - 6 / 48
Skyview - 6 - 16 - 13 - 6 / 41
S - Jeff Price 17 run (kick failed) 7:20
W - D.J. Bergen 19 run (Bergen pass from Andrew Selle) 6:16
W - Michael Guelff 87 pass from Selle (run failed) 2:14
W - Selle 6 run (Bergen run) 10:04
S - Shann Scott 4 run (Price run) 5:18
W - Bergen 1 run (run failed) 1:53
S - Sam Urlacher 10 pass from Scott (Maciel pass from Scott) 16.8
W - Bergen 15 run (run failed) 9:28
S - Lebsock 32 run (Scott kick) 8:06
S - Scott 18 run (run failed) 4:14
W - Klaboe 13 pass from Selle (pass failed) 1:01
W - Selle 6 run (Andy Roberts pass from Selle) 8:37
S - Maciel 6 run (run failed) 2:01
First downs - West:21 - Skyview:24
Rushes-yards - West:31-139 - Skyview:57-398
Comp-Att-Int - West:18-31-0 - Skyview:5-8-0
Passing yards - West:329 - Skyview:55
Total yards - West:470 - Skyview:453
Punts - West:1-32 - Skyview:0-0
Fumbles-lost - West:1-1 - Skyview:5-2
Penalties-yards - West:5-47 - Skyview:5-34
Rushing - West: Bergen 19-88, Selle 8-38, Chris Wells 4-13. Skyview: Maciel 18-155, Lebsock 13-93, Scott 18-83, Price 5-46, Braxton Thelen 1-17, Jordan Duffield 1-5, Josh Morris 1-minus 1.
Passing - West: Selle 18-32-0-320. Skyview: Scott 5-8-0-55
Receiving - West: Guelff 7-199, Roberts 3-62, Bergen 2-14, Klaboe 2-23, Joe Schreibeis 1-14, Kelton Monson 1-11. Skyview: Duffield 2-29, Maciel 1-11, Urlacher 1-11, Lebsock 1-5.